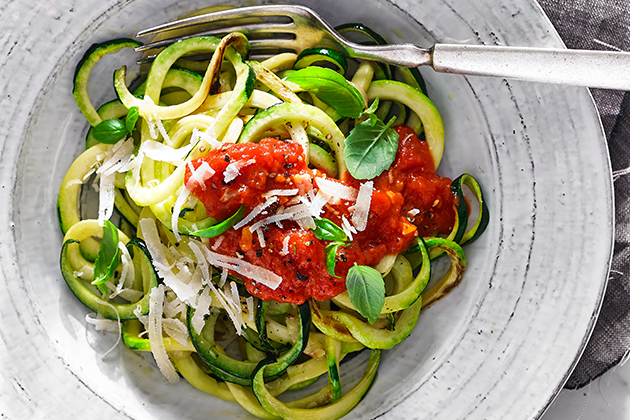 Zucchini Noodles with Tomato Butter Sauce
Makes 4 servings
INGREDIENTS
2 large zucchini, cut into 41/2 inch pieces
2 tablespoons olive oil, divided
1⁄2 teaspoon dried red chili
2 cloves garlic, minced
1 28 oz. can Marzano Tomatoes
1⁄2 teaspoon sea salt
4 tablespoons butter
2 tablespoons fresh basil, chopped
Freshly ground black pepper
Freshly grated Parmesan cheese
DIRECTIONS
Attach Spiralizer Attachment to your KitchenAid® Stand Mixer. Center one zucchini section on fruit and vegetable skewer; attach to Spiralizer. Attach fine spiralizing blade and position at end of zucchini. Place medium bowl below blade to catch zucchini. Turn stand mixer to speed 4 and process until blade reaches end of zucchini. Repeat with remaining zucchini pieces. Cut to desired length, set aside.
Heat 1 tablespoon olive oil in large saucepan. Add dried red chili and garlic. Sauté, stirring constantly, 1 to 2 minutes until garlic just begins to turn golden. Add tomatoes and sea salt and simmer 15 to 20 minutes, stirring occasionally and crushing tomatoes. Add butter and stir until melted into
sauce. Remove from heat. Season with freshly ground black pepper. Stir in basil.
Heat remaining 1 tablespoon olive oil in large skillet. Add zucchini and sauté to desired texture, (approximately 2 to 3 minutes). Remove from heat and divide between 4 plates. Spoon Tomato Butter Sauce over zucchini noodles and top with freshly grated Parmesan cheese, if desired.
Print
*The Contributor of this post has been compensated by KitchenAid for this post, but this post represents the Contributor's own opinion.*