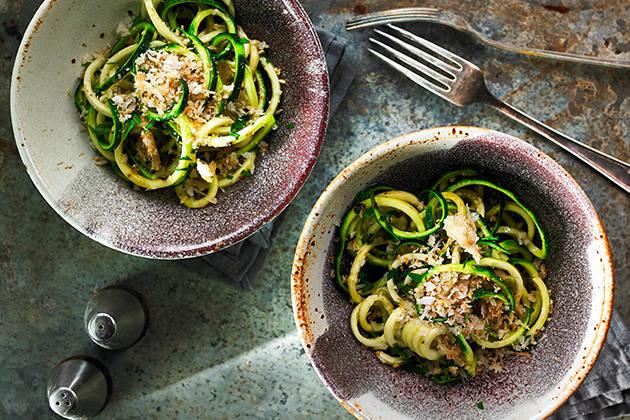 Zucchini Noodles Aglio e Olio
Makes 4 servings
INGREDIENTS
2 large zucchini (approx. 8" x 2")
3 tablespoons olive oil, divided
1⁄2 cup panko bread crumbs
2 tablespoons Parmesan cheese
3⁄4 teaspoon kosher salt, divided
1 teaspoon minced fresh garlic
1⁄8 teaspoon crushed red pepper
1⁄4 teaspoon pepper
1⁄2 cup fresh chopped flat leaf parsley
DIRECTIONS
Attach Spiralizer Attachment to the KitchenAid® Stand Mixer. Trim ends of zucchini. Center one zucchini section on fruit and vegetable skewer; attach to Spiralizer. Attach fine spiralizing blade and position at end of zucchini. Turn stand mixer to speed 4 and process until blade reaches end of zucchini. Cut spiralized zucchini to desired lengths.
Heat 1 tablespoon oil in a 12-inch skillet over medium heat. Add bread crumbs, 2 tablespoons Parmesan cheese, 1/4 teaspoon salt and stir continuously for 1 to 2 minutes, or until the bread crumbs are golden brown. Remove to a bowl and wipe out skillet.
With skillet over medium heat, add 2 tablespoons olive oil, garlic, red pepper, ½ teaspoon salt, pepper. Cook and stir for 30 seconds or until the garlic is cooked but not browned. Add zucchini to pan and cook while tossing with tongs for 2 to 3 minutes, or until slightly softened and just
starting to release some juices. Add parsley and toss to mix.
Divide noodles evenly among 4 bowls and top with bread crumb mixture. Serve immediately with additional Parmesan cheese, if desired.

Print
*The Contributor of this post has been compensated by KitchenAid for this post, but this post represents the Contributor's own opinion.*