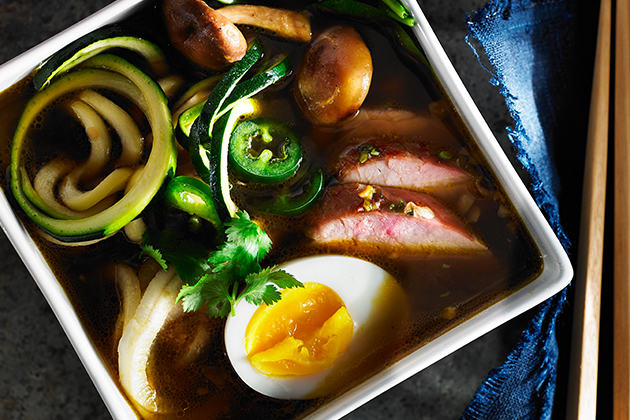 Zucchini and Daikon Ramen with Pork
Makes 4 servings
INGREDIENTS
1/4 cup chopped green onion
1/4 cup unseasoned rice vinegar
1/4 cup soy sauce, divided
1 tablespoon honey
1 tablespoon sriracha sauce
5 cloves garlic, minced, divided
1 teaspoon minced fresh ginger
1 pork tenderloin (about 1 pound)
2 medium zucchini, cut into 3- to 4-inch sections
1 daikon radish, about 6 inches long, cut in half
2 teaspoons vegetable oil
6 cups chicken broth
2 tablespoons mirin
2 tablespoons miso paste
2 teaspoons dark sesame oil
1 cup packed baby spinach
4 eggs
1 cup shitake mushrooms, stemmed
1 jalapeño pepper, seeded and thinly sliced
1/4 cup chopped fresh cilantro
1/4 cup shredded fresh basil
DIRECTIONS
Preheat oven to 400°F.
For marinade, combine green onions, vinegar, 2 tablespoons soy sauce, honey, sriracha, 3 cloves garlic and ginger in small bowl. Place pork in large resealable food storage bag; pour marinade over pork. Seal bag; marinate in refrigerator at least 2 hours or overnight.
Drain pork, discarding marinade. Place on rack in baking pan. Bake 25 to 30 minutes or until pork reaches 145°F when tested with meat thermometer. Transfer to cutting board; set aside.
Heat vegetable oil in large saucepan over medium-high heat. Add remaining 2 cloves garlic; sauté 1 minute. Add broth, mirin, miso, remaining 2 tablespoons soy sauce and sesame oil. Bring to a boil. Reduce heat to medium-low; simmer 15 to 20 minutes.
Place eggs in small saucepan; cover with water. Cover, bring to a boil over high heat. Remove from heat. Let stand, covered, 4 minutes. Run eggs under cold water until cool enough to handle. Peel eggs.
Attach Spiralizer Attachment to KitchenAid® Stand Mixer. Trim ends of zucchini. Center one zucchini section on fruit and vegetable skewer; attach to Spiralizer. Attach fine spiralizing blade and position at end of zucchini. Place medium bowl below blade to catch zucchini. Turn stand mixer to speed 4 and process until blade reaches end of zucchini. Repeat with remaining zucchini and daikon radish.
Slice pork into 1/2-inch slices. Divide mushrooms, zucchini, daikon and spinach between 4 bowls. Pour about 1 1/2 cups broth over each serving; let stand 5 minutes. Top with 4 to 5 slices of pork and one egg; carefully cut egg in half. Top with jalapeño slices, cilantro and basil. Serve immediately.

Print
*The Contributor of this post has been compensated by KitchenAid for this post, but this post represents the Contributor's own opinion.*