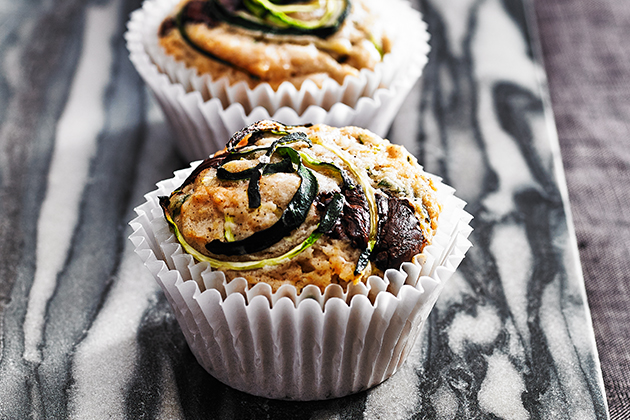 Zucchini Chocolate Chip Muffins
Makes 12 muffins
INGREDIENTS
3 cups flour
1 tablespoon baking powder
1 1/2 teaspoon cinnamon
1 teaspoon salt
2 cups spiraled zucchini, about 1 medium or 2 small cut into 4-inch sections
1 cup sugar
3 eggs
1 cup vegetable oil
1 teaspoon vanilla
1 1/4 cup chocolate chips
DIRECTIONS
Preheat oven to 350°F.
Fill muffin pan with paper muffin liners. Sift flour, baking powder, cinnamon and salt together in medium bowl.
Attach Spiralizer Attachment to your KitchenAid. Stand Mixer. Center one zucchini section on fruit and vegetable skewer; attach to Spiralizer. Attach fine spiralizing blade to stand mixer and position at end of zucchini. Place medium bowl below to catch spiraled zucchini. Turn stand mixer to speed 4 and process until blade reaches end of zucchini. Repeat with remaining zucchini pieces. Cut into 1 1/2 and 2 inch pieces. Set aside.
Stir together sugar, eggs, vegetable oil and vanilla in large bowl. Add flour mixture and stir to combine. Fold in spiraled zucchini and chocolate chips. Batter will be very thick.
Divide batter between muffin cups. Bake 20 to 25 minutes until tester comes out clean. Let cool 10 minutes and transfer to cooling rack. Let cool 1 hour before serving.
Print
*The Contributor of this post has been compensated by KitchenAid for this post, but this post represents the Contributor's own opinion.*