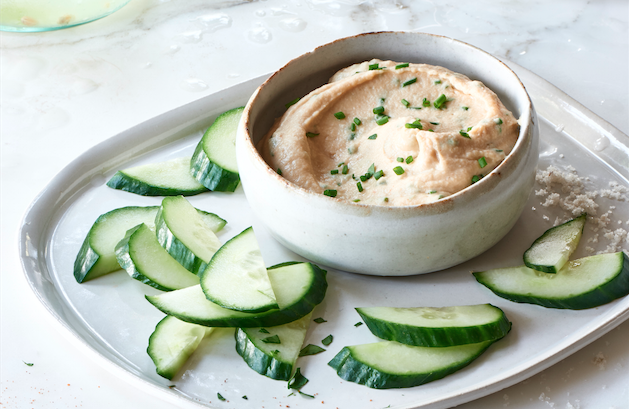 Zesty White Bean Dip
Makes 4-6 servings
INGREDIENTS
1 tablespoon extra-virgin olive oil
1 cup diced yellow onion
1/4 cup vegetable broth
2 tablespoons nutritional yeast or 1/4 cup shredded parmesan cheese
4 teaspoons fresh lemon juice
1 tablespoon tahini
2 teaspoons minced garlic
1 can (1 1/3 cups) cannellini beans, drained and rinsed
1/4 cup raw unsalted cashews
3/4 teaspoon sea salt, plus more to taste
1/4 teaspoon sweet paprika
Pinch of cayenne pepper
1 tablespoon finely chopped flat leaf parsley (optional)
1 tablespoon finely chopped chives (optional)
DIRECTIONS
In a small skillet over medium heat, sauté the olive oil and onion for about 5 minutes, until soft and translucent. Allow to cool slightly.
Place the broth, nutritional yeast or parmesan, lemon juice, tahini, garlic, beans, cashews, salt, paprika, cayenne, and cooked onions in the blender jar of the KitchenAid® Pro Line® Series Blender. Secure the lid and blend for about 30 seconds, starting on speed 1 and gradually increasing to speed 8, until smooth and creamy.
Transfer to a bowl, and stir through the parsley and chives, if desired.
Serve as a dip with crackers, tortilla chips, or veggie sticks; or slather on sandwiches or wraps. The dip will keep in the fridge in a sealed container for about 5 days.