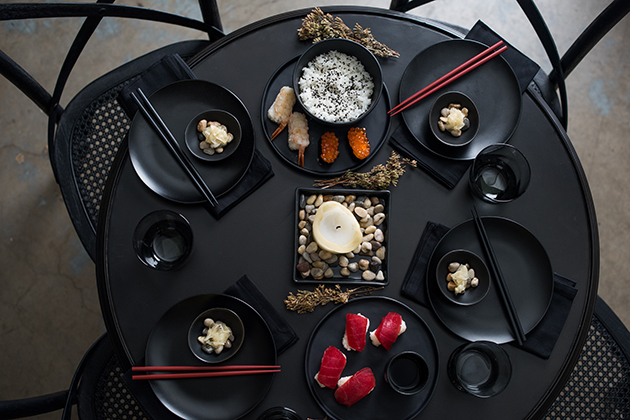 If you're like us, you're always looking for new ideas for stylish table settings. For inspiration, we looked to the new line of black stainless steel appliances from KitchenAid. The idea for black is creative, stylish and bold. At the table, we have the same urge for sense of uniqueness and creativity. It's hard not to fall in love with the moody and rich tones of black tableware, especially when we set up for a simple meal of sushi.
Let's not fear black on the table. The traditional and universal love of white tableware to highlight food is certainly appreciated and we've had our fair share of white table settings. But when we're fearless and want to make a strong statement, we reach for the black tones, especially when we want to create a clean and simple tablescape. Our Zen-inspired table for a simple sushi gathering fits the bill perfectly for black plates and glasses.
The elegant tones and shapes for sushi complement the black palette perfectly. Starting with the idea of the Zen concept of simplicity and nature, add the earth tones of river stones for color and texture. To maintain the Zen spirit, weave nature into the table setting with dried oregano stems. Both stone and florals give a meditative break to the black.
When you add these simple pops of textures and colors like stone and dried florals to the table, the rest of the black tableware fuses together with the whole experience. Selecting black dishes is simple: we choose different sizes, shapes and textures. What makes a black table scene stand out are the various sizes and shapes of dishes that both complement and contrast each other. Adding small bowls layered on top of larger black plates gives texture to an otherwise large sea of black plates. Even small pops of red chopsticks add a touch of exciting color, similar to the red medallions on the handles of the black stainless steel appliances.
Black glassware fills our collection of favorite glassware because the touches of modern black shimmer accents every drink in a unique way. Consider adding glassware with different shapes and sizes including balloon glasses, flutes, wine, tumblers and elegant stemware. Guests are always impressed with the variety of black glassware to highlight the rest of the black dishes.
When we serve sushi, the small bites and fresh colors of the seafood really pop on the black. In fact, all foods add different color and texture touches to this timeless and classical black color scheme. Whatever you decide to add, the black will embrace every ingredient, color and shape. It's perfect for meals with small bites, like tapas and appetizers. It's these type of dishes that have so much color and unique small shapes, it's hard not to fall in love with munchies on black.
If you're new to decorating a black-inspired tablescape, start small. All you need are a few pieces and to see some beautiful food on it. Everything comes alive when you're finished. Once you see it all come together, you might be obsessed and collect every single stylish black dish and glass that comes your way!
Discover more about the first-ever black stainless suite of appliances at http://www.kitchenaid.com/bold.
*The Contributor of this post has been compensated by KitchenAid for this post, but this post represents the Contributor's own opinion.*