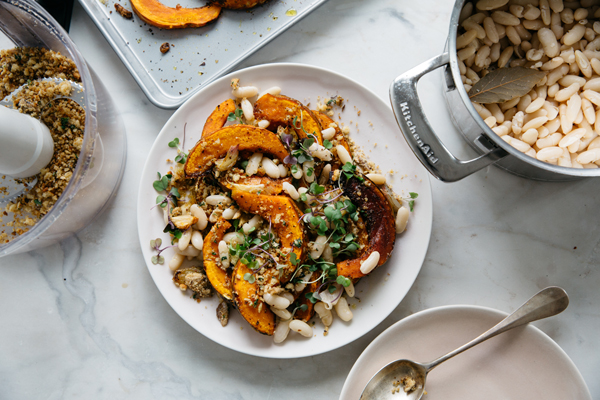 In winter months, all I crave are warm dishes. Having a pot of beans on the stove or pre-made beans in the fridge is always a timesaver. They're so quick to turn into salads or added protein for any dish.
This is a very simple salad, but it has a lot of flavor and texture going on — sweetness of the roasted squash in juxtaposition to the saltiness of the sardines and creamy beans and squash with crunchy toasted breadcrumbs. You can make the components ahead of time and then assemble right before eating. Let's get started!
I always have dried beans in my pantry and although I note to use cannellini beans, you can really use any bean you have at hand. Lentils can be a great addition to this (and quicker to cook as there's no soaking needed).
For this recipe, soak the beans overnight in the KitchenAid® 7-Ply 3.0-Quart Low Casserole with Lid with enough water to cover them plus a couple of inches more as they tend to expand. As a time saving tip, use canned beans instead of dried ones, but it's nice when the beans are whole and intact. This doesn't always happen with canned beans.
After soaking overnight, add the aromatics to the Low Casserole and cook them on low heat until tender. Drain the beans. You can make these ahead and have them in your refrigerator for later.
I used kabocha squash for this recipe, but any winter squash will also work: butternut, acorn, red kuri… Squash can be hard to cut, so make sure you have a sharp knife. Cut it in half lengthwise and scoop out the seeds. Then slice it horizontally. You can also toast the seeds and use them as a topping.
Place the squash on a KitchenAid® Jelly Roll Pan with the red onion and garlic. Drizzle with olive oil and all the spices and bake in the KitchenAid® Single Wall Oven until tender and slightly caramelized. The Even-Heat™ True Convection ensures my squash are roasted consistently throughout.
In the meantime, make the toasted anchovy breadcrumbs. I never buy breadcrumbs as they are so easy to make at home. Use stale bread and pulse in the KitchenAid® Pro Line® Series 16-Cup Food Processor until the desired fineness. I like my breadcrumbs chunky and sometimes more like croutons, but you can pulverize them as fine as you would like with the Food Processor's ExactSlice™ System.
Toast the breadcrumbs in a KitchenAid® 10″ Skillet with a little bit of olive oil and canned sardines. You can also use 1 tablespoon of anchovy paste in place of the sardines. If you do not like the fishy taste, reduce the amount, but a bit of anchovy paste will add a necessary brininess and saltiness.
It's time to plate the roasted squash. Top with the beans, toasted breadcrumbs, and some pretty microgreens or any tender salad greens you might have. Splash a little bit of vinegar, but don't add any additional dressings as all the components have been seasoned already.
How simple is that?! And so hearty; perfect for a light winter lunch!
Share your take on this Winter Squash Salad on Instagram using #MadeWithKitchenAid for a chance to be featured.
Winter Squash Salad
Makes 6 servings
INGREDIENTS
1 cup dried cannellini beans
1 garlic head, cut in half crosswise
1 bay leaf
1/2 acorn or kabocha squash, seeds removed and sliced (peeled or unpeeled)
2 cloves garlic
1/2 red onion, largely diced
4 tablespoons olive oil, divided
1 teaspoon sea salt
1 teaspoon freshly ground black pepper
1 teaspoon ground cumin
1/2 teaspoon hot paprika or piment d'Espelette (use more or less depending how much heat you like)
1/2 teaspoon sumac (optional)
2 canned sardines (packed in olive oil), middle spine removed
2 slices of stale gluten-free bread
1 tablespoon parsley, finely chopped
1 tablespoon red wine vinegar
1/2 cup of microgreens or herbs
DIRECTIONS
Place the dried beans in a KitchenAid® 7-Ply 3.0-Quart Low Casserole with Lid. Cover with water. Cover with the lid and refrigerate overnight.
Add a bay leaf and garlic head to the Low Casserole with beans. Add more water if necessary. We need the beans to be covered by 1″ of water. Bring the liquid to a boil over medium heat. Reduce heat to low and simmer the beans for an hour or until tender, but not mushy. Drain the beans. Discard the bay leaf and garlic.
Preheat the KitchenAid® Single Wall Oven to 400° F. Toss the squash, garlic clove, red onion, 3 tablespoons olive oil, sea salt, black pepper, cumin, paprika, and sumac together on a KitchenAid® Jelly Roll Pan. Roast the squash for 40 minutes or until tender and caramelized.
Place the bread in a KitchenAid® Pro Line® Series 16-Cup Food Processor and pulse until you have chunky breadcrumbs. In a KitchenAid® 10″ Skillet, heat the remaining olive oil over medium heat. Add the sardines or anchovy paste and cook for a minute until it crumbles into the olive oil. Add the breadcrumbs and toss to coat in the oil. Cook until slightly toasted, about 2 minutes. Add the parsley, toss, and set aside.
Transfer the squash and roasted garlic and onion to a platter. Top with beans, breadcrumbs, vinegar, and microgreens. Toss and serve lukewarm or room temperature.

Print
*The Contributor of this post has been compensated by KitchenAid for this post, but this post represents the Contributor's own opinion.*