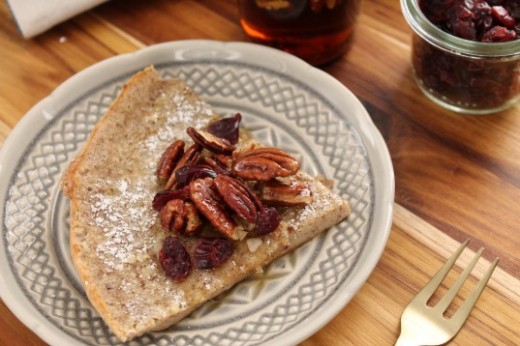 When it comes to staying healthy during the holidays, it's really not rocket science, its about balance and simplicity. It's really easy to get caught up as more and more people come out of the woodwork and your grocery lists get longer and longer.
Meals go from your everyday, easy chicken, salad and a side, to three different meats, seven sides and five desserts. Everything gets out of control.
When you think about vegetables in March, for example, you think of cucumbers and celery dipped in hummus. When you think of vegetables in December, you think of green beans drowning in butter, cream, and fried onions. This is probably why, when January rolls around, we're feeling sad and deprived because we made our veggies go back to being just veggies.
Don't get me wrong, I love green bean casserole and dream about it the second a cool breeze starts up in the Fall. But, I think that if we are wanting to survive the holidays without feeling like we've overdone it, again, we need to remember the basics.
Sure, make all of the fun sides we know we have to have at holiday dinner, but remember the restraints you use year-round while making them. If you don't normally use that much butter, then don't put it in there. If there's suddenly a lot of heavy cream or sour cream in your recipes, use non-fat Greek yogurt instead. If you're craving roasted sweet potatoes, butternut squash, or green beans, a drizzle of olive oil and a dash of salt and pepper enhance the natural flavors and keep your veggies healthy, instead of using lots of butter, oils, cheese or marshmallows. And if Aunt Sally brought the classic over-cheesy potato and sour cream casserole, then remember you can taste it without having a plate full of it.
I think its also important to remember that the flavors you think of and dream about are in the spices you use. Warm cinnamon, nutmeg, ginger, sage, and rosemary make your whole kitchen smell like the holidays. Use lots of spices in your cooking because that's the calorie-free flavor you are looking for.
I think one of the most important things to remember during the holidays that will help you get your day off to a positive start is to eat breakfast. Eating breakfast ensures that you're not going to be ravenous and shoveling mounds of holiday cookies into your mouth during the afternoon rush. Whether it's a holiday or just a random Tuesday, eating breakfast can help you make more positive choices in food (until you face the pie table at Aunt Susie's house).
When it comes to breakfast, like most things in life, I like to strive for balance. I don't like to over-think it, but I try to make sure there are multiple food groups in my bowl or on my plate. An egg scramble with veggies and a side of fruit is always good, or a bowl of oatmeal with fruit and nuts. When I'm making breakfast for a crowd, large pans of baked oatmeal are easy and impressive, as well as yogurt parfaits with various fruit, granola, and nut choices for everybody to build their own.
Because it's the holidays, you might want to make a pancake breakfast for your crew. Although the thought of presenting them with a platter, piled high with pancakes and lots of fresh fruit sounds beautiful and impressive, it also sounds like you'll really just be standing at your skillet for an hour, flipping away. You'll flip and burn a few, be dealing with a few plates of cold ones, people asking for seconds before you've gotten to sit down… and then you're left with a bunch of dishes and you're still hungry. Bad plan.
So, I have a solution! My Winter Spiced Dutch Baby Pancake with Pecan Maple Syrup. Yup, problem solved.
A Dutch Baby Pancake is really an amazing thing. It's one giant pancake, with less of the dense, bready texture that regular pancakes have, and more of a soft, almost soufflé-like texture. It bakes up in a skillet and comes out of the oven golden and puffy, and then it falls in on itself. And because you're baking one to serve, you can sit down and enjoy it with the rest of your family. While it's baking, you can cut up a bowl of fruit and make sure the coffee is ready. Breakfast spread, done.
The batter is very simple. You combine eggs and milk in your KitchenAid® Stand Mixer bowl and let it mix until frothy. This takes about 3 minutes. You can use any milk you have; I used unsweetened almond milk.
While it's mixing you can gather your flour and spices (I love that I can walk away and it's still mixing!). For warm winter spices, I reach for cinnamon, nutmeg, allspice, cardamom and vanilla.
After it's frothy, slowly add your flour and spices and then let that mix up. Done. Seriously, batter done.
Making Pecan Maple Syrup is simple yet adds an impressive touch to the spread. Just simply toast up some pecans, place them in a container, and fill with pure maple syrup. That's it. You can put the syrup together the night before and let the flavors meld overnight, then warm it up before breakfast.
Plate up your Winter Spiced Dutch Baby Pancake with a sprinkle of powdered sugar, a drizzle of the Pecan Maple Syrup, and some dried cranberries. Round off your breakfast with a bowl of fruit with yogurt and a big cup of coffee.
Cheers to balance!
Winter Spiced Dutch Baby Pancake with Pecan Maple Syrup
Makes one 10″ pancake
INGREDIENTS
3 large eggs
3/4 cup milk (I used unsweetened almond milk)
1/2 cup unbleached flour
pinch of salt
1 teaspoon vanilla extract
1 teaspoon cinnamon
1/4 teaspoon allspice
1/4 teaspoon nutmeg
1/8 teaspoon cardamom
1 tablespoon unsalted butter
DIRECTIONS
Place your oven-safe 10" skillet in the oven, and preheat your oven to 475 degrees F.
In the bowl of your stand mixer, start beating the eggs and milk on medium speed until frothy (approximately 3 minutes). Turn the speed to low and slowly add the flour, salt, vanilla and spices. Turn the speed back up to medium and let mix for another minute.
When the oven is preheated, carefully remove the skillet from the oven and reduce the oven heat to 425 degrees F. Add the butter to the skillet and swirl it around until the skillet is coated. Then, pour the batter into the skillet and quickly return it to the oven.
Bake the pancake for 15 minutes or until golden and puffy. Set the finished pancake out to serve. Serve with Pecan Maple Syrup, powdered sugar, and dried cranberries.
For the Pecan Maple Syrup
Toast 1/4 cup of pecan halves (350 degrees F for 4-5 minutes, keeping an eye on them so they don't burn), place them in a jar and top with 1/2 cup of pure maple syrup.

Print
*The Contributor of this post has been compensated by KitchenAid for this post, but this post represents the Contributor's own opinion.*