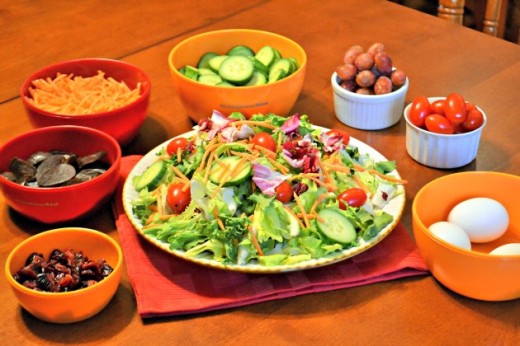 I don't think I have ever met a salad that I didn't like. For as long as I can remember I have loved eating salads. The New Year is here and everyone has made some resolutions.  You know what I am talking about.  They are the common resolutions that happen every January. People want to eat healthier, exercise a little more and gain more energy. Why not eat more fruits and vegetables? Today I will give you tips and ideas on how you can keep a salad bar right in your own refrigerator.
My love for salad became very strong in high school. The cafeteria food was not very good but there was a pretty awesome salad bar at lunch. When I had a choice between a soggy chicken patty sandwich or an array of veggies, fruit and cheese, the salad bar won out every time.  In college, I would order a salad at my favorite restaurant. It was a cheaper entrée for the poor college student and taught me to develop a taste for avocados and blue cheese. Fast forward to today and I still love to order a salad at a restaurant. Who doesn't like to have someone else chop up all their veggies for them? But it's really not as hard as you think. With a little planning and prep, you can have fresh salads all week long.
The first thing I do is shop for all my produce. I like to buy whatever is in season so my winter salads will look somewhat different than the salads I eat in the summer. Did you ever have roasted beets, cauliflower or Brussels sprouts in a salad? Please do try it. This is where my wonderful KitchenAid® Architect® Series II French Door Refrigerator comes in. Once I purchase my veggies, I store them in my refrigerator which is equipped with the Preserva® Food Care System. The system includes a FreshFlow™ Air Filter and a FreshFlow™ Produce Preserver. It keeps everything fresh and extends the life of the produce by 25%.
When I have a little time on my hands I roast some vegetables like beets, Brussels sprouts, and cauliflower. I will drizzle some olive oil on a baking sheet and drizzle a little more on the veggies. They are then seasoned with salt and pepper. The vegetables are roasted in the oven at 375 degrees for about half an hour. The time varies a little depending on what vegetable you are cooking. Other good choices to roast are carrots and butternut squash. I like my salads hardier in the winter and roasted vegetables make them just that.  They keep very well in my electronic controlled temperature pantry drawer.
If you'd rather not roast vegetables, there are plenty of other choices that can be cut up and used when needed to make your salad. Both cauliflower and shredded Brussels sprouts are also great raw. Some of my other favorites are carrots, cucumbers and fruits such as grapes, orange sections or apples. Dried fruits such as cranberries and cherries are good in salads too. They pair perfectly with cheeses such as feta, goat cheese and blue cheese. Don't forget the seeds and nuts as I love almonds, walnuts or sunflower seeds in my salads. I like to vary the lettuce I use and the greener the better.  If you're in a pinch, don't be afraid to keep bagged salads in your fridge. They work great for week night dinners, easy lunches and are very convenient.
If salad is going to be your main part of the meal, it is always best to include a protein. Chicken and hard boiled eggs can be made in advance then stored in your refrigerator for a few days. Beans and different cheese are a great choice for vegetarians and they store very well. I happen to also love canned tuna and nothing is easier than that.
There are so many different pantry options to add to a salad too. I always keep jars of olives, artichokes and roasted red peppers in my kitchen especially during the winter months. These non- perishables will store for months and can be added to some greens for a super quick salad.
Here are some of my favorite salad combinations:
Spinach, grapes, almonds and blue cheese
Arugula, pears and Parmesan cheese
Chicken, tomatoes, cucumbers, red peppers, chick peas, olives, and feta cheese
Romaine lettuce, tomatoes, avocados, black beans, cheddar cheese and corn
The possibilities are endless! It is a great feeling knowing that you have a fridge filled with salad ingredients. There will be no unexpected take out when all week you can create a monster salad in minutes. Prepped veggies are also great for snacking on. Forget the potato chips and grab a handful of cucumber slices. Here are some helpful tips when prepping your salad ingredients:
Wash veggies and fruit before peeling and dry with paper towels. The less moisture they have on them the longer they will last.
Use a big chopping board to cut veggies into bite size pieces. Store in an airtight covered plastic container.
Keep bagged salads in their original packaging until they are ready to use. Once opened the quality of the salad is only good for a day or two. Lettuce that is not in bags can be kept wrapped in paper towels and plastic.
Don't keep cut veggies in the fridge for more than a few days. Use the older ones in soups or stews and replenish the fridge with some fresh cut ones.
Of course every salad needs to be well dressed. It is very easy to keep a variety of bottled dressings around and I won't judge you if you do. But there is something extra special about making your own. With the flick of a blender switch or just a few strokes of a whisk, you can have a creamy dressing or light vinaigrette made in minutes. No matter what time of year, it seems that avocados are always plentiful at my grocery store. Blended together with buttermilk, it makes a delicious dressing. My other favorite is balsamic citrus vinaigrette. I could put balsamic vinegar on everything but pairing it with olive oil, citrus juices and honey takes things to the next level.
Having a salad bar in your fridge is much simpler than you thought, right? Remember to do a little planning and prepping in advance and I promise you that it will make you happy to see all those cut bowls of veggies sitting in your fridge. Eating your fruits and veggies will make you healthier in the New Year!
Creamy Avocado Buttermilk Dressing
Makes 2 cups
INGREDIENTS
1 1/2 cups low fat buttermilk
1 avocado, peeled, pitted and sliced
2 cloves garlic
Juice from one lime
A small handful of fresh parsley (you can use basil or cilantro depending on what you like)
A dash of cayenne pepper
Salt to taste
DIRECTIONS
In a KitchenAid® Blender, blend together buttermilk, avocado, garlic and lime juice until creamy. Scrape the sides of the blender to mix together. Add a dash of cayenne pepper and salt to taste.

Print
Balsamic Citrus Vinaigrette
Makes 1 cup
INGREDIENTS
1/2 cup extra virgin olive oil
2 tablespoon honey
1 tablespoon balsamic vinegar
Juice from 1 small orange
Juice from 1 lemon
1/4 teaspoon dried basil
Salt and pepper to taste
DIRECTIONS
In a small bowl, whisk together oil, honey, vinegar, orange juice, lemon juice and dried basil until well blended. Add salt and pepper to taste.

Print
*The Contributor of this post has been compensated by KitchenAid for this post, but this post represents the Contributor's own opinion.*