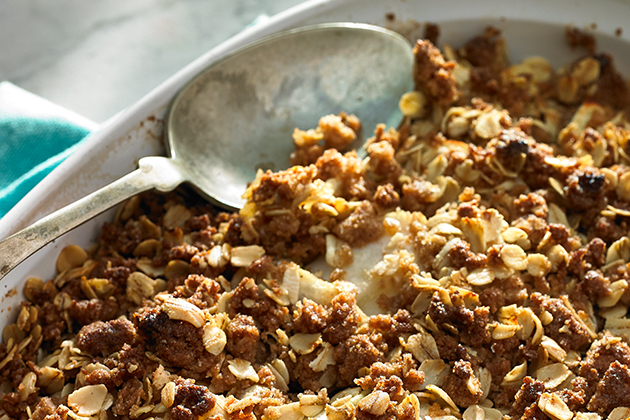 Whole Wheat Pear and Apple Crisp
Makes 6-8 servings
INGREDIENTS
6 tablespoons unsalted butter, cut in tablespoon pieces
2⁄3 cup light brown sugar
1⁄4 cup whole wheat flour
2 tablespoons toasted wheat germ
1⁄4 teaspoon salt
1⁄2 teaspoon cinnamon
1⁄4 teaspoon nutmeg
1⁄2 cup old-fashioned oats
1 green apple (such as Granny Smith)
1 red apple (such as Gala)
2 firm pears
1⁄4 cup water
1 tablespoon cornstarch
DIRECTIONS
Preheat oven to 350°F
Spray 8" x 8" x 2" baking pan with non-stick cooking spray or coat pan with additional butter.
Attach bowl and flat beater to KitchenAid. Stand Mixer. Add butter, brown sugar, flour, wheat germ, salt, cinnamon and nutmeg. Mix on low speed until crumbly, about 1 minute. Stir in oatmeal.
Attach Spiralizer Attachment to KitchenAid® Stand Mixer. Remove stems and trim ends of apples and pears. Center one apple on fruit and vegetable skewer; attach to Spiralizer. Attach peeling blade and large core slicing blade, and position at end of apple. Turn stand mixer to speed 6 and process until blade reaches end of apple. Repeat with remaining apple and pears. Cut sliced fruit into quarters and add to baking dish. Toss to combine.
In a small bowl, whisk together water and cornstarch. Pour over fruit. Top fruit evenly with crumb topping. Bake for 40 minutes or until the fruit is bubbly and the topping is lightly browned. Let rest for 15 minutes before serving. If desired, serve with whipped cream or ice cream.
Print
*The Contributor of this post has been compensated by KitchenAid for this post, but this post represents the Contributor's own opinion.*