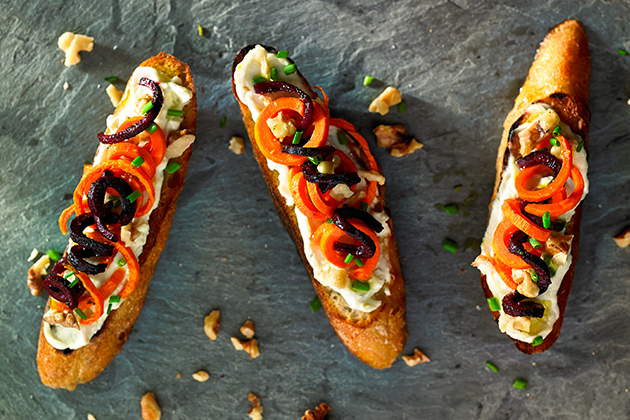 Whole Wheat Crostini with Whipped Gorgonzola, Roasted Beets and Carrots
Makes 25 crostinis
INGREDIENTS
1 whole wheat baguette, cut diagonally in 1/2-inch slices
6 tablespoons olive oil, divided
3/4 teaspoon kosher salt, divided
1/2 teaspoon pepper, divided
1 large beet (3 inches x 3 inches)
2 large carrots (1 1/2 – 2 inches diameter), peeled
1 teaspoon minced fresh rosemary
8 ounces reduced fat cream cheese
1/2 cup crumbled Gorgonzola cheese
Zest of half a lemon
1 tablespoon lemon juice
1/4 cup toasted chopped walnuts
2 tablespoons thinly sliced chives
DIRECTIONS
Preheat oven to 350°F.
Arrange baguette slices on large baking sheet. Lightly brush both sides with 2 tablespoons olive oil and sprinkle with 1/4 teaspoon salt and 1/4 teaspoon pepper. Toast in oven for 6 minutes, turn toasts over and bake for another 6 minutes or until lightly browned. Remove from oven and allow to cool. Can be made a day ahead and stored in airtight container.
Increase oven temperature to 400°F. Line a large baking sheet with parchment or spray with non-stick cooking spray.
Attach Spiralizer Attachment to KitchenAid. Stand Mixer. Trim ends of beets and carrots. Center one beet on fruit and vegetable skewer; attach to Spiralizer. Attach peeling blade and medium spiralizing blade and position at end of beet. Position a medium bowl under blade to catch spiralized beets. Turn stand mixer to speed 6 and process until blade reaches end of beet. Repeat with carrots, using a separate bowl to catch spiralized carrots. Toss spiralized carrots with 1 tablespoon olive oil, 1/4 teaspoon salt, 1/8 teaspoon pepper and 1/2 teaspoon rosemary. Arrange the carrots on one side of the prepared baking sheet. Repeat process with bowl of spiralized beets. Arrange beets on the other side of the baking sheet; keep vegetables separated to prevent bleeding of beets onto carrots. Roast for 12 to 15 minutes or until tender and starting to brown. Can be made a day ahead, then cooled and refrigerated.
While the vegetables are roasting, make the whipped Gorgonzola. Attach bowl and flat beater to stand mixer. Place remaining olive oil, cream cheese, Gorgonzola cheese, lemon zest and lemon juice in bowl and mix on low until combined and then high for a minute to whip. Can be made a day ahead and stored in refrigerator.
Assemble crostini by spreading toasts with 2 teaspoons whipped Gorgonzola, top with roasted beets and carrots. Sprinkle with walnuts, chives and a drizzle of olive oil.
Print
*The Contributor of this post has been compensated by KitchenAid for this post, but this post represents the Contributor's own opinion.*