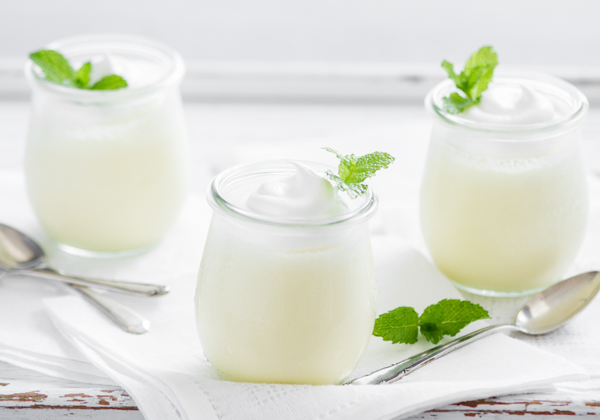 Pots de crème (meaning, quite literally, pots of cream) is a French dessert traditionally baked in a "bain-marie," or water bath, a process that is both time consuming and finicky. But by avoiding the oven entirely and using the powerful KitchenAid® Diamond Blender to simplify the process even more, you'll serve up an impressive dessert with a fraction of the effort of traditional pots de crème.
I love using the blender to make quick work of the otherwise finicky process of melting chocolate. The blender ensures that the white chocolate is finely chopped and thus melts evenly and completely. The same process can be applied the next time you make chocolate ganache as well.
Since this custard uses gelatin rather than heat to set, the resulting texture is softer than traditional baked custards and lighter and creamier than pudding. Sweetened with white chocolate and with a subtle hint of peppermint, this "pull-off" pots de crème is sure to become a fast favorite.
Don't let your egg whites go to waste! Instead, freeze them for later use in meringue, angel food cake, or dainty macaron cookies. Simply place them in a zip-top bag labeled with the date and quantity. Once frozen, they'll keep for up to 6 months.
Slowly drizzle the hot cream mixture into the egg yolks. Doing this gradually will temper the egg yolks rather than cook them (you don't want your custard tasting like scrambled eggs, do you?) Once about 1/3 of the cream mixture has been added and the yolk mixture is warm to the touch, pour them back into the saucepan and return to medium-low heat.
Cook the custard over medium-low heat until it thickens enough to coat the back of the spoon (right side).  Running a finger down the back of the spoon will leave a distinct path. If you like a more precise measurement, the custard will measure 170ºF to 175ºF at this point.
Use your blender to finely chop the white chocolate, then pour the hot custard mixture over. Let it sit for 30 seconds to allow the white chocolate to melt, then blend until smooth.
Pour custard into ramekins or heat-proof glass jars (the custard is still fairly hot at this point, so don't use anything too fragile). You'll need either six 4-ounce or four 6-ounce containers.
Wouldn't this be the perfect show-stopping dessert to serve at your next gathering? Your guests will be so impressed, they won't even believe how easy it was to prepare (if you choose to tell them, that is).
White Chocolate Peppermint Pots de Crème
Makes 4-6 servings
INGREDIENTS
1 teaspoon unflavored gelatin
1 3/4 cups heavy cream
4 large egg yolks
6 ounces (1 cup) good quality white chocolate chips or chopped white chocolate*
3/4 teaspoon peppermint extract
fresh whipped cream, for topping
You will also need
4 (6oz) or 6 (4oz) ramekins or heat-proof glass jars
Tip: When purchasing white chocolate, the higher quality, the better. Cocoa butter should be listed as one of the first ingredients. If you see no cocoa butter at all (as is the case with most name-brand white baking chips, unfortunately) move on to another brand.
DIRECTIONS
Sprinkle gelatin over 2 tablespoons of cold water in a small dish. Let sit for 5 minutes to soften.
In a saucepan, heat cream over medium heat until it starts to steam, stirring occasionally. Do not let it boil.
In a bowl, whisk together egg yolks. Using a large spoon or ladle, slowly drizzle about 1/3 of the warm cream into the egg yolks, whisking vigorously the entire time. The goal is to incorporate the hot cream gradually so the egg yolks are tempered rather than cooked. When about 1/3 of the cream has been incorporated and the mixture is warm to the touch, pour mixture back into saucepan with the rest of the cream. Stir over medium-low heat, scraping the bottom and sides of the pan as you go, for about 5 to 7 minutes, or until mixture thickens and coats the back of a spoon. It should measure approximately 170 to 175ºF.
Place white chocolate chips in the canister of a KitchenAid® Diamond Blender. Pulse two or three times to break chips into fine pieces. Pour hot cream mixture over top of chips and let sit for 30 seconds. Blend on medium-low speed until white chocolate is melted and mixture is smooth, scraping down the sides and corners of the blender as necessary. Add softened gelatin and peppermint extract and blend for 2 to 3 seconds more to incorporate.
Divide evenly among ramekins or jars and refrigerate until set, at least 4 hours or overnight.
Just before serving, top with freshly whipped cream, if desired.
Tip: Freeze your egg whites for later use in meringue, angel food cake, or macaron cookies. Simply place them in a zip-top bag labeled with the date and quantity. Frozen, they'll keep for up to 6 months.
Print
*The Contributor of this post has been compensated by KitchenAid for this post, but this post represents the Contributor's own opinion.*