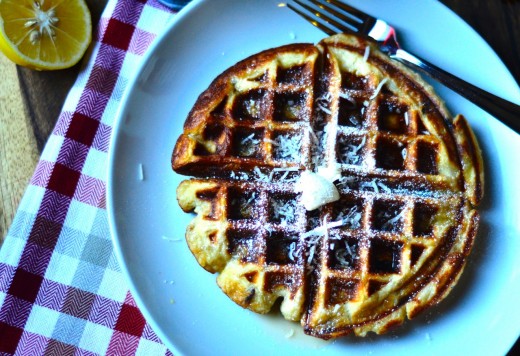 You just can't beat a brunch for a casual gathering, any time of the year! What I love about having people over for a brunch is the easy feel of entertaining, and that you're not as pressed for time, especially if it's a weekend brunch.
Hosting a brunch is perfect for out-of-town guests, or for having neighbors, friends or family stop by, or even as just a way to wrap up a weekend!
One treat our family makes for brunches is waffles. We make up a huge bowl of waffle batter.
Fire up your KitchenAid® Waffle Baker, which allows you to fill one side, close the lid and flip it over to fill the other side, and then back again so the indicator dial is facing up. This allows 2 waffles to bake at the same time, which means you get to feed your guests quicker and pump out the waffles faster! Then just set out the condiments, like butter, jams, peanut butter, coconut, fruit, and delicious maple syrup.
Why I love my KitchenAid® Waffle Baker:
1. You get to cook and talk at the same time.
2. The baker heats up quickly. The temperature gauge at the top lets you know when to start.
3. There's no more waiting for the "next waffle," as 2 cook at the same time.
4. You can rotate the "finish time" so there's always a hot one coming off the baker.
5. The waffles come out thick, golden, Belgian-style.
6. Your guests will leave full and happy.
Years ago we discovered that our favorite waffle recipe included 2 cups of Greek yogurt. Replacing buttermilk, we feel it adds a crispiness and sourdough-ish flavor.
Once you get the base recipe down, it's fun to experiment with your guests by adding in new ingredients.
This past week we added delicious lemons (from our friend's lemon tree) and coconut, plus dried cranberries. Our guests loved the combination!
Just like you'd add to a German Pancake, sprinkle on the coconut, a dab of butter, delicious 100% pure maple syrup, and fresh-squeezed lemon.
I say, forget about the other toppings.
This waffle recipe was PERFECT for the day!
And our guests thought so, too.
Lemon Coconut Oatmeal Waffles
INGREDIENTS
1/2 cup (1 stick) butter (melted)
4 large eggs
2 cups plain Greek yogurt
1/3 cup brown sugar
grated zest of 1 lemon
1/2 cup water
1 cup rolled oats (not instant)
1/2 coconut (finely chopped)
1 1/2 cups unbleached all-purpose flour
1 teaspoon baking soda
2 teaspoons baking powder
1 teaspoon salt
1/2 teaspoon ground nutmeg
2/3 dried cranberries (optional)
DIRECTIONS
Preheat the KitchenAid® Waffle Baker.
Place the melted butter, eggs, brown sugar, yogurt, and lemon zest in a small bowl and whisk to blend.
Finely chop the coconut and set aside.
In a large bowl, whisk together the oats, coconut, flour, baking soda, baking powder, salt, and nutmeg. Pour the yogurt mixture into the dry ingredients and stir just until combined. Do not over mix. Add more water if needed.
Add in the cranberries; stir.
Cook the waffles according to the manufacturer's directions. Serve hot with butter, powdered sugar, maple syrup, and fresh lemon.

Print
*The Contributor of this post has been compensated by KitchenAid for this post, but this post represents the Contributor's own opinion.*