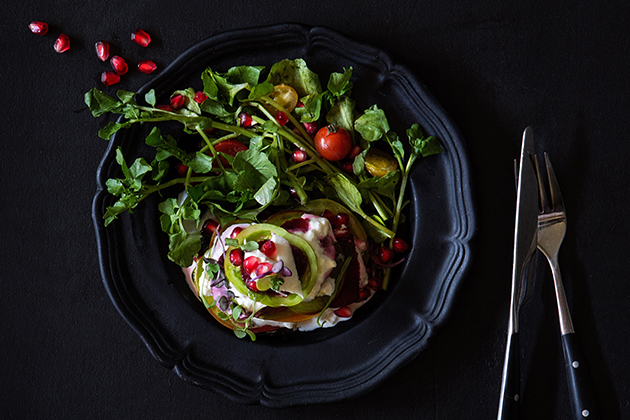 I find inspiration from a lot of places, but sometimes it comes in the least expected places. Today I'm sharing a recipe inspired by the new line of black stainless steel appliances from KitchenAid.
Have you seen it? It's stunning—so elegant and timeless!
And what's even better is you don't have to choose function over form. This new line has it all. Admittedly, I've been a KitchenAid fan for years. Like most of you I started out with the hand mixer, moved to a Stand Mixer and then on to many other KitchenAid appliances. The introduction of this new black stainless steel line has me so smitten, I want to rip out my kitchen and redo it all. The look and feel of it is right in line with my aesthetics—it's clean and modern with little details that give it added style and personality.
I love how the red medallion gives the whole ensemble a pop of color, while the cross-hatch handle delivers on design and utility—nothing worse than going to open something and your hand slips or it screams in discomfort because you have to death-grip it into submission from handling something slippery before. Of course all these little details are pulled together by the chrome framing that gives the whole design shape and a glamorous finish.
As I mentioned, I'm a fan. Given that, I partnered up with KitchenAid to create food inspired by all that is lovely with their new black stainless steel line. It wasn't hard to do. In fact, it was harder to settle on one recipe to showcase.
But settled I did with this Warm Tomato and Beet Salad with Burrata. It's a dish that is simple in design while utilizing classic flavors that are easily sourced and made beautiful with pops of color and flavor. I love it when simple packs a huge "wow" factor.
Of course, if tomatoes are not in season where you are, try swapping them for something that is. The recipe relies mainly on raw ingredients, so make sure you use the best you can find. And since it is highly adaptable and simple in design, almost any flavor and vegetable will work. Play around with it and you'll see how easy this recipe is to make your own. Yay, for easy elegance that's always timeless.
Discover more about the first-ever black stainless suite of appliances at http://www.kitchenaid.com/bold.
Warm Tomato and Beet Salad with Burrata
INGREDIENTS
2 tablespoons olive oil
2 tablespoons champagne vinegar
2 pounds heirloom tomatoes, thinly sliced
1 pound roasted beets, thinly sliced
Salt and pepper
8 ounces burrata cheese, room temperature and sliced
1 1.75-ounce package kale microgreens
1/4 cup olive oil
1/4 cup pomegranate arils
1 pint of mini tomatoes, halved
Watercress
DIRECTIONS
Pour vinegar and oil in a large non-stick skillet over medium heat and bring to a simmer. Add tomatoes, beets, salt and pepper to taste; cook until just heated through, about 1-2 minutes. Arrange and stack tomatoes, beets, burrata, and microgreens vertically on a plate. Finish with an olive oil drizzle and pomegranate arils. Serve on a bed of watercress and halved mini tomatoes.

Print
*The Contributor of this post has been compensated by KitchenAid for this post, but this post represents the Contributor's own opinion.*