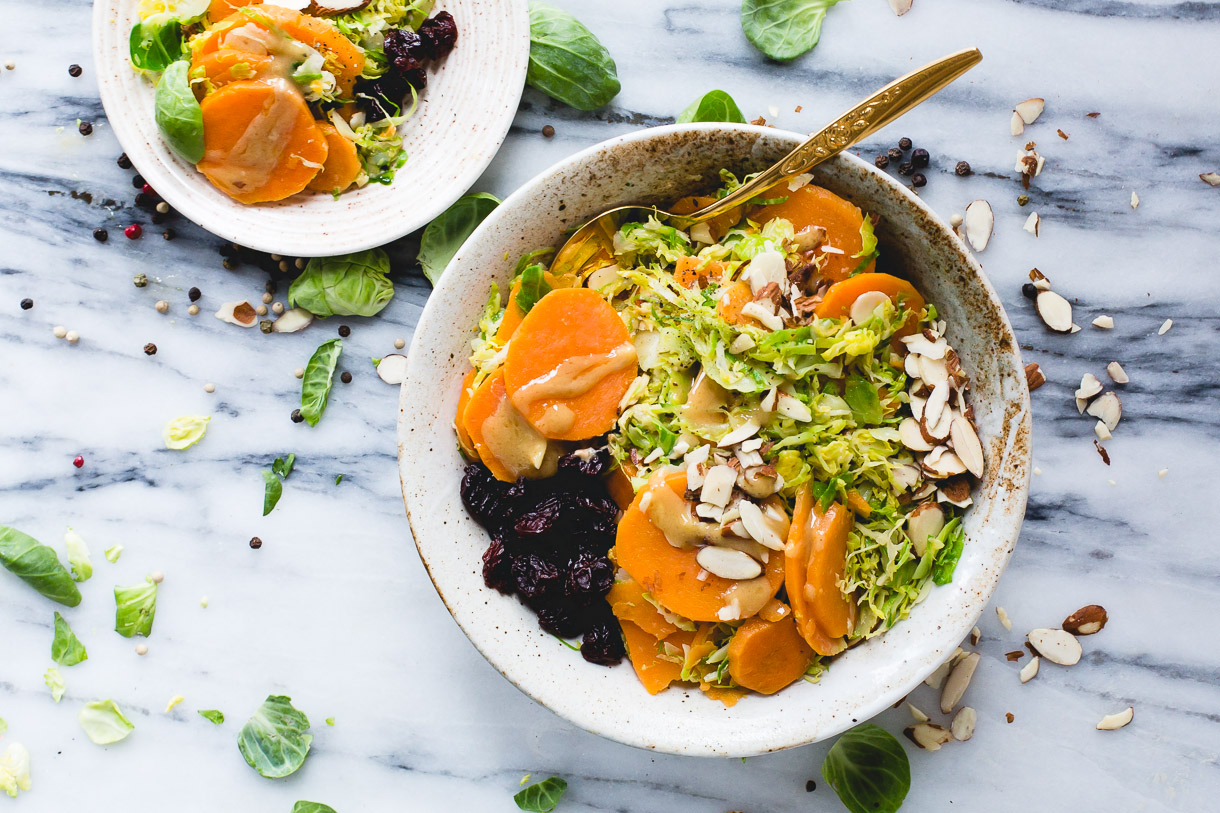 One of my favorite things to do with traditional concepts, like potato salad, is to put a twist on them to make them more interesting and maybe even a bit healthier. I grew up eating my grandmother's German version of warm spuds, with bacon and onions, tiny mustard seeds and a hefty dose of black pepper. I loved it, and I still do, but I was ready for a plant-powered change – which is just what this Warm Sweet Potato Salad is. Glowing with paper-thin brussels sprouts, crunchy almonds and a maple mustard dressing, this colorful dish is the perfect answer for a winter craving.
But maybe you're probably thinking, "I want to make that! But….. I can never cut my ingredients the same size, and shredding the brussels sprouts by hand sounds like a lot of work." Trust me – I was the same way until I started using the KitchenAid® 9-Cup Food Processor with ExactSlice™ system. You can slice and shred quickly and easily from thick (like the potatoes) to super thin (like the brussels sprouts) with one slide of the lever. No more cutting your hand on a mandoline, or spending an hour doing it by hand. The wide mouth feed tube is a really nice feature as well because you don't have to do a lot of prep work in order to fit your vegetables into the Food Processor. And with the smaller 3-cup work bowl that sits right inside the 9-cup work bowl, you can use the Food Processor to make the dressing, too! One appliance, so many uses – which I really appreciate with little kitchen space.
Okay, let's get started. First you'll use the slicing disc, and push the ExactSlice™ lever to the 2nd setting for the brussels sprouts. With the brussels sprouts in the feed tube, set the Food Processor on high and use the food pusher to engage them with the slicing disc, watching as they shred quickly.
Then cut the peeled sweet potatoes in half so they fit into the wide mouth feed tube, and stand them upright (vertically). Then you'll move the ExactSlice™ lever all the way to the right, so that you're creating thick sliced potatoes. Set the Food Processor on high and use the food pusher to engage potatoes with the slicing disc.
Like a classic potato salad, the sweet potatoes are boiled instead of roasted. In a large pot, cover the potatoes with 4 inches of water and simmer about 8-9 minutes, until tender. Remove from heat and stir in brussels sprouts, which soften and brighten them. Drain well, and use a towel to pat any excess water off.
Then it's time to make the dressing! You'll set the 3-cup work bowl inside the 9-cup work bowl of the Food Processor, and attach the multipurpose blade for 3-cup work bowl. Add all ingredients and blend on high until creamy.
Stir the dressing over your warm ingredients, top with almonds and dried cranberries, and you're ready to dig in!
If you haven't tried a warm salad, I think this one will you win you over. It's beautiful served at a dinner party, or any holiday gathering, and the leftovers make great lunches throughout the week. The ingredients are bursting with health benefits too: with Beta-carotene, Vitamin A and C, antioxidants, fiber, potassium, manganese and B6. There are so many reasons to dive into this beautiful salad!
I'll leave you with a few variations on this salad too, so you can make even more magic with your KitchenAid® Food Processor!
– Instead of sweet potatoes, use rainbow carrots, sliced thick, to make this salad extra colorful.
– To make it a main dish, chop rotisserie chicken using the multipurpose blade of your Food Processor and add it at the end. If you do this, double the amount of dressing.
– If you can't tolerate nuts, toasted pumpkin or sunflower seeds are also delicious.
Be sure to share your take on this Warm Sweet Potato and Brussels Sprouts Salad recipe with us on Instagram using #MadeWithKitchenAid for a chance to be featured.
Warm Sweet Potato & Brussels Sprouts Salad with Maple Mustard Dressing
Makes 4-6 servings
INGREDIENTS
3 large sweet potatoes (about 1 1/2 pounds), peeled & cut in half horizontally
3/4 teaspoon salt
Water for boiling
3/4 pound brussels sprouts (bottoms trimmed)
1/3 cup sliced almonds
1/3 cup dried cranberries
2 tablespoons minced basil
For dressing
1/3 cup olive oil
1 tablespoon apple cider vinegar
1 tablespoon Dijon mustard
1 1/2 tablespoons maple syrup
1/2 teaspoon cracked black pepper
1/4 teaspoon salt
1 clove garlic
DIRECTIONS
Using your KitchenAid® 9-Cup Food Processor with ExactSlice™ system, cut the sweet potatoes and brussels sprouts using the slicing disc. For the sweet potatoes, push the ExactSlice™ lever as far to the right as it goes. Then put your halved sweet potatoes in the wide mouth feed tube. Use the food pusher to engage them with slicing disc, and slice them with the Food Processor on high. You may have to do this in batches depending on how wide your sweet potatoes are. Remove sweet potatoes from bowl.
Then attach the middle sized feed tube, and add brussels sprouts. Slide ExactSlice™ lever back to the left, to the 2nd notch. Use the food pusher to engage the brussels sprouts with the slicing disc, while the Food Processor is on high.
Add sweet potatoes and salt to a large pot and fill with water so the sweet potatoes are covered with about 4 inches of water. Bring to a boil, and simmer for 7-8 minutes, until potatoes are fork tender, being careful not to overcook. Remove from heat, stir in brussels sprouts and let sit for one minute. Drain with a colander and pat to dry.
Put the potatoes and brussels sprouts into a large bowl. Then put the 3-cup work bowl into Food Processor with the multipurpose blade for 3-cup work bowl. Add dressing ingredients and process on high for 20 seconds. Wipe down sides, then process on high for additional 30 seconds.
Pour dressing onto warm ingredients; add cranberries, almonds and basil, then stir to fully combine. Taste, and adjust salt if needed. Enjoy!

Print
*The Contributor of this post has been compensated by KitchenAid for this post, but this post represents the Contributor's own opinion.*