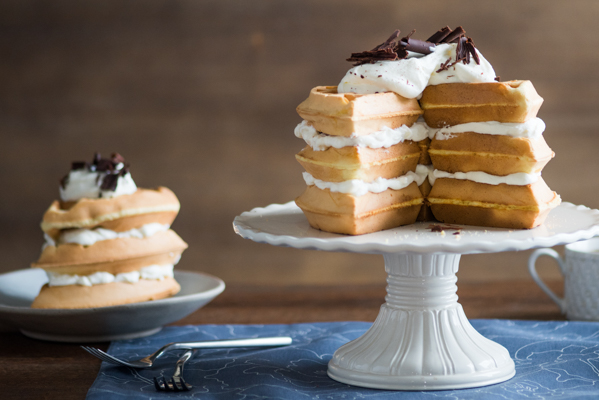 Just about anything can be waffled, and this unexpected cake is no exception. Using a light, airy ladyfinger batter in the KitchenAid® Waffle Baker works surprisingly well. Even I was surprised the first time I tried it. Granted, the waffles on their own might seem a bit lackluster (then again, have you tried a ladyfinger cookie?), but when dipped in espresso and filled with a sweet mascarpone filling, the waffles come alive with flavor.
The ladyfinger waffles can certainly be served normally, quartered and topped with a dollop of the filling mixture, but for an even more impressive presentation, stack the waffles as if they were cake layers, with a thick layer of mascarpone cream oozing out in between. Top it all off with a dusting of cocoa powder and a pile of chocolate curls, and this cake is dressed to impress.
To make this impressive layered dessert, you start by preparing a classic ladyfinger cookie batter.
In a KitchenAid® Stand Mixer, whisk the egg whites until they are just frothy, then add the sugar with the Stand Mixer running on low. Continue to whisk the egg whites on high speed until they hold soft to medium peaks, then transfer the whites to a clean bowl. Return the mixing bowl to the Stand Mixer; it doesn't matter if there is still some egg white left in the bowl at this point (hooray for reusing bowls without washing them)!
Beat the egg yolks with remaining sugar using the flat beater attachment until the yolks are thick and light yellow in color.
Fold in the flour and baking powder mixture, folding until the batter resembles a stringy bread dough. Do not overmix; the dry ingredients will not be fully incorporated at this point.
Gently fold in one third of the beaten egg whites to lighten the batter and make the remaining egg whites easier to incorporate. The idea here is to gently fold the egg whites into the batter so as to not deflate the egg whites (the air, after all, is what gives the ladyfinger its light texture). Fold in the remaining egg whites until just incorporated.
The final batter will be airy and frothy, and still a little chunky but with no large streaks of egg white visible.
This recipe makes enough batter for 4 waffles, so divide your batter accordingly. You want approximately one heaping cup of batter per waffle. I find that a large cookie/cupcake scoop has around a 1/4-cup capacity, so 4 heaping scoops should perfectly fill one waffle. A plunger measuring cup also makes easy work of batter measurement, allowing you to dump a perfect cup of batter into the Waffle Baker at one time.
After a 3 minute 30 second cook time, carefully ease the waffles out of the Waffle Baker using a soft rubber spatula. The waffles are quite fragile at this point. No worries if they break into sections as you'll hardly be able to tell in the final cake. Repeat with remaining batter for a second batch of waffles.
While your waffles are cooling, prepare the mascarpone filling. Beat the mascarpone cheese (be sure it is at room temperature first) with the sugar and vanilla until incorporated. Mascarpone cheese tends to be a little chunky, not smooth like cream cheese, so don't expect this step to produce anything smooth and creamy just yet.
Then add your heavy cream. Start your Stand Mixer on medium-low speed so as not to splatter, then slowly increase the speed to medium-high. Pretend you are whipping cream here, as that is essentially what you are doing. Watch carefully as the cream can go from perfectly pillowy soft peaks to overwhipped in a matter of seconds. If anything, stop a bit short of fully whipped, as the filling will continue to thicken as it sits.
To assemble the cake, pour espresso into a shallow plate or pie pan to about 1/2-inch thick. Dip the waffle into the espresso, letting it sit for 1 to 2 seconds to absorb some of the coffee. Place on plate or cake stand. Dollop about 3/4 cup of the filling onto the waffle and spread to the edges. Repeat with remaining waffles, refilling espresso as needed. Top with a decorative dollop of remaining filling, then sprinkle with cocoa powder and chocolate curls. Slice, serve, and enjoy!
Wafflemisu Cake
Makes 4 waffles (8 servings)
INGREDIENTS
For waffles
6 large eggs, separated
1/8 teaspoon cream of tartar
3/4 cup tablespoons granulated sugar, divided
1 1/2 cups all-purpose flour
1/2 teaspoon baking powder
1 teaspoon vanilla extract
1/4 teaspoon salt
For filling
1 cup (8 ounces) mascarpone cheese
1/2 cup granulated sugar
1/4 teaspoon vanilla extract
2 cups heavy cream
1 cup brewed espresso, lukewarm
Cocoa powder, for dusting
Chocolate curls, for garnish (optional)
DIRECTIONS
Preheat KitchenAid® Waffle Baker.
Combine egg whites and cream of tartar in the bowl of a KitchenAid® Stand Mixer fitted with a whisk attachment. Beat on medium-high speed until frothy, then add 1/4 cup granulated sugar. Increase speed to high and whip until the whites hold soft peaks. Transfer to a clean bowl and set aside.
Return mixing bowl to Stand Mixer (it's ok if there's still a little bit of egg white left in it), and replace whisk with flat beater attachment. Add egg yolks and remaining 1/2 cup sugar to bowl. Beat on medium-high speed for 1 to 2 minutes or until yolks are thick and light yellow in color. Mix in vanilla and salt.
In a small bowl, whisk together flour and baking powder until evenly incorporated. Fold into egg yolk mixture until stringy and only a few streaks of dry ingredients remain. Fold in 1/3 of egg whites to lighten; add remaining egg whites and fold until just incorporated. Do not over mix.
Scoop a heaping 1 cup of batter into the Waffle Baker, flip, and repeat with remaining batter on other side. Cook for about 3 minutes 30 seconds or until waffles are golden brown and crisp. Remove from Waffle Baker and repeat with remaining batter. At this point waffles can be cooled, then frozen in an airtight container for up to 1 month.
To prepare filling, combine mascarpone cheese, sugar, and vanilla in the bowl of a stand mixer fitted with the flat beater attachment. Mix on medium speed until evenly incorporated. Add heavy cream and beat until thickened and smooth. If filling is too thick (it will continue to thicken as it stands), mix in another tablespoon or two of heavy cream as needed.
Place 1/2 inch of brewed espresso in a shallow plate or pie pan. Dip the bottom of each waffle briefly in the espresso, then stack on serving plate or cake stand. Spread a generous 3/4 cup of filling between each layer, repeating with remaining waffles. Dollop remaining mascarpone mixture on top, then dust with cocoa powder and sprinkle with chocolate shavings. Enjoy.

Print
*The Contributor of this post has been compensated by KitchenAid for this post, but this post represents the Contributor's own opinion.*