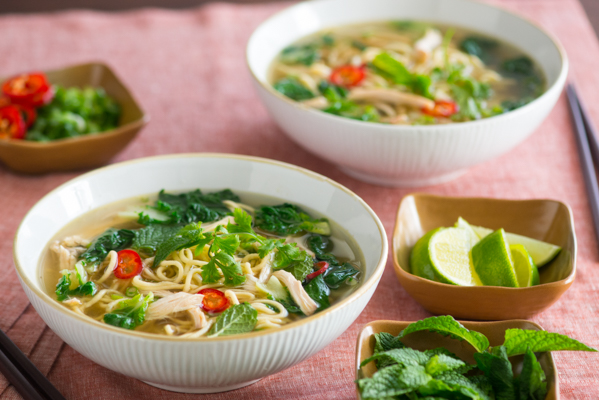 There's the chicken noodle soup we all know and love, and then there's Vietnamese-style chicken noodle soup. Comforting, yes, but with its heat and spice, herbs and aromatics, acidity and crunch, it's so much more. Make the quick, yet rich chicken broth, so you've got time to make the noodles!
During the college years when Maggy and Sharon came home on break, the first night they'd always request chicken noodle soup. For young women who were studying by day, socializing by night, and not taking the best of care, this soup was healing and comforting. One slurp, and they were home.
To make my chicken broth for soup I used to start with a raw chicken, but I eventually discovered I could make an equally rich and super quick broth with a rotisserie chicken. Regardless of chicken noodle soup style, I always start with the cooked chicken, separating the meat from the bones. The meat gets shredded and reserved for the finished soup, the roasted bones get tossed in the pot to enrich the broth.
Vietnamese-style soup broths usually start with oven roasting (or grilling) the onion and ginger, but I found I could get that caramel-y char right in the soup pot, saving time and energy. Once the onion and ginger get dark, it's time to toast the spices. Just drop them in the pot and cook until fragrant and slightly darker in color.
To the pot, I add good quality chicken broth and the bones. Once the broth comes to a simmer, the broth is done in about thirty minutes. It's during that time I prepare the rest of the soup.
Now it's time to set my bowls in my KitchenAid® Slow Cook Warming Drawer. As time gets closer, I add the shredded chicken so that it starts to warm up too.
I also bring a large pot of salted water for boiling the noodles and blanching the bok choy. You can use bean sprouts, of course, but bok choy is so much more readily available and lasts so much longer.
The next part—making the noodles—brings me pleasure. Of course you can just buy rice sticks, and then you can officially call your soup pho, but since I've got my egg pasta formula memorized—3 large eggs and 2 cups of all-purpose flour— and the technique internalized, making noodles is easy.
I know there's not always time to make from-scratch egg noodles, but it really does make difference. (Can you tell I'm becoming a fresh pasta evangelist?) When making noodles with your KitchenAid® Pasta Roller and Cutter Set, you have your choice of three widths. Sometimes I like them thin, like here. Other times, I prefer a wider, more comforting noodles. The choice is yours.
All that's left is putting together that gorgeous array of herbs, hot pepper, and lime. These are the ingredients that really bring the soup alive. I take it to the table, along with bottles of Asian fish sauce, sesame oil, and Sriracha.
With the chicken warming in the bowls, I divvy up the noodles and bok choy, and call everyone to the table. I don't ladle in the broth until everyone's seated. And then we begin—herbs torn, pepper slices dropped in, dashes of sesame oil, fish sauce and, for those who can take a little more heat, Sriracha And I stop and listen for a moment as everyone starts to eat or should I say slurp? Cold weather comfort at it's best.
Vietnamese-Style Chicken Noodle Soup
Makes 6 servings
INGREDIENTS
1 tablespoon vegetable or canola oil
1 large onion, halved
1 3-inch nob of ginger, cut into thick coins
1 3-inch cinnamon stick
2 tablespoons coriander seeds
3 whole star anise
4 whole cloves
1 rotisserie chicken, meat removed and shredded, bones and skin reserved
2 quarts chicken broth
2 tablespoons Asian fish sauce
1 tablespoon sugar
1 recipe Fresh Egg Noodle Dough (see below) or 1 pound rice sticks
3 heaping cups thinly sliced bok choy (white and green parts)
4 scallions, thinly sliced
1/4 cup chopped fresh cilantro
Garnishes
Cilantro leaves
Torn basil leaves
Mint leaves
1 red jalapeno or other red chile pepper, thinly sliced
2 limes, quartered
Serve with Asian fish sauce, sesame oil, and Sriracha passed separately.
DIRECTIONS
Heat oil in a large soup kettle over medium-high heat. Add onion halves, cut side down, and ginger coins and cook, turning ginger once, until both are dark caramel-brown, about 5 minutes. Add cinnamon, coriander, star anise, and cloves; cook until fragrant and darker in color, 30 seconds to a minute longer.
Add reserved chicken bones and skin, broth, 4 cups of water, fish sauce, and sugar; bring to a simmer. Reduce heat to medium-low and continue to simmer, partially covered, until bones have released their flavor, about 30 minutes.
Let stand until warm, and then strain out solids. (Can be covered and refrigerated several days); skim fat.
When ready to assemble soup, heat oven to 150 degrees or turn KitchenAid® Slow Cook Warming Drawer to high. Place desired number of bowls on a large rimmed baking sheet. Add about a 1/2 cup of shredded chicken to each bowl and set in warm space.
Reheat broth in a soup kettle and prepare plate of garnishes: cilantro, basil, mint, jalapeno, limes; set aside.
Meanwhile, bring a large pot of generously salted water to boil over high heat. Add noodles; cook until just tender, a couple of minutes. Remove with a strainer and divide among bowls. Add bok choy to boiling water and blanche for a few seconds; drain and divide among bowls with a portion of scallions and cilantro.
Ladle a portion of broth into each warm bowl and serve immediately with plate of garnishes and sauces as suggested above.

Print
Fresh Egg Noodle Dough
Makes 1 pound
INGREDIENTS
2 cups all-purpose flour
3 large eggs
DIRECTIONS
Mix flour and eggs in the bowl of a KitchenAid® Stand Mixer fitted with the flat beater attachment until dough starts to form rough little balls.
Remove dough from machine and place in on a lightly floured work surface; knead briefly until dough comes together into a smooth ball. Wrap in plastic and let rest for 15 minutes or up to a couple of hours. (Can be refrigerated up to couple of days.)
When ready to make pasta, divide dough into quarters, and pressing each piece into approximate 1/2 –inch thick rectangles.
With KitchenAid® Stand Mixer fitted with the KitchenAid® Pasta Roller Attachment adjusted to widest setting, run the first rectangle of dough through the roller.
Fold dough in thirds and continue running it through the roller set at widest setting, folding it into thirds after each roll, until dough is smooth and pliable, 2 to 3 times.
Turn knob to the next thinner setting and run pasta through, adjusting the setting to the next thinner setting after each rolling, lightly dusting dough with flour as necessary. Lay pasta on work surface to rest.
Repeat rolling, folding, and stretching steps with remaining 3 pieces of dough. Switch to desired cutting attachment. Working one piece at a time, run stretched dough through cutter to form noodles.
Print
*The Contributor of this post was provided with free appliances by KitchenAid in exchange for this post, but this post represents the Contributor's own opinion.*