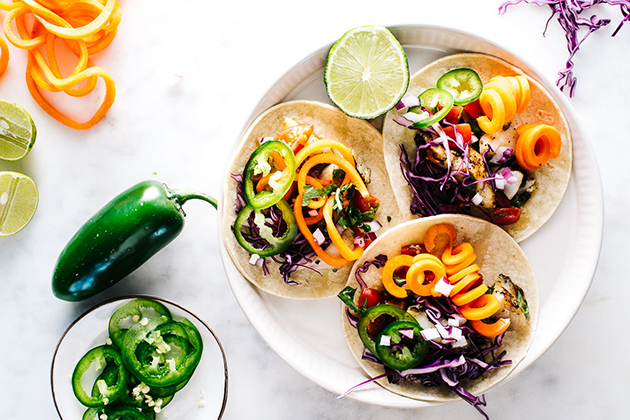 Vietnamese Fish Tacos with Spiralized Quick-Pickled Carrots
Makes 2-4 servings
INGREDIENTS
1 pound firm white fish, such as cod
2 teaspoons fish sauce
2 teaspoons sugar
1 teaspoon freshly ground pepper
2 cloves garlic, minced
1 teaspoon vegetable oil
1 tablespoon chopped fresh cilantro
1 tablespoon chopped fresh mint
1 tablespoon sliced green onions
1/2 cup diced tomatoes
Juice of 1/2 lime
For serving
Warmed tortillas
Extra herbs
Roughly chopped spiralized carrot pickles
Thinly sliced red cabbage
Lime wedges
Sliced jalapenos, if desired
Salt and pepper, to taste
For spiralized carrot pickles
1-2 large carrots
1/2-teaspoon salt
2 teaspoons sugar
DIRECTIONS
Cut the cod into 1 1/2-inch pieces and place in a bowl with the fish sauce, sugar, pepper, garlic, and oil. Mix well and let sit for 10 minutes.
Heat up a non-stick pan over medium high heat. Add a touch of oil to the pan, and when hot, add the fish, being careful not to crowd. When the bottoms are browned and caramelized, about 2 minutes, flip and let cook for another 2 minutes or so, or until cooked through.
Remove from the heat and toss in a bowl with the chopped herbs, tomatoes, and lime juice. Taste and season with salt and pepper.
Serve on charred or warmed tortillas with extra herbs, spiralized carrot pickles, red cabbage, lime wedges, and sliced jalapeños, if desired.
For spiralized carrot pickles
Make the pickles: Peel the carrot cut off the ends. Use the small blade on the KitchenAid® Spiralizer and spiralize.
Trim the spiralized carrots into manageable lengths into a bowl and sprinkle on the salt and sugar. After 15 minutes, rinse off the pickles, drain well and place in the fridge until ready to assemble tacos.
Note: You should end up with about 2 cups of spiralized carrots.

Print
*The Contributor of this post has been compensated by KitchenAid for this post, but this post represents the Contributor's own opinion.*