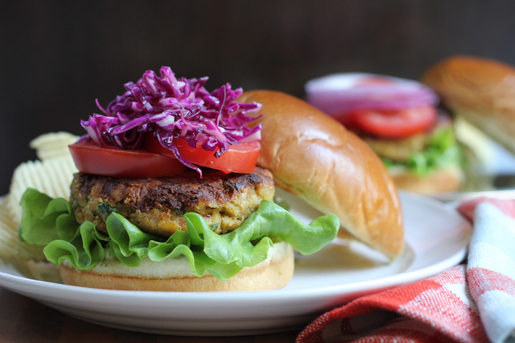 I just finished a pretty strict 30-day food program a little over a week ago and feel great. It was the hardest 30 days ever, especially since I was the only one in my house doing it, and I was still cooking for my family. I'm not calling it a diet because it's more than that. I reflect on it as a huge learning experience about the foods I eat and how they affect my body.
During the program, I probably ate more meat than I have this year. Okay, maybe that's an overstatement but I did eat my fair share of beef, chicken, pork and fish.
Don't get me wrong, I love a good steak, but after 30 days of bulking up on all kinds of meat, it's time to slow it down. Just a little.
The other thing I missed terribly was not eating beans and tofu. However, throughout the program I cooked every possible vegetable in every possible way and loved it! And now that I'm finished, I am slowly working certain foods back into my diet. Which foods are coming back first you might ask?
The beans! The garbanzo beans to be exact.
Everyone needs a good veggie burger every now and then, right? Well, I personally LOVE veggie burgers. Black bean burgers are one of my favorites and now this chickpea burger is fighting for that top spot.
And it might have won.
I snuck every possible vegetable into these babies. Even zucchini, corn and grilled eggplant made it in. And I have a secret ingredient as well.
There's flaxseed meal in these patties! I mixed panko with flaxseed meal, thanks to the brilliant idea from my friend, Rina. The flaxseed meal adds a touch of nuttiness. There's also lemon zest, which brightens the whole burger.
The key to these burgers is how you cook them. You have to start with a great skillet in order to get them nice and crispy and slightly crunchy on the outside. I used my KitchenAid® 7-Ply Stainless Steel with Copper Core 10″ Skillet. The low, gently angled sides not only make flipping easier, but also provide a larger surface area for cooking the chickpea patties. This skillet is great for quickly cooking, sautéing, and searing meats and vegetables too. This is seriously the most used skillet in my kitchen.
If you don't have a skillet that you use all the time and love, then you have to check this one out. And use it to make these chickpea burgers.
Veggie Chickpea Burger
Makes 7-8 patties
INGREDIENTS
For the chickpea patties
2 15-ounce cans of chickpeas or garbanzo beans, drained and rinsed
1 15-ounce can of sweet corn, drained
1/2 small onion, roughly chopped
1/4 cup grilled or roasted eggplant, roughly chopped
1/4 cup zucchini, roughly chopped (about half a medium to large sized zucchini)
1/2 teaspoon paprika
1/2 teaspoon ground coriander
1/2 teaspoon cumin
1 heaping cup panko or regular bread crumbs + more if needed
1/4 cup flaxseed meal
1 teaspoon lemon zest
1 egg, beaten
1/4 cup parsley, finely chopped + more if needed
Salt and pepper
To cook and assemble the burgers
2 tablespoons extra virgin olive oil, split
Brioche buns, toasted
Fresh green lettuce
Tomatoes, sliced
Red onions, sliced thin
Dijon mustard
Mayonnaise
Ketchup
Red cabbage slaw (see recipe below)
DIRECTIONS
*Note for the cook: Be careful not to blend/pulse the ingredients for your chickpea patties for too long in your food processor. You still want some texture so the patties are able to hold together while cooking.
For the chickpea patties
Using your KitchenAid® 9-Cup Food Processor, pulse together the chickpeas, corn onions, grilled eggplant, zucchini, paprika, ground coriander and cumin until just combined. Do not over pulse, you want to retain some texture to your patties.
Remove mixture from your Food Processor and into a large sized mixing bowl. Add in the panko, flaxseed meal and lemon zest. Using your hands or a rubber spatula, mix until combined. Add the egg, parsley and season with salt and pepper and mix again until combined.
The mixture can now be placed into the refrigerator overnight in a sealed, airtight container, if prepping a day ahead. Alternatively, you can form the patties and place on a baking sheet or plate, using parchment paper to separate them and then refrigerate. Refrigerate for at least an hour before cooking.
When ready to cook, using your KitchenAid® 7-Ply Stainless Steel with Copper Core 10″ Skillet, heat the olive oil in the skillet on the stove over medium high heat and after a minute or so place the chickpea patties in the skillet, I cooked about 3 at a time, and cook on each side for about 5 to 6 minutes, or until nicely browned, slightly crispy and heated through. Repeat with remaining chickpea patties.
To assemble and serve
Place the cooked chickpea patty on a toasted brioche bun and top with lettuce, tomatoes, red onions, red cabbage slaw and squeeze on some Dijon mustard and mayonnaise or any other desired condiments. Top with the topside bun and enjoy while warm!

Print
Red Cabbage Slaw
INGREDIENTS
Half head of red cabbage, sliced thin using a mandolin slicer or food processor
2 tablespoons good quality extra virgin olive oil + more if needed
1 to 2 teaspoons red wine vinegar
Salt and pepper
DIRECTIONS
Using a large mixing bowl, toss the shredded red cabbage in the bowl. Drizzle on the olive oil and red wine vinegar and season with salt and pepper to taste.
Toss together until the cabbage is nicely coated in the oil and vinegar.
Taste and adjust any ingredients as needed.

Print
*The Contributor of this post has been compensated by KitchenAid for this post, but this post represents the Contributor's own opinion.*