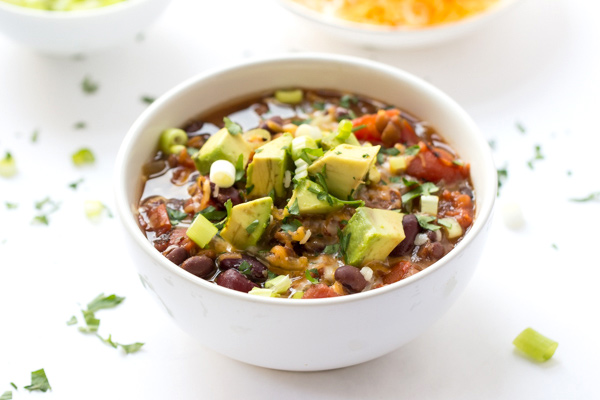 If I'm trying to feed a crowd, either at my own house or when heading to a potluck dinner, my go-to recipe is almost always chili. It's a crowd-pleaser, it's easy to make, and it can be customized for different dietary restrictions. It's also the perfect recipe to make for a long weekend!
Since more and more people in my life are eating a plant-based diet, I've found a bean chili is usually the way to go. My bean chili is a bit different than others because I like adding in brown lentils rather than just the traditional chili beans. I find that the lentils add a nice, meaty texture to the chili, which ends up making it much more appealing to the meat eaters in my life. Even though they know there's no ground beef/turkey in there, they still gobble it up!
The other thing that makes chili my go-to recipe for a crowd is that it's pretty much a hands-off cooking experience, especially when I'm using the KitchenAid® Multi-Cooker with the Stir Tower Accessory. All you have to physically do is add your ingredients into the Multi-Cooker, turn the Stir Tower Accessory on as it preheats, then you're done. The Multi-Cooker takes care of the rest!
So whether you want to throw it on before you leave for work or you don't want to spend your entire Saturday in front of the stove, using your Multi-Cooker to make this vegetarian bean chili is definitely the way to go.
The first thing we'll do is add all our chili ingredients to the Multi-Cooker. You'll start with diced red onion, crushed garlic, black beans and kidney beans.
Then you'll add diced tomatoes, salsa, hot sauce and spices.
And finally you'll add in your brown lentils and your broth.
Once everything is in the Multi-Cooker, you'll turn it on to the Slow Cook High setting. While it's heating up, just turn your Stir Tower Accessory on the lowest speed. Feel free to let it stir the entire time the Multi-Cooker is heating up, as that will ensure all the ingredients are mixed thoroughly.
Once the Multi-Cooker has preheated, you can either remove the Stir Tower Accessory or keep it running. Cover the Multi-Cooker with the lid and set the timer for 6 hours and let it cook. That's all the effort it takes to make a chili with this Multi-Cooker!
When you're ready to serve your chili, I always think it's fun (especially with a crowd) to have a toppings bar. This allows everyone to customize their chili just the way they like it.
Some of my favorite topping options include: sour cream, fresh salsa/pico de gallo, sliced jalapeño, chopped cilantro, sliced green onions, crushed corn tortilla chips, shredded cheese and hot sauce, for those of us who like an extra kick.
And even if you're not making this recipe for a crowd, it also freezes wonderfully. You can make a batch, freeze the rest and have an easy dinner whenever you don't feel like cooking!
Share your take on this Vegetarian Three Bean Chili recipe on Instagram using #MadeWithKitchenAid for a chance to be featured.
Vegetarian Three Bean Chili
Makes 6-8 servings
INGREDIENTS
For the chili
1 cup diced red onion
2 garlic cloves, crushed
1 (15 oz) can black beans, drained and rinsed
1 (15 oz) can kidney beans, drained and rinsed
1 (28 oz) can diced tomatoes (preferably fire roasted)
1/4 cup jarred salsa
1 teaspoon hot sauce (optional)
2 teaspoons cumin
2 teaspoons paprika
1 teaspoon chili powder
1 teaspoon coriander
1/4 teaspoon cayenne (optional)
Salt & pepper to taste
1/2 cup dried brown lentils
3-4 cups vegetable broth
For the toppings (suggestions)
Sour cream
Fresh salsa/pico de gallo
Sliced jalapeño
Chopped cilantro
Sliced green onions
Crushed corn tortilla chips
Shredded cheese
Hot sauce
DIRECTIONS
Add all your chili ingredients to the KitchenAid® Multi-Cooker with the Stir Tower Accessory attached.
Set Multi-Cooker to the Slow Cook High setting. While it is preheating, turn the Stir Tower Accessory on the lowest setting and allow the ingredients to stir together.
When the Multi-Cooker has preheated, either remove Stir Tower Accessory, or leave it in place, cover the Multi-Cooker and set the timer for 6 hours.
After six hours, stir and taste. Adjust spices as necessary. If the chili is too thick, add more broth to reach desired consistency.
Serve warm with your favorite chili toppings (suggested list above).

Print
*The Contributor of this post has been compensated by KitchenAid for this post, but this post represents the Contributor's own opinion.*