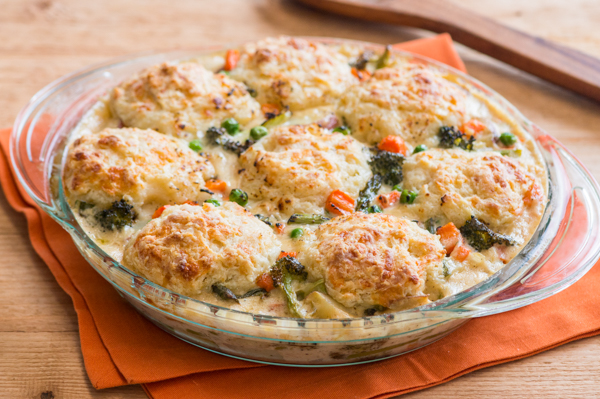 I used to entertain. I mostly found it stressful. What if I don't have time to get everything done? What if the meal doesn't turn out? What if people don't have a good time? Plus, I'm a food professional; people expect me to get it right.
Then I discovered that friends and family felt the same way when they had me over. They had all the same fears and concerns… except they were entertaining a food professional!  That's when I stopped "entertaining." Now I just have people over, and it's a lot more fun!
Here's what I do.
-Serve something homey and comforting like this Vegetable Potpie for All Seasons. You may think you need to wow your guests, but I've discovered most people are just starved for a simple home-cooked meal.
-Make sure there's something for everyone. Vegetable Potpie For All Seasons, for example, works as a vegetarian main course. Couple it with a simple roast, and it doubles as a hearty side for the rest of your guests.
-Keep it fresh and seasonal. Vegetable Potpie For All Seasons gives you the flexibility to slide in peak produces.
-Make one big potpie for a large group, but if you're having just a few people over why not split the pies?  Bake one tonight and the second one tomorrow when you probably don't feel like cooking. This way you get to eat fresh pie rather than lukewarm leftovers.
-You see the dinner plates in the background. Yep, that's right. They're sustainable disposables. If you're not entertaining—just having people over—it's OK!
-Keep prep time short and sweet. To save time I microwave the broth and milk for the potpie sauce. This way the sauce thickens almost immediately!
– When I'm having people over, the food is not the boss of me. If it gets done before I'm ready to serve, it waits. As you can see, the potpie holds beautifully in my warming drawer.
– Good food is key to a good time, but what really matters is your spirit. If you're stressed, your guests will notice. If you're having fun, your friends and family will too. So keep it simple. As I always sign my books, "Here's to throwing your own party… and enjoying it too!
Vegetable Pot Pie
Makes 8 servings
INGREDIENTS
For the cheddar biscuits
1 cup bleached all-purpose flour
1 teaspoon baking powder
1/8 teaspoon baking soda
1/4 teaspoon salt
4 tablespoons unsalted butter, frozen solid
1/2 cup cold buttermilk, plus a few extra teaspoons if necessary
1 cup cheddar cheese
For the filling
2 medium-large onions (red or white), cut into medium dice or 2 medium leeks, trimmed, quartered lengthwise, cut into medium dice and washed
2 pounds vegetables—pick a mix—your choice (see below)
1 pound red boiling potatoes and/or sweet potatoes, cut into medium dice
6 tablespoons olive oil, divided
Salt and ground black pepper
1 1/2 teaspoons dried thyme, tarragon, or basil
2 cups chicken or vegetable broth
1 can (12 ounces) evaporated milk
6 tablespoons all-purpose flour
1/4 cup dry sherry
6 tablespoons grated Parmesan cheese
1/2 cup frozen peas
Cheddar Biscuits and/or 9-inch refrigerated piecrust(s)
DIRECTIONS
For the cheddar biscuits
Mix flour, baking powder, soda, salt, and cheddar with a fork in a medium bowl. Using a box grater, coarsely grate butter into the dry ingredients; mix quickly with fingertips to evenly blend. Stir in cheese and then buttermilk; mix until dough just comes together. Pinch dough into small rough rounds, placing them over filling.
For the filling
Adjust oven rack to lower-middle position and heat oven to 425 degrees. Meanwhile, toss onions, vegetables, and potato of choice with 3 tablespoons oil, 1 teaspoon herb of choice, and a sprinkling of salt and pepper on a rimmed baking sheet. Roast vegetables until just tender, stirring about halfway through, 15 to 18 minutes. Pour vegetables into a large bowl and reduce oven temperature to 400 degrees.
While vegetables roast, microwave broth and milk on high power in a microwave-safe bowl until steamy, about 4 minutes. Heat remaining 3 tablespoons of oil over medium heat in a large saucepan or Dutch oven. Whisk in flour and remaining 1/2 teaspoon of herb of choice; cook until golden, about 1 minute. Whisk in broth/milk mixture and cook until sauce comes to a boil and fully thickens. Turn off heat, whisk in sherry and Parmesan and season to taste with salt and pepper. Add sauce to cooked vegetables, along with peas; adjust seasonings. Pour mixture into one 13- by 9-inch baking pan or two 9-inch pie plates.
Top with biscuits or refrigerated piecrusts (see Topping Options, below) Bake until sauce is bubbly and top is golden brown, 25 to 30 minutes. Let cool slightly and serve.
Print
Topping Options
:
There are 3 ways to top Vegetable Pot Pie for All Seasons.
When serving a crowd, make one big potpie in a 13- by 9-inch pan (or 2 small ones in 9-inch pie plates). Top with a double recipe of Cheddar Biscuits
In a hurry? Make two potpies in 9-inch pie plates and top with 9-inch refrigerated piecrusts.
Bake one now and freeze one for later, make two potpies in 9-inch pie plates. Top one with biscuits and bake it now. Top the other with a refrigerated piecrust and freeze. (Bake frozen pie for about 1 hour.)
Vegetable Options:
When making this potpie, just start pulling vegetables from the fridge and putting them to the scale until you get two pounds. Try to incorporate at least three vegetables. If celery is one of your picks, don't use more than a couple of large stalks.
Cabbage, quartered, cored and cut into short 1/2-inch thick slices
Cauliflower cut into small florets
Broccoli, cut into small florets
Asparagus, tough ends snapped off and cut into 1-inch lengths
Winter Squash, peeled, seeded, and cut into medium dice
Carrots, peeled and sliced 1/2-inch thick
Turnips, peeled and cut into medium dice
Rutabagas, peeled, quartered and cut into medium dice
Sliced baby bella mushrooms
Celery, cut into medium dice
Fennel, halved, cored and cut into medium dice
Bell peppers, stemmed, cored, seeded, and cut into medium dice
Eggplant, stemmed and cut into medium dice
Zucchini and yellow squash, stemmed and cut into medium dice
*The Contributor of this post has been compensated by KitchenAid for this post, but this post represents the Contributor's own opinion.*