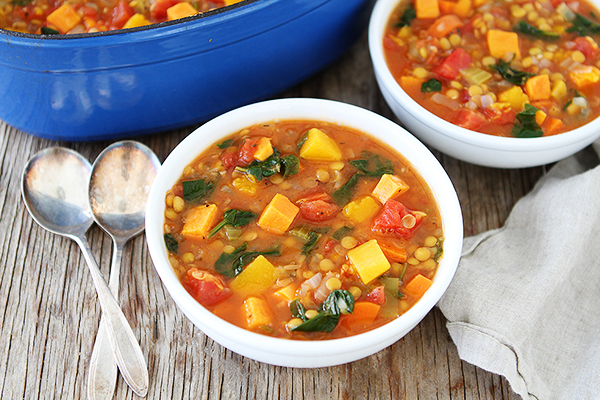 If you're looking for a healthy recipe to balance out all of the indulgent holiday foods, I have the perfect soup for you today. This easy Vegetable Lentil Soup is healthy, hearty, and so delicious.
I like to make a big pot so we can eat leftovers for lunch. This soup also freezes beautifully so you can put some soup in the freezer for another day. It will come in handy when you're busy with all of the holiday hustle and bustle and are craving a healthy, comforting meal.
This soup is loaded with fall vegetables.
I use my sharp Chefs Knife from the KitchenAid® 11pc Professional Series Cutlery Set to chop up all of the colorful fall vegetables. It makes chopping easy and enjoyable.
I love making this soup in my pretty KitchenAid® Streamline Cast Iron Casserole. It warms easily, holds heat, and can be used on the cooktop and in the oven.
I start by heating the olive oil in the Casserole dish and then I add in all of the veggies. Sauté the vegetables until they are tender and then stir in the lentils.
Next, add the vegetable broth, diced tomatoes, bay leaves, and seasonings. Stir and cook until the lentils are soft, about 35-40 minutes.
When the lentils are cooked, stir in the spinach.
Remove the bay leaves and ladle the soup into bowls.
This colorful and healthy Fall Vegetable Lentil Soup is sure to hit the spot this winter. It will warm you up and make you feel great.
Share your take on this Vegetable Lentil Soup on Instagram using #MadeWithKitchenAid for a chance to be featured.
Vegetable Lentil Soup
Makes 8 servings
INGREDIENTS
2 tablespoons olive oil
1 onion, chopped
1 carrot, diced
1 celery stalk, diced
3 cloves garlic, minced
1 large sweet potato, peeled and cut into 1/2 inch cubes
1 cup butternut squash, peeled and cut into 1/2 inch cubes
1 1/2 cups brown lentils
4 (15 ounces) cans vegetable broth
2 (15 ounces) cans diced tomatoes
2 bay leaves
1 teaspoon dried thyme
1 tablespoon fresh rosemary, chopped
Salt and pepper, to taste
2 cups fresh spinach, chopped
DIRECTIONS
In a KitchenAid® Streamline Cast Iron Casserole, heat the olive oil over medium high-heat. Add the onion, carrot, celery, garlic, sweet potato, and butternut squash, all chopped using the Chef Knife from the KitchenAid® 11pc Professional Series Cutlery Set. Sauté until vegetables are tender, about 7 minutes. Stir in the lentils, vegetable broth, and diced tomatoes.
Add the bay leaves, thyme, and rosemary. Season with salt and pepper and stir. Cook soup on medium-low heat for about 35-40 minutes or until lentils are soft.
Stir in the fresh spinach and season with salt and pepper, to taste. Remove bay leaves and ladle into soup bowls. Serve warm.
Note that this soup freezes well. To freeze, cool completely and store in a freezer container in the freezer for up to one month.
Print
*The Contributor of this post has been compensated by KitchenAid for this post, but this post represents the Contributor's own opinion.*