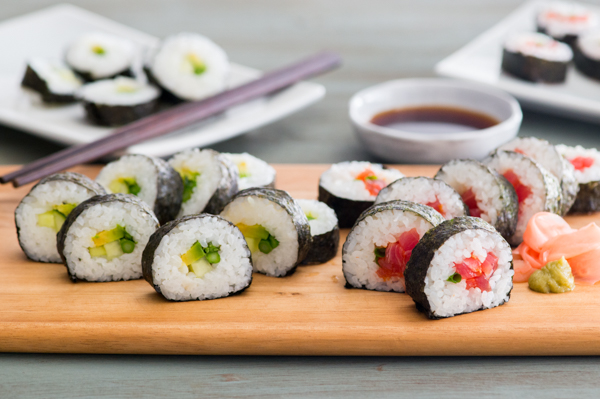 You know what I love about these challenges that KitchenAid has asked me to participate in? So far, each challenge (make salad the main event and bring home the whole fish) have been truly challenges for me.
So when KitchenAid emailed me and asked me to contribute to 'Make Your Own Maki', I was so excited. I have been wanting to try my hand at making sushi at home in my little kitchen for ages. To be honest, I have been too scared to. I bought this bag of sushi rice six months before I got the email from KitchenAid. Truth.
So let's do this challenge together. It took me a few tries to get the rice right but I feel like I have it down. Hopefully, my tips and tricks will help you get over the same fear I had and give this a try. If you make it at home, it will definitely save you some money!
Let's start off first by saying I'm not an expert? After making sushi a handful of times for this challenge, I'm no sushi chef. Chefs train for two years just making the rice for sushi. That's intense. But don't let this stop you from trying this. I mean this, you can do this. I believe in you!
The sushi rice needs to be rinsed and drained continually until the water is no longer cloudy. And then let the rice sit and drain in a strainer for a few minutes before cooking it.
Use a rice cooker or cook the rice on the stove. Once it's done. Mix the sugar, rice vinegar and salt in a measuring cup and gradually pour over the rice. Mix the rice until it has cooled down.
While the rice is cooking, I'm prepping the ingredients. I have a KitchenAid® Refrigerator and it has the Preserva® Food Care System; which keeps all of my ingredients fresh. I especially love the humidity control drawer, I put all of my produce in that drawer.
We're making two types of rolls today, an all vegetable one and a spicy tuna one.
I found super fresh, sushi grade yellowfin tuna at my fishmonger and he told that I should keep the tuna two days tops if I wanted to serve it raw in sushi. Once again, Preserva® Food Care System in my refrigerator to the rescue. I know the tuna would stay fresh!
I diced up the tuna because honestly, I didn't want to have trouble eating the tuna since I'm not an expert sushi chef. You can cut it into strips like the vegetables if you prefer.
Mix with hot chili sauce and sesame seeds, cover and put back into your refrigerator until you're ready to work with it.
Very important is your set up. I have paper towels to dry my hands. A small bowl with water and rice vinegar to dip your hands in so the rice doesn't stick to your hands. The rice and the vegetables are at the ready.
My $2.00 sushi bamboo mat is covered in plastic so it's easy for clean-up.
Sushi seaweed paper. Always handle the sheets with completely dry hands.
Ready?
Add a ball of rice.
And smooth it down. Don't smash it down. I cover about 2/3 or 3/4 of the paper with rice because I don't want TONS of rice in my sushi rolls.
Add your veggies and get ready to…
roll. It takes a little practice to do this but make sure you're tightly rolling it. Once I start rolling, I gripping the bamboo mat and making sure I press with my hands as I go.
Once it's completely rolled, I run my hands along the length and grip it to ensure it's completely tight.
And there you go! I leave them wrapped until I'm all done rolling the other rolls, then unwrap and cut into about 10 to 12 pieces.
Just a view of the spicy tuna one!
And there you have it. I hope the photos helped you and I hope you'll join me in trying sushi. Be adventurous and try different vegetables and fillings. And have fun with it!
Vegetable and Spicy Tuna Maki
Makes 4 rolls – about 40 pieces of sushi
INGREDIENTS
Supplies needed
Sharp knife
Sushi mat
Plastic wrap
Small bowl
Roasted Seaweed Sushinori (4 sheets)
Sushi rice
Lightly seasoned rice vinegar
For the sushi rice
1 1/2 cups sushi rice (Shirakiku)
2 tablespoons lightly seasoned rice vinegar
4 teaspoons sugar
1/2 teaspoon salt
For the vegetable maki (2 rolls)
1/4 avocado, sliced into 1/2 inch thick strips
4 pieces of asparagus, bottoms trimmed
1/3 of a large cucumber, cut into 1/4 inch thick strips
cooked sushi rice
For the spicy tuna maki (2 rolls)
1/4 to 1/3 pound sushi grade fresh tuna, I used yellowfin
1 teaspoon sriracha hot chili sauce (optional)
A couple of dashes of sesame seed
2 green onions, sliced lengthwise (reserve only green pieces)
Cooked sushi rice
For serving
Low-sodium soy sauce
Wasabi paste
Pickled ginger (optional)
DIRECTIONS
Steam the asparagus
Microwave steam the asparagus by covering it in a wet paper towel and microwaving it on a microwave-safe plate for 30 to 45 seconds in 15 second increments, don't overcook the asparagus. You just want to steam it a little bit so it's not completely raw.
For the sushi rice
The most important thing you need to do when making the sushi rice is rinsing it before cooking it. Place uncooked rice into a fine mesh sieve and place into a glass mixing bowl. Fill with cold water, lift the sieve and shake. Drain the water and repeat. Repeat about 10 times and drain the rice thoroughly, until the water is no longer cloudy.
If using a rice cooker, cook according to manufacturer instructions. If not, fill a pot with the rice and equal parts water (in this case, 1 1/2 cups water), bring to a boil. Cover the pot and set heat to low and cook for 15 minutes. Then, turn the heat off and allow the rice to steam (covered) for 10 minutes. (Don't uncover the pot during those last 10 minutes.) While the rice is cooking, prep your vegetables and fish.
Once the rice is done cooking, place the rice on a flat plate or glass dish. Add vinegar, sugar and salt to a measuring cup and gradually pour over the rice, while mixing the rice with a wooden spatula. Taste the rice along the way to ensure none of the vinegar, sugar or salt is overwhelming the flavor of the rice. Continue until the rice tastes just right or the mixture is all gone. Add more vinegar, salt or sugar as needed. Set the rice aside. You do not want to start assembling the maki/sushi rolls until the rice is slightly cooled or no longer hot to the touch.
For the spicy tuna maki
Chop tuna into 1/4 inch cubes and mix with hot chili sauce and sesame seed in a small glass mixing bowl. Place bowl in the refrigerator while waiting to assemble the maki rolls.
To assemble rolls
Prep your workspace. Fill a small bowl with warm water and a splash or two of rice vinegar. Cover your sushi mat with plastic wrap and lay one piece of seaweed (flat side down) on top of the plastic wrap. Dampen your hands with the vinegar-water mixture (so the rice doesn't stick to your hands) and grab a handful of rice and cover 3/4 of the seaweed with the rice. Smooth the rice down so it's level across but don't smash or break the rice.
Add the filling for whichever maki you're making and roll. (If making the vegetable, add enough vegetables to line across, using only 1 or 1 /2 asparagus, if making tuna, use half of the prepared spicy tuna.) Be careful to not overfill. Grab the sushi mat from the end and roll. Use your fingertips to make sure you're rolling tight. Make sure not to roll the sushi mat into the sushi. When finished rolling and you have a tight roll, with the plastic wrap around the roll, wrap the roll in the sushi mat and squeeze to make sure the roll is completely tight. Keep roll covered in plastic wrap while you roll the other maki rolls.
Placing the maki roll seam side down on a cutting board, cut and serve rolls immediately. Maki rolls can be refrigerated overnight (completely sealed in plastic wrap) but the rice may harden so it's best to serve it immediately.
Tips: Please be careful and know that you are consuming raw fish at your own risk. Be careful when shopping for fish since you're not cooking it. Be sure to ask your fish market if the fish you're buying is sushi grade. You can even sear the tuna before cutting it up and using it in your maki roll, if you feel more comfortable. Make sure you get a straight answer from your fish market and if you have any doubts don't prepare it raw.
Print
*The Contributor of this post has been compensated by KitchenAid for this post, but this post represents the Contributor's own opinion.*