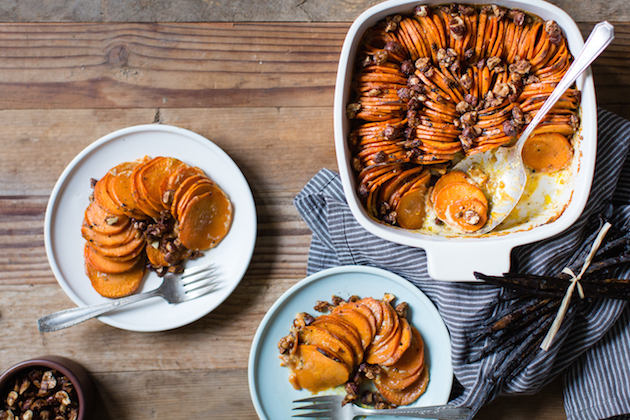 The following recipe is by Sarah of Snixy Kitchen and Alanna Taylor-Tobin of The Bojon Gourmet.
Vanilla Bean Sweet Potato Gratin
Makes 8 servings
INGREDIENTS
For the vanilla bean sweet potato gratin
4 pounds sweet potatoes or red garnet yams (about 6-8 medium)
2 tablespoons unsalted butter, melted
2 tablespoons extra virgin olive oil
2 teaspoons sea salt
1 teaspoon cracked black pepper
1 cup heavy cream
2 Rodelle Vanilla Beans, split lengthwise and scraped
1 teaspoon whole peppercorns
1 bay leaf
1/4 teaspoon nutmeg, freshly grated
For the spiced candied hazelnuts
3/4 cup hazelnuts
1 1/2 tablespoons brown sugar
4 teaspoons maple syrup
1/2 teaspoon cinnamon
1/4 teaspoon nutmeg, freshly grated
1/4 teaspoon salt
1/8 teaspoon cayenne
DIRECTIONS
Preheat the KitchenAid® Gas Convection Slide-In Range to 400°F and arrange the rack in the middle of the oven.
Slice sweet potatoes to approximately 1/8″ thick in the KitchenAid® Pro Line® Series Food Processor using the ExactSlice™ System. Toss potatoes with butter, olive oil, salt, and pepper. Arrange sliced potatoes vertically in concentric circles in a KitchenAid® Casserole Dish. Cover and roast for 30 minutes.
While the potatoes bake, make the spiced candied hazelnuts. Coarsely chop the hazelnuts with the Chef Knife from your KitchenAid® 11pc Professional Series Cutlery Set. Toss the hazelnuts with brown sugar, maple syrup, cinnamon, cayenne, and salt in a medium bowl from your KitchenAid® Ceramic Mixing Bowl Set.
Spread the nuts out on parchment paper on the tray of the KitchenAid® Digital Countertop Oven, trying not to overcrowd the tray, and bake at 400°F for 3 minutes. Use a rubber spatula to mix up the nuts. Bake for 3 minutes longer. Stir once more, and cook for an additional 3 minutes, or until the nuts turn a deep golden caramel color (but are not burned). Remove from the Digital Countertop Oven and let cool on the tray, breaking apart the clumps.
Remove cream from your KitchenAid® French-Door Refrigerator. In the 1.5-Quart Saucepan from your KitchenAid® Tri-Ply Copper 10-Piece Set, heat the cream, vanilla bean seeds and pods, bay leaf, peppercorns, and grated nutmeg over medium heat on the cooktop of your Gas Convection Slide-In Range until hot, but not boiling. Remove from heat, cover, and let steep for 15 minutes. Strain the cream through a fine mesh sieve and into the smallest bowl from your Ceramic Mixing Bowl Set, squeezing any extra seeds out of the vanilla pods and into the cream.
Uncover the potatoes and roast for 20 minutes. Pour the cream over the top and roast for 30-40 more minutes, until potatoes are tender and the tops begin to turn golden brown.
Remove from heat and sprinkle spiced candied nuts over the top and serve warm.
Chef's tip: For easy cleanup, throw everything into the KitchenAid® Dishwasher. Use the ProScrub™ Option to power through the stuck-on messes.
Print
*The Contributor of this post has been compensated by KitchenAid for this post, but this post represents the Contributor's own opinion.*