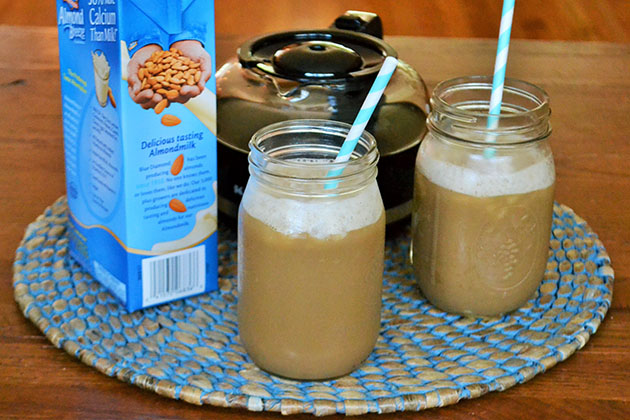 I always start my day off with a good cup of coffee. While I do like the taste, I love the ritual of making coffee even more. There is something to say about the smell of the fresh grinds, the whirring sound of the water heating up and the aroma of the fresh coffee dripping into the pot. It is very easy to stop at a coffeehouse and grab a cup, but I prefer to make my own with my KitchenAid® Pour Over Coffee Brewer. I like to make a full pot and refrigerate the rest for later. The weather is getting warmer and coffee frappes are perfect for summer. You will be thrilled to know that you can make your own blended coffee drink at home. This Almond Vanilla Coffee Frappe is as good as any coffee shop drink, and you'll save money by making it yourself. It is also healthier than any coffee drink you could buy.
This blended coffee drink is made with almond milk so it is ideal for vegans and anyone that might have a milk allergy or lactose intolerance. I also used agave nectar as the sweetener instead of sugar. Not only are you saving money by making this drink at home, but you are saving plenty of calories too.
If you want to make your own icy coffee drink, there is a little bit of prep involved. First I make my coffee using the KitchenAid® Pour Over Coffee Brewer. I always keep coffee in the refrigerator during the summer months because you never know when you might like an iced coffee or blended coffee frappe. I also pour the almond milk into ice cube trays and keep them in my freezer. I have made this drink using the almond milk and added ice cubes but the consistency is thinner. For a creamier drink, the almond milk ice cubes work best. They are always great to have in your freezer especially if you'd like to add them to a vegan glass of iced coffee.
I love the digital settings on my coffee brewer. I can be technologically challenged at times but it is really easy to program this machine. I especially like the delay start feature where I can set up the coffee to brew right before I wake up in the morning. There is nothing better than waking up to the aroma of fresh brewed coffee.
Once I have my coffee cooled and almond milk ice cubes ready to go, I can quickly make this delicious summer drink. I add both the coffee and ice to cubes to my KitchenAid® Diamond Blender and the frappe is ready in seconds. I keep my coffee maker and blender on my countertop all summer. Not only do they work great but their sleek designs are a pleasure to look at. The Diamond Blender comes in sixteen different colors and it makes great blended coffee drinks, smoothies and frozen cocktails.
If you'd like, you can top these coffee frappes with non-dairy topping or whipped cream just like they do at my local coffee shop. I personally like to drink mine without any topping because I love the flavor of the vanilla and almond milk.
This coffee frappe is the perfect drink to have when getting together with a friend. The recipe makes two medium sized drinks or one really large one. Feel free to double the recipe. Just make sure you pre-make the almond ice cubes in your freezer. Relax this summer with an amazing blended coffee drink that you will feel good about!
Vanilla Almond Coffee Frappe
Makes 2 medium size servings or 1 very large drink
INGREDIENTS
1 1/2 cups sweetened almond milk
2 cups strong brewed coffee, either chilled or at room temperature
1 teaspoon vanilla extract
2 tablespoons agave nectar, or more or less to taste
DIRECTIONS
Pour the almond milk into an ice cube tray. Keep in the freezer until frozen or ready to use.
Make 2 or more cups of coffee using the dark roast setting on the KitchenAid® Pour Over Coffee Brewer. Set aside to cool. This can be chilled overnight if desired.
Add the almond milk ice cubes and the coffee to the KitchenAid® Diamond Blender. Mix in the vanilla extract and agave nectar. Blend until smooth. Serve in tall glasses with a straw.

Print
For more Diamond Blender recipes, click here for our eRecipe book.
*The Contributor of this post has been compensated by KitchenAid for this post, but this post represents the Contributor's own opinion.*