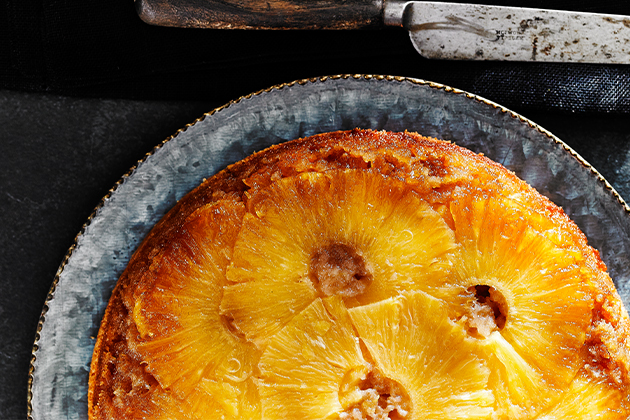 Upside Down Pineapple Cake
Makes 8 servings
INGREDIENTS
1 pineapple
1 1/4 cups (2-1/2 sticks) butter, softened, divided
1 teaspoon honey
1 teaspoon dark rum
1/3 cup packed brown sugar
1/2 teaspoon plus 1/8 teaspoon salt, divided
1/2 cup granulated sugar
2 eggs
1 tablespoon milk
1/2 teaspoon vanilla
1 1/3 cups all-purpose flour
2 teaspoons baking powder
DIRECTIONS
Preheat oven to 350°F
Attach Spiralizer Attachment to KitchenAid® Stand Mixer. Cut tough outer peel from pineapple. Cut pineapple in half crosswise and center one half on fruit and vegetable skewer; attach to Spiralizer. Attach spiral slice large core blade and position at end of pineapple. Place medium bowl below blade to catch pineapple. Process on speed 6 until blade reaches end of pineapple. Repeat with remaining pineapple half. Drain pineapple on paper towels.
Remove Spiralizer from stand mixer; attach flat beater to stand mixer. Combine 1/4 cup butter, brown sugar, honey, rum and 1⁄8 teaspoon salt in mixer bowl; beat on medium speed until smooth. Spread onto bottom of 9-inch round cake pan. Arrange pineapple evenly over butter mixture.
Place remaining 1 cup butter in mixer bowl; beat on medium speed until creamy. Add granulated sugar; beat on medium-high speed 3 to 4 minutes or until fluffy. Add eggs, milk and vanilla; beat on medium speed until combined. Add flour, baking powder and remaining 1/2 teaspoon salt; mix on low speed about 30 seconds or just until blended. Spread batter over pineapple with spatula or dampened fingers.
Bake 30 to 35 minutes or until toothpick inserted into center comes out clean. Cool in pan on wire rack 15 minutes. Run thin knife around edge of pan to loosen. Place serving plate over pan; invert cake onto serving plate. Cool 1 hour before serving.

Print
*The Contributor of this post has been compensated by KitchenAid for this post, but this post represents the Contributor's own opinion.*