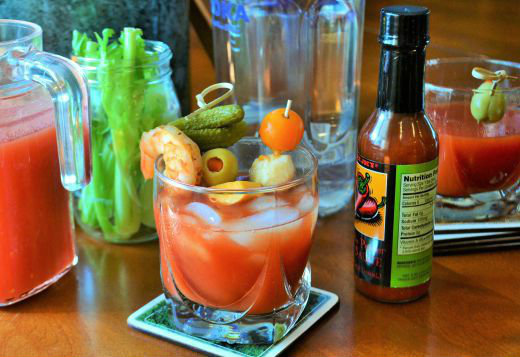 Fall is here and that means changing leaves, cozy sweaters, and plenty of football. I love having a late Sunday morning brunch gathering to get ready to watch the big games. When I think of brunch, I think of drinking a Bloody Mary. Today I am setting up the ultimate Bloody Mary Bar and making a fresh mix using my KitchenAid® Maximum Extraction Juicer.
A Bloody Mary Bar requires some prep to set up but once the guests have arrived, you'll have plenty of time to enjoy the party. Guests love to add what they like and are always impressed by a variety of condiments. The best part is, there's no bartender required. It is a win-win situation for everyone.
My KitchenAid® Maximum Extraction Juicer is so easy to use. I love the fact that you don't have to do a lot of work beforehand. The tomatoes, lemons and celery are quickly sliced and juiced at the same time within the Juicer.
The juice comes out into a pitcher and the extra pulp goes right through the chute and into another pitcher. You can always reserve this pulp for soups or sauces or you can compost it. I have to say I was a little intimidated by the thought of making my own juice before I owned this KitchenAid® Juicer, but after using it, I keep it out on my counter all the time. It's fairly compact, easy to clean, and I love being able to have fresh juice whenever I want it!
I personally like to make a non-alcoholic Bloody Mary mix and then set up several bottles of my guests' favorite vodka. There are endless selections of flavored vodkas so it is always fun to try something new like a bacon vodka, citrus vodka or pepper vodka. My guests can choose to add whatever type of vodka they like and also control how much alcohol they want in their drink. This is also perfect for the person that likes the taste of a Bloody Mary but does not want to indulge in the alcohol. I always include several seasonings and bottles of hot sauce because everyone's spice preferences are different.
Since this Bloody Mary Bar is for a brunch, I included mini bagels and lox to snack on. Cream cheese and lox are a favorite of mine because they're easy to prepare, but a variety of toppings can be served depending on what you like.
The condiments are usually my guests' favorite part of the Bloody Mary Bar. There are so many things that go well in a Bloody Mary. Some of my additions are strips of crispy bacon, pickles, olives, celery sticks, bites of cheese, seasoned shrimp and cherry peppers. I also make caprese skewers or pesto tortellini skewers. The possibilities are endless!
My favorite bloody mary is one that is loaded with everything. I tend to load mine with pickles, cheese, shrimp, olives and celery. It's like a meal and a cocktail!
The next time you're planning on a having a brunch gathering, try setting up a Bloody Mary Bar. Your guests will thank you and with just a little bit of prep, you'll be free to enjoy everyone's company!
Fresh Bloody Mary Mix
Makes 2 cups
INGREDIENTS
6 to 8 tomatoes (to make 2 cups of juice)
1 small lemon
2 celery sticks
2 teaspoons Worcestershire sauce
Salt and cayenne pepper to taste
DIRECTIONS
Using the KitchenAid® Maximum Extraction Juicer, juice the tomatoes, lemon and celery. Pour the juice in a pitcher and mix in Worcestershire sauce.
Season with salt and cayenne pepper to taste.
Add ice, vodka and garnishes. Recipe can easily be doubled or tripled.

Print
For more Maximum Extraction Juicer recipes, click here for our eRecipe book.
*The Contributor of this post has been compensated by KitchenAid for this post, but this post represents the Contributor's own opinion.*