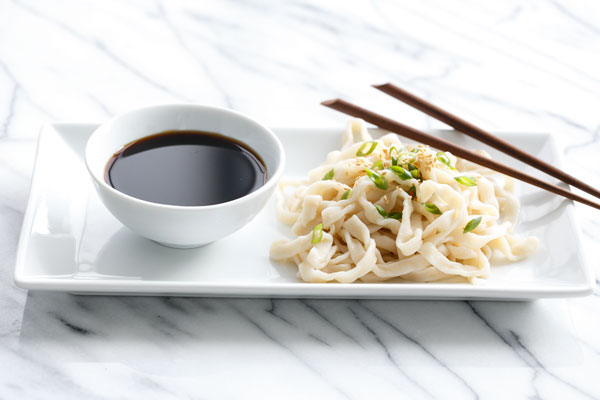 We've just returned from an amazing trip to Japan where we gorged ourselves on mochi, soft serve, and noodles galore. One of the biggest revelations of our trip was fresh udon and just how amazing it can be.
Now that we're back home and sadly noodle-less, we set out to recreate this surprisingly simple Japanese staple at home. As it turns out, all you need are three ingredients: flour, tapioca starch, and salt. Okay, four—you need some water too.
While you can make udon with regular flour (I've also seen recipes that use a mix of all-purpose and bread flours), I found that 00 flour, an Italian specialty variety that is slightly higher in protein and milled extra fine, is the kind of flour you'd find in Japanese kitchens and produces a smooth white noodle. It has just enough texture and chew (thanks to the added protein).
Tapioca starch is an ingredient you won't see in all noodle recipes, but again, I found it created a much smoother, bouncier noodle in the end. You can find tapioca starch in the natural food or baking aisles of most grocery stores, as well as in Asian markets or online. It's similar in consistency to cornstarch, but without any noticeable flavor.
For this recipe, we're highlighting the KitchenAid® Artisan® Mini Stand Mixer and the KitchenAid® 3-Piece Pasta Roller & Cutter Set. The Pasta Roller & Cutter Set can be used on any model KitchenAid® Stand Mixer, but I'm partial to my Mini Stand Mixer for smaller batch recipes because of its smaller bowl size. What it lacks in size, it doesn't lack in power! Although it's 20% smaller and 25% lighter, it has the same power as the full size KitchenAid® tilt-head Stand Mixers.
Traditional Japanese udon is actually kneaded by foot. That's right, not by hand, by foot. Trust me on this one: I made multiple batches using just the stand mixer and a combination of the Stand Mixer/by hand, and none turned out as well as the one I kneaded with my feet. There's a reason the Japanese have been doing it this way for centuries.
Once you've mixed and kneaded the dough for a bit in the Stand Mixer, transfer the ball of dough to a zip top bag. Don't completely seal the bag as you want the air to be able to escape. Wrap the bag in a clean kitchen towel and set on the floor. Then step on it.
Knead your feet all over the dough until it flattens out and mostly fills the bag.
Open up the bag and fold the dough in half, then in half again, basically forming it into a round ball of dough.
Repeat, wrapping in the towel and kneading with your feet, then folding 3-4 times or until the dough is soft and smooth. As the Japanese say, the dough should feel as soft as your earlobe, which is actually a pretty accurate description of how the finished dough should feel.
Form the dough into a ball, stretching and pulling the edges under itself, pinching the seams together, and place in a clean zip top bag and seal, pressing out as much air as possible.
Let sit at room temperature to rest for 3-6 hours (this step allows the gluten in the dough to relax, making it more workable when you roll it out later). You can also refrigerate the dough overnight, just remember to take it out of the fridge 1-2 hours before rolling to allow it to come to room temperature.
While traditional udon is hand rolled and hand cut, I found it very hard to roll the stiff dough to a completely even thickness. This is where the Pasta Roller comes in handy, rolling out the dough smoothly and evenly with little effort.
I recommend cutting your dough into two even pieces and pressing them out to about 3/4-inch thick prior to running it through the Pasta Roller. Since this dough is much stiffer than Italian pasta dough, it needs a little bit of help starting out. Run it through the Pasta Roller on Setting 1 twice. Depending on how you plan to cut your noodles, you can either stop here or run it through 1-2 more times at decreasing thicknesses.
You have a few different options for cutting your noodles depending on what style and thickness of noodles you prefer (pictured above, from left to right: hand cut, fettuccine, spaghetti):
– If you like your udon super thick, just roll your dough to Setting 1, then fold in thirds and cut into noodles using a sharp chef's knife. These thick, unevenly cut noodles will give your dishes a rustic character and a ton of chewy noodle texture.
– For standard fettuccine size noodles, roll your dough to Setting 2 then run through it through the Fettuccine Cutter.
– For thin noodles, more like what the Japanese call Somen noodles, roll your dough to Setting 3 then run through the Spaghetti Cutter.
Once your noodles are cut, separate them and keep them from sticking by tossing them with a sprinkle of flour. At this point, you can either cook them straight away or freeze the noodles for later use.
Serving suggestions:
Cold udon with mentsuyu: Mentsuyu is a Japanese soup base used as a dipping sauce for soba and udon noodles. It's made from bonito flakes or dashi broth mixed with soy sauce, mirin, sugar, and sometimes even a little sake. You can buy mentsuyu concentrate or make your own.
Udon soup: You can also serve these noodles directly in a broth. Try a mushroom-based broth, miso broth or even a hot version of mentsuyu. Round out the meal with steamed bok choy, sautéed mushrooms, and cubes of tofu.
Spicy sautéed udon: Undercook the noodles slightly, then add to a saucepan with some gochujang (Korean hot pepper paste) and chopped kimchi. Top with a fried or soft-boiled egg and sliced green onions.
Udon stir fry: Whip up your favorite stir fry recipe, then at the last minute add your freshly cooked udon noodles and toss to coat.
What would you create with fresh, homemade udon noodles?
Share your take on these Udon Noodles on Instagram using #MadeWithKitchenAid for a chance to be featured.
Homemade Udon Noodles
Makes 4 servings
INGREDIENTS
2 cups (9 ounces) 00 pizza flour
1/4 cup (1 ounce) tapioca starch
1 1/2 teaspoons fine sea salt
1/2 cup lukewarm water, plus more as needed
DIRECTIONS
Combine the flour, tapioca, and sea salt in the bowl of the KitchenAid® Artisan® Mini Stand Mixer fitted with the dough hook. Mix to evenly combine.
Slowly drizzle in lukewarm water, scraping down the sides of the bowl as needed, until the dough comes together into a shaggy dough. The dough should be fairly dry and stiff but still come together into a loose ball. If necessary, add an additional 1-3 tablespoons of water, 1 tablespoon at a time, until dough comes together.
Knead dough on speed 1 or 2 for 5 minutes.
Transfer the dough ball to a gallon-sized zip top bag and partially seal (don't fully seal as the air needs to be able to escape. Place the bag between layers of clean kitchen towels, then set on the floor and knead with your feet until the dough has flattened.
Open the bag and fold the flattened dough into quarters, then partially seal, wrap in the towel, and repeat again. Repeat 3-4 times until the dough is very soft and smooth.
Shape the dough into a smooth ball, folding the edges under towards each other and pinching the bottom to seal. Place in a clean plastic bag and seal, removing as much air as possible. Let the dough sit at room temperature for 3-6 hours or refrigerate overnight. If refrigerated, bring the dough to room temperature for 1-2 hours prior to rolling.
Cut the dough ball into two even pieces and flatten each piece into a rectangle roughly 3/4-inch thick. Lightly dust with flour.
Attach the Pasta Roller from the KitchenAid® 3-Piece Pasta Roller & Cutter Set to the power hub of the Mini Stand Mixer and set to Setting 1. With the Mini Stand Mixer set to speed 2, slowly feed one piece of dough through the Pasta Roller. Feed it back through Setting 1 a second time. Repeat with the second dough ball.
For handcut noodles, stop at Setting 1. Generously dust with flour and fold dough into thirds, then slice into noodles with a sharp chef's knife. Unfold the noodles and toss with more flour to keep the noodles from sticking together.
For machine cut noodles, run your dough through the Pasta Roller again, this time on Setting 2. Attach the Fettuccine Cutter to the power hub of the Mini Stand Mixer. Dust the dough sheets with flour and then run through the Fettuccine Cutter with the Stand Mixer set to speed 3 or 4. Sprinkle the noodles with flour and toss to coat.
For thinner "somen" noodles, run the dough again through the Pasta Roller set to Setting 3. Attach the Spaghetti Cutter to the power hub of the Mini Stand Mixer. Dust the dough sheets with flour and then run through the Spaghetti Cutter with the Mini Stand Mixer set to speed 4 or 5. Sprinkle the noodles with flour and toss to coat.
To cook the noodles, bring a large pot of water to a gentle boil. Separate the noodles a bit to keep them from sticking too much, then add to boiling water.
Cook for about 5 minutes or until the noodles float to the surface (thinner noodles will take less time to cook). Serve warm or for cold noodles, rinse with cool water to stop the cooking process and keep the noodles from sticking together. Drain well before serving.
Fresh, uncooked noodles can also be frozen: spread the noodles out on a lightly floured cookie sheet and place in the freezer for 6-12 hours, then transfer the noodles to a zip-top freezer bag. Cook the noodles directly from frozen, just add  1-2 minutes to the cook time.
Print
*The Contributor of this post has been compensated by KitchenAid for this post, but this post represents the Contributor's own opinion.*