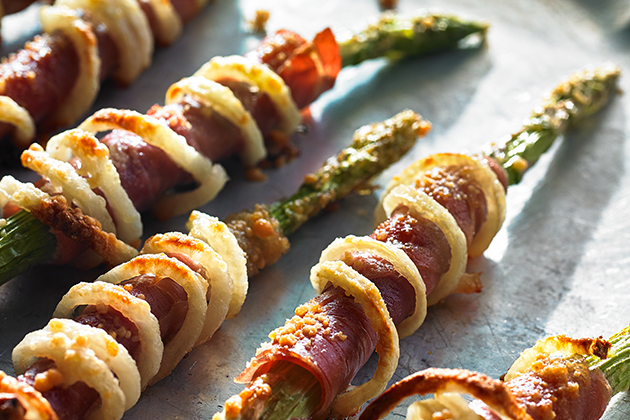 Twisted Asparagus Wraps
Makes 20 wraps
INGREDIENTS
10 paper-thin slices prosciutto, cut in half
20 medium width asparagus spears, ends trimmed
1 medium russet potato
2 tablespoons olive oil
3 tablespoons grated Parmesan cheese
1⁄4 teaspoon pepper
DIRECTIONS
Preheat oven to 425°F.
Line 2 large baking sheets with parchment paper or spray with non-stick cooking spray. Wrap 1 half-slice prosciutto around each asparagus spear starting at corner. Set aside.
Attach Spiralizer Attachment to the KitchenAid® Stand Mixer. Trim ends of potato. Center potato on fruit and vegetable skewer; attach to Spiralizer. Attach peeling blade and fine spiralizing blade, and position at end of potato. Position medium size bowl under blades to catch spiralized potatoes. Turn stand mixer to speed 4 and process until blade reaches end of potato.
Wrap each asparagus spear with a 1/2-inch spaced potato spiral, trimming potato as needed. Arrange on prepared baking sheets. Brush lightly with olive oil and sprinkle with Parmesan cheese and pepper. Roast for 10 minutes, rotate pans, and roast for another 7 to 10 minutes (total of 17 to 20 minutes) or until the potato is cooked and beginning to brown. Serve immediately.

Print
*The Contributor of this post has been compensated by KitchenAid for this post, but this post represents the Contributor's own opinion.*