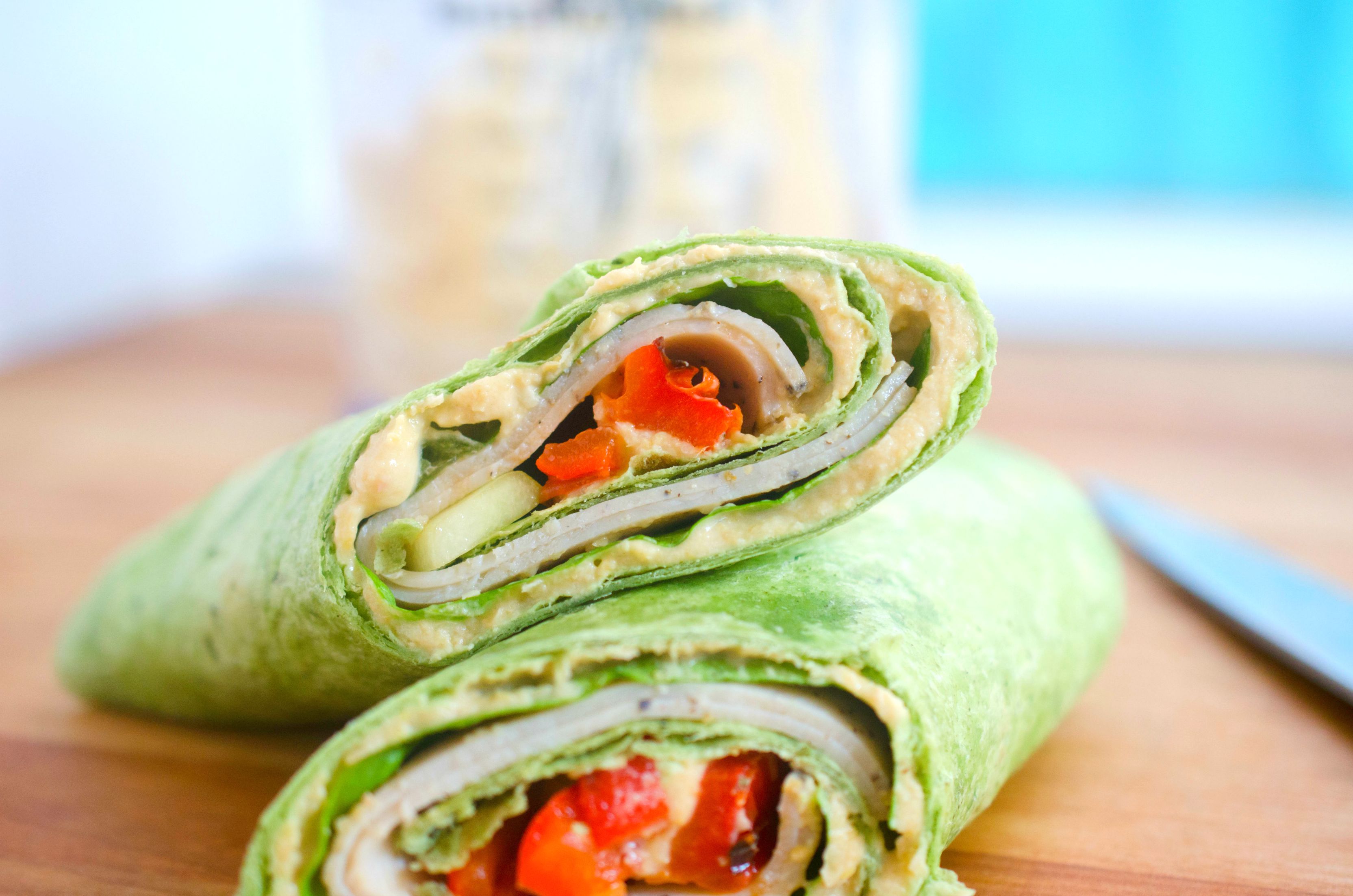 With autumn rapidly approaching, school has started for some and is about to start for others. This means school supplies, new school clothes and the task of figuring out what to pack in school lunches. Today I've brought a recipe to help in the lunch department. These Turkey Hummus Sandwich Wraps are super easy to make and are perfect for little hands.
When it comes to packing lunches you want something that holds up well, packs in as many of the food groups that you can, and is something that your kiddos won't get bored with. It's good for them to have different choices. I like to pack a main dish as well as a few other bites like berries, fruit leather, yogurt and cheese.
These Turkey Hummus Sandwich Wraps loaded with homemade hummus, lettuce, sliced turkey, roasted red pepper and cucumber are a perfect main dish for any school lunch. They are delicious and will keep your little one fueled for the last half of their day.
To get started, you have to make the hummus. The KitchenAid® Pro Line® Series Cordless Hand Blender is the perfect kitchen appliance to help you. With its 5 handy attachments it makes blending hummus, and practically anything else you need to blend, a breeze.
For the hummus, combine all of the ingredients together in the bowl of the blender attachment.
Then attach the power stick to the top and blend until creamy and smooth.
Next up is the roasted peppers. Now, you can buy a can of them, but it is super simple to do it yourself. I cut them in half, removed the ribs and seeds and placed them on a baking sheet under the broiler for about 6 minutes. Just until they started to get a nice char.
After the peppers cool, slice them along with the cucumber.
Next up make your wrap. Place a spinach tortilla on a flat surface. Spread about 1/4 cup of the hummus on top, top with lettuce, a couple of slices of deli turkey, cucumber and roasted peppers.
Then simply roll and cut in half and you're done!
Now, with the hummus, the turkey, the veggies, and the tortilla, this wrap is pretty hearty. You can easily split this between two little ones or pack it two days in a row. If you are feeding older, growing kiddos then the whole wrap will be perfect.
Turkey Hummus Sandwich Wraps
Makes 4 wraps
INGREDIENTS
1 (15-ounce) can garbanzo beans, drained with 2 tablespoon of liquid reserved
1 clove garlic, peeled
1 tablespoon tahini
1 tablespoon extra virgin olive oil
1/2 teaspoon ground cumin
1/2 teaspoon salt
2 red bell peppers, halved, ribs and seeds removed
4 spinach tortillas
4 romaine lettuce leaves, rinsed and patted dry
8 slices deli turkey
1 cucumber peeled and julienned
DIRECTIONS
Combine garbanzo beans, reserved liquid, garlic, tahini, extra virgin olive oil, cumin and salt together in the bowl of the blender attachment for the KitchenAid® Pro Line® Series Cordless Hand Blender. Attach the power stick and blend until smooth. Cover and refrigerate until ready to use.
Place bell peppers on a baking sheet. Place in oven 6 inches away from broiler. Broil for 5 – 6 minutes or until they begin to blacken. Allow to cool, slice.
To assemble a wrap: Place one flour tortilla on a flat surface. Spread about 1/4 cup of the hummus onto the tortilla. Top with 1 lettuce leaf, 2 slices of turkey, a few roasted peppers and cucumbers. Roll. Cut in half if desired. Repeat with remaining ingredients. Serve.

Print
*The Contributor of this post has been compensated by KitchenAid for this post, but this post represents the Contributor's own opinion.*