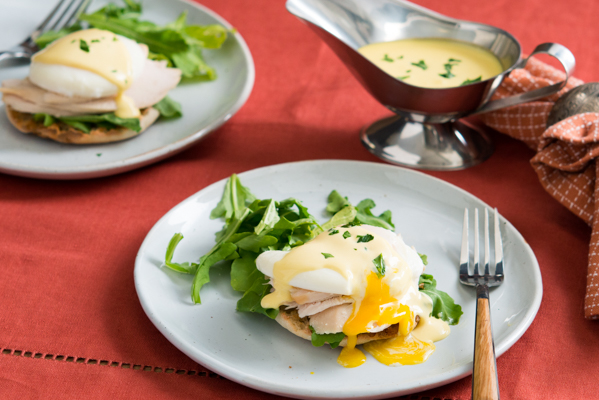 The holidays are upon us and the biggest eating holiday is right around the corner. My family and I always go all out for Thanksgiving. I just feel like it's the day to indulge a little, be happy, be thankful and enjoy some good food.
My sister helps me cook and no Thanksgiving for us would be complete without the glorious side dishes. Scalloped potatoes and mashed potatoes (because that's how we roll), cranberries, green beans, corn, yams, a green bean casserole, homemade rolls and a big, fabulous salad are always on the table. We might go a little overboard when it comes to sides and maybe that's why we always have lots of leftover turkey. Like enough for the whole family to eat turkey sandwiches for lunch for a week, or two, depending on how big of a bird we get.
And I don't know about you, but after Thanksgiving, the last thing I want to eat is a turkey sandwich. And it's not because I don't like turkey. I love turkey! It's because turkey sandwiches are the same thing we eat to use up our leftover turkey every year. I think it's time for a change, don't you?
Upgrade those leftovers with this Eggs Benedict with a blender hollandaise sauce! Did you know you can make delicious hollandaise in a blender? And you know what that means? It means it's done and ready in no time; plus there's no hand whisking involved at all.
I simply puree my egg yolks together for a few seconds in my KitchenAid® Diamond Blender while slowly pouring in some melted butter, just a little at a time, and continuing to puree for about 10 seconds until all of the melted butter is incorporated. Then, simply add in the lemon juice, Dijon mustard and salt, and puree again for about 8 to 10 seconds. And that's it. You won't believe how easy it really is to make a delicious hollandaise sauce. Your KitchenAid® Diamond Blender does all the work for you.
You guys, this was freaking delicious. And this year, I'm actually excited for leftover turkey.
I hope you enjoy.
Eggs Benedict with Blender Hollandaise Sauce
Makes 4 servings
INGREDIENTS
For blender hollandaise sauce
Makes 1 cup
Note for the cook: Because you are not cooking the eggs for the hollandaise, I highly recommend using pasteurized eggs for this recipe.
4 large egg yolks, see note above
1/2 cup (1 stick) unsalted butter, melted
1 teaspoon fresh lemon juice
1 heaping teaspoon Dijon mustard
1/2 teaspoon kosher salt
For eggs benedict with leftover turkey
Here's a great video to help you if you've never poached eggs before.
8 cups water
1 cup white vinegar
8 eggs, cracked open with whole eggs in individual cups
4 English muffins, split and toasted
Butter
Fresh arugula
Leftover turkey, sliced and heated
Fresh parsley or chives diced for garnish
Salt and pepper for seasoning
DIRECTIONS
For blender hollandaise sauce
Using your KitchenAid® Diamond Blender, puree the egg yolks together for a few seconds. Slowly pour in the melted butter, just a little at a time, and turn on the blender (puree setting) and puree for about 10 seconds. Turn off the blender and pour in a little more melted butter and puree again. Repeat until all of the melted butter has been incorporated. Add in the lemon juice, Dijon mustard and salt and puree again for about 8 to 10 seconds. Taste and adjust any seasoning as needed, puree again and set aside.
For eggs benedict with leftover turkey
Using a big pot or large, deep saucepan, heat the water over medium-high heat. As the water begins to heat and you see bubbles forming, add the vinegar and stir with a wooden spoon. After you have reached a slow boil, turn the heat to medium-low and, using your wooden spoon, make a whirlpool in the center with the water and slowly add your eggs, one at a time, into the whirlpool.
The egg whites should wrap around the yolks. Repeat until all of the eggs are in the pot. Reduce the heat to a low simmer and let cook for another 4 minutes. When your egg whites have set and the yolks are still soft, using a slotted spoon, remove each poached egg onto a plate and get ready to assemble your Eggs Benedict.
To assemble: generously spread some butter onto your toasted English muffins and place into a serving plate. Top the bottom side of the English muffin with some fresh arugula and top with the heated leftover turkey slices. Depending on what you prefer, you can now place two poached eggs on top and use the top side of the English muffin for wiping the plate and getting all of that hollandaise goodness or repeat steps to assemble the top side of your English muffin. Top the poached eggs with the hollandaise sauce and garnish with some parsley or fresh chives. Season with salt and pepper if desired and enjoy immediately. Serve with any leftover hollandaise sauce to pass at the table.
Print
For more Diamond Blender recipes, click here for our eRecipe book.
*The Contributor of this post has been compensated by KitchenAid for this post, but this post represents the Contributor's own opinion.*