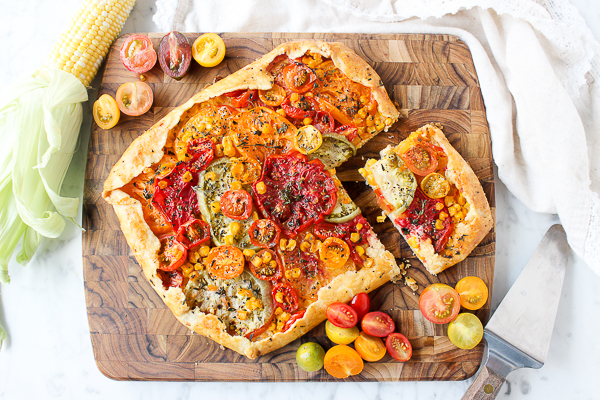 Tomatoes and corn are at their peak right now, and I am loving every second of it. My kitchen has transformed into a literal pu pu platter of romas, beefsteaks, heirlooms, and husks. It's as if my countertop is its own little farmers market. And while salads and sauces are the perfect solutions for this bounty, sometimes I need something petite.
And that's how I ended up with this delightfully dainty tart. Because when you have just a handful of tomatoes and corn about to spoil, this is the ideal way to use them. This is a deliciously bright, fresh, savory tart that represents THE BEST of summer, all in one neat little rectangle for two.
The great thing about cooking for two is that you're never stuck with unnecessary leftovers. You cook what you need, eat what you need, and voilà! No wasted food, no guilt.
The tough thing is that kitchens are built for many. Baking apparatuses are almost always large-scale, and ovens? Don't get me started. They heat up the kitchen in the summertime, which means revving one up for two feels downright ridiculous.
So whenever I'm cooking small, I like to utilize small appliances too. And that's where the KitchenAid® Compact Oven comes into play. It has the power and function of a full-size oven, but without the needless baggage! It fits comfortably on my countertop, is easy to clean, AND doesn't turn my kitchen into a sauna. But most importantly – it works. Crispy, crunchy, perfectly-cooked dishes slide out of it every time, this tomato and corn tart included.
Start by making a homemade dough to serve as the base of the tart. A simple combination of flour, butter, salt, sugar, and water is all it takes, and I promise even novices can handle this. A few stirs, a touch of kneading, and boom! The dough is made.
Wrap it tightly in plastic wrap and chill in the refrigerator for 45 minutes (or up to 36 hours), then begin working on your other ingredients.
Freshly sliced tomatoes and corn work best here, so get ready to use those biceps. For the corn, I always use sweet cobs – yellow or white is fine – and when it comes to the tomatoes, variety is key. Deep blood red, bright green, and sunset orange heirlooms make this a standout, so when you're buying them, think bold.
Slice up the tomatoes, remove the corn kernels from the cobs, and clean up your prep space. By the time that's all finished, the dough should be close to set.
Roll out the dough on a floured surface into a rectangle that's about 1/8" thick, then transfer to the Compact Oven's broil pan. Not only does this come included (yes!), it's the perfect size for twosome cooking, so I love it even more.
Sprinkle the grated smoked gouda all over the crust, then layer with sliced tomatoes and corn. Drizzle everything with olive oil and seasoning, then gently roll up the dough to create a proper crust.
Lastly coat the dough in egg wash, then bake!
The Compact Oven heats up quickly, so no pre-heating is required! Simply move the temperature control knob to 400° F, set the time control knob to 60 minutes, and you're off to the races.
The Compact Oven's convenient "bing!" will let you know when the tart is finished. And when you hear that noise, trust that you are in for one seriously delicious dish. The tomatoes roast perfectly, the corn crinkles ever so slightly, and the dough? Buttery, flaky, heaven.
Personally, I love how the smoked gouda lends a luscious taste of creaminess without distracting from the tomato and corn's freshness. It's a little extra kick and "oomph" that's still polished and proportionate, making it the ideal accompaniment to this dish.
If summer were a hug, it would probably be this tart. And best of all? This is really, truly, for two! Slice it into six equal slices, pour the wine, and dinner is served.
Share your take on this Heirloom Tomato & Sweet Corn Tart on Instagram using #ForTheMaking for a chance to be featured.
Heirloom Tomato & Sweet Corn Tart with Smoked Gouda Crust (For Two!)
Makes 2 servings
INGREDIENTS
For the dough
1/4 cup salted butter
3/4 cup all-purpose flour, sifted
1/4 teaspoon salt
1/2 teaspoon granulated sugar
3 tablespoons cold water
For the filling
3 heirloom tomatoes
2 ears sweet corn
5 ounces smoked gouda cheese, shredded
2 1/2 tablespoons extra virgin olive oil
1/2 teaspoon salt (for seasoning)
1/4 teaspoon black pepper (for seasoning)
4 sprigs fresh thyme, leaves removed (for seasoning)
1 large egg, beaten
Shortening for grease
DIRECTIONS
Begin by preparing the dough. Using a handheld cheese grater, grate the butter into a small bowl, then freeze for 10 minutes.
While the butter freezes, combine the flour, salt, and sugar in a large mixing bowl.
Whisk the cold grated butter into the flour mixture until a mealy texture forms, then slowly begin adding the water, one teaspoon at a time, until the dough takes shape.
Next, gather the dough in a ball and transfer to a lightly floured surface before shaping into a flattened round. Tightly wrap in plastic wrap, then refrigerate for 45 minutes until the dough is firm and cold.
Meanwhile, on a large cutting board, slice the heirloom tomatoes and remove the corn kernels from the cob. Next, amply grease the KitchenAid® Compact Oven broil pan with shortening. Coat with flour.
With a floured rolling-pin, roll out the chilled dough into an 1/8" thick sheet roughly the shape of a rectangle, then transfer to the greased and floured broil pan.
Sprinkle the shredded smoked gouda cheese over the rolled-out dough, leaving a roughly 1/2" border around the edges.
Top with the sliced heirloom tomatoes and corn kernels, then drizzle with extra virgin olive oil and season with salt, black pepper, and thyme. Lastly fold up the exposed edges of dough to create a crust, then use a pastry brush to coat the crust with the beaten egg.
Move the temperature control knob on the Compact Oven to 400° F and the time control knob to 60 minutes. Bake the tart on the middle rack until the timer dings, at which time the crust should be golden and the tomatoes charred.
Cool slightly, then slice and serve.
Print
*The Contributor of this post has been compensated by KitchenAid for this post, but this post represents the Contributor's own opinion.*