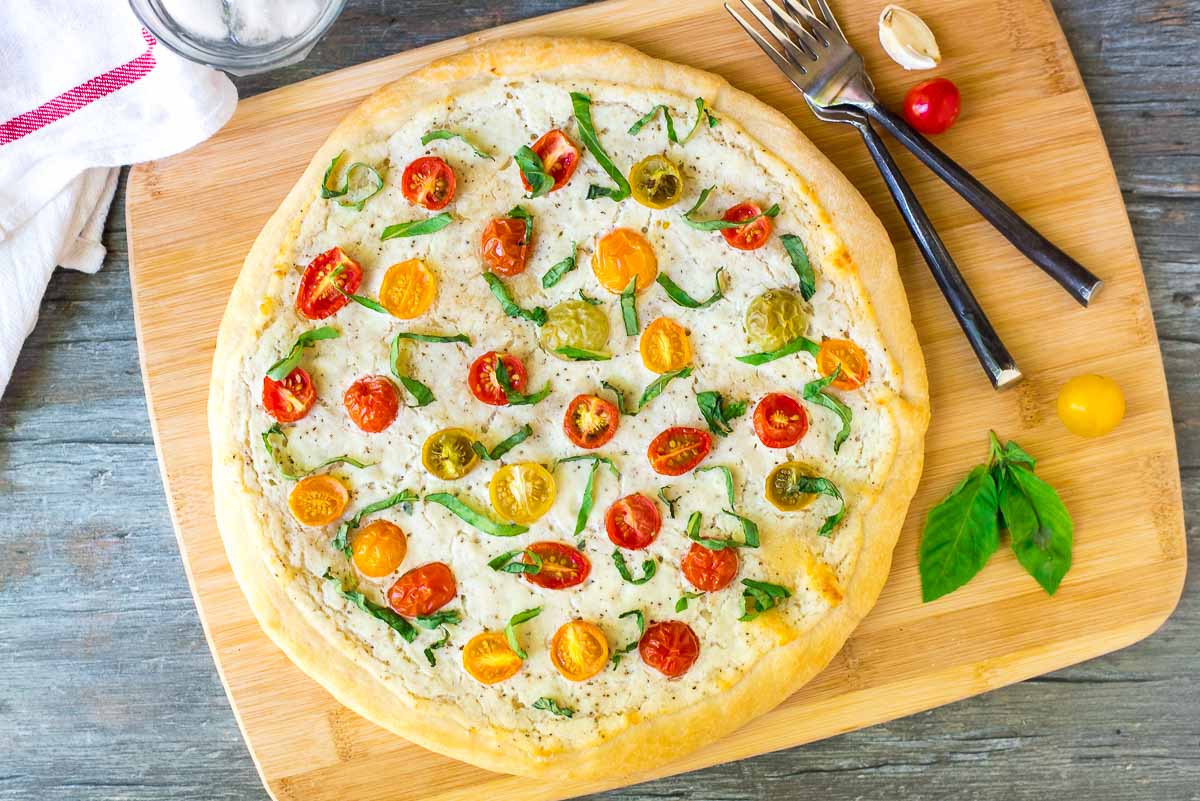 No matter how many new recipes I try or dishes I learn to create, homemade pizza will forever be one of my favorite dishes to make for a weeknight meal. It's easy to have fun playing with seasonal ingredients and toppings. Thanks to my new KitchenAid® Convection Microwave, I can bake my pizzas during the height of the summer without overheating my kitchen! Today's recipe for Tomato Basil Ricotta Pizza celebrates the best of summer and can be on your table in less than 30 minutes.
The trick to keeping this recipe quick and easy is to start with pre-made pizza dough. I find that many grocery stores sell good quality pre-made dough that tastes almost as good as homemade. While homemade will always be my preference, on a manic Monday (or even a lazy Friday), I'm happy to use store bought too.
Start by pressing the dough into your KitchenAid® Pizza Pan. I love this Pizza Pan, because it always bakes off a golden, lightly crisp bottom, has a helpful rim that makes it easy to shape the pizza into a perfect circle, and nothing sticks to this baby. I hardly even need to wash it after the pizza is baked!
Once the dough is pressed into the Pizza Pan, lightly brush the entire surface with olive oil. Next, slather the top generously with the creamy ricotta mixture (made by mixing together the garlic, ricotta, Greek yogurt, salt, and pepper in a small bowl). Be sure to leave a thin border around the cheese to create the pizza crust. Finally, scatter the tomatoes over the top of the ricotta mixture.
Now you're ready to bake this pizza. Place the Pizza Pan right into the Convection Microwave on top of the standing baking rack and bake for 12-14 minutes at 425°F.
I love that this Convection Microwave fits beautifully over my KitchenAid® Dual Fuel Double Oven Range. It also preheats very quickly, and thanks to its Crispwave™ technology, it can be used for grilling, frying, and (in the case of this pizza recipe) convection baking.
I am also obsessed with the CookShield finish on the interior of my Convection Microwave. It makes cleanup a breeze, as you can easily wipe it clean without needing to use any harsh chemicals.
In no time, this pizza bakes to golden perfection. Sprinkle the beautiful pie with basil and get ready to enjoy this pizza immediately. I could hardly snap this picture—I wanted to eat it right off of the Pizza Pan!
Feel free to experiment with this recipe by adding other summer produce and toppings. You could try adding thinly-sliced zucchini and red onions, swap the ricotta for your favorite red sauce, or add an extra shower of mozzarella cheese. No matter what pizza path you choose, the results are sure to be scrumptious.
Share your take on this Tomato, Ricotta, and Basil Pizza recipe on Instagram using #MadeWithKitchenAid for a chance to be featured.
Tomato, Ricotta, and Basil Pizza
Makes 4 servings
INGREDIENTS
1 pre-made pizza dough, enough to yield a 12″ pizza
2 garlic cloves, finely minced
1/2 cup part skim ricotta cheese
1/4 cup plain Greek yogurt
1/2 teaspoon kosher salt
1/4 teaspoon black pepper
1 tablespoon extra virgin olive oil
1/2 pint cherry or grape tomatoes, halved
Small handful of fresh basil, julienne
DIRECTIONS
Place the pizza dough on a lightly floured surface, and if necessary, let come to room temperature (follow the instructions on the packaging).
Place the standing baking rack in the KitchenAid® Convection Microwave and preheat to 425°F. In a medium bowl, stir together the garlic, ricotta, Greek yogurt, salt, and pepper.
Roll the pizza dough into a 12″ circle. Transfer the dough to the KitchenAid® Pizza Pan. Lightly brush the entire surface of the dough with olive oil (be sure to go all the way to the edge), then spread the ricotta-yogurt mixture over the top, leaving a thin border for the crust. Scatter the halved cherry tomatoes evenly over the surface.
Bake until the pizza crust is crisp and the tomatoes are soft, about 12-14 minutes. Transfer to a cutting board and let cool slightly. Garnish with basil, slice, and serve.
Print
*The Contributor of this post has been compensated by KitchenAid for this post, but this post represents the Contributor's own opinion.*