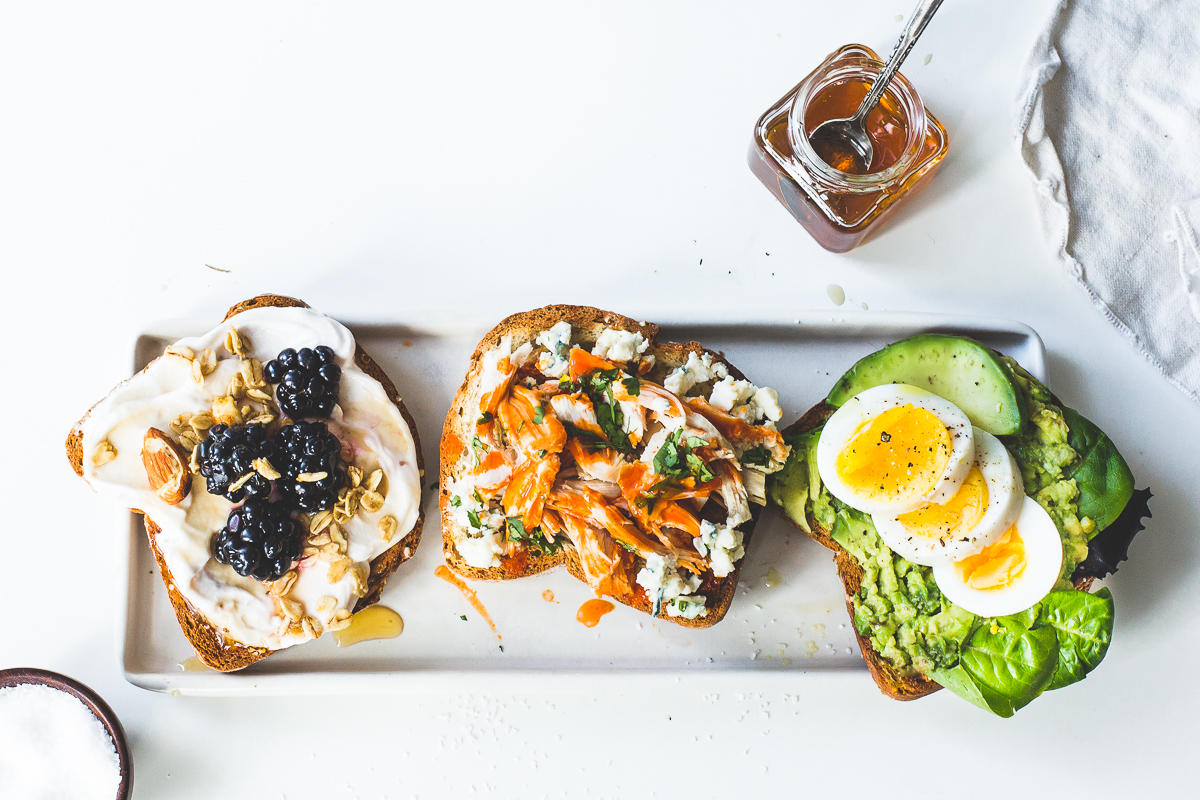 In the last few years, toast has taken over Instagram feeds, magazine spreads, and even entire restaurants dedicated to a piece of tastefully-composed bread. One of the things I love most about this relatively simple staple is that it can work for any hour of the day, sweet or savory, healthy or indulgent.
In order to make great toast, you need a great toaster, especially one that accommodates all the unique artisan style breads being made today. There are so many more options than just the standard white and wheat slices that I grew up with (okay, maybe cinnamon raisin and rye too). I find myself needing longer slots to fit slabs of french boule, as well as needing something that can handle just more than 2 pieces when I'm hosting brunch. Of course, KitchenAid is there for all of us inspired home cooks!
The new KitchenAid® 4-Slice Long Slot Toaster is perfect for the job, giving the bread plenty of room no matter the size or shape. It also has a high lift lever for removing smaller slices, in case you might be toasting crostini or English muffins — no more burning your fingertips!
So, let's get started on toast for every part of the day.
Green Glow Avocado
I feel like it's so important to start the day with protein in a more green way than just a nutrition bar. This breakfast toast is composed of things I always have on hand: greens, avocado, and hard-boiled eggs. And right there, in one piece you're getting a substantial source of energy to keep you powered throughout the morning. One important tip: a drizzle of olive oil and really good salt brings it all together.
Saucy Buffalo Chicken & Bleu
One of my meal prep secrets is buying a rotisserie chicken on Sunday for a fast dinner with roasted vegetables, then shredding the leftovers for use throughout the week. Tossing a portion in buffalo wing sauce, then adding fresh cilantro and bleu cheese crumbles turns it into an epic piece of lunch or dinner toast. If you aren't big on bleu cheese, I've brushed the toast with ranch dressing, and the results have been just as delicious.
Blackberry Honey Yogurt Crunch
The one thing about toast, universally, is how much comfort it brings, even as dessert. This fresh and seasonal way of showcasing fruit is one of my favorite ways to end a light meal or in place of a brownie before bed. The creamy yogurt acts as a soft spread and base for juicy blackberries. A drizzle of honey and granola adds a delicate sweetness and a crunchy textural component.
These are just a few of my favorites, but feel free to adjust to what you have on hand!
I find that prepping some of the ingredients, like the eggs, chicken, and even washing the fruits and veggies earlier in the week helps me make healthy meals like this even when I'm short on time. Enjoy!
Share your take on these Toasts for Every Hour of the Day on Instagram using #MadeWithKitchenAid for a chance to be featured.
Toast for Every Hour of the Day
1 piece of toast per person
INGREDIENTS
For green glow toast
1/4 avocado, sliced and lightly smashed
1 hard boiled egg, sliced
Handful of greens
Salt and pepper
Olive oil
For saucy buffalo chicken toast
3 tablespoons buffalo sauce
1/4 cup cooked chicken, shredded
1 tablespoon bleu cheese crumbles
1/2 tablespoon minced fresh cilantro
For blackberry honey yogurt crunch
2 tablespoons vanilla greek yogurt
5 blackberries
1 tablespoon honey
2 tablespoons granola
DIRECTIONS
For each toast, use a KitchenAid® 4-Slice Long Slot Toaster and set to 4 for a medium shade of toastiness. Let toast, remove, and let cool for a minute.
For each toast, build in order of the ingredients listed, from top to bottom. Serve immediately.

Print
*The Contributor of this post has been compensated by KitchenAid for this post, but this post represents the Contributor's own opinion.*