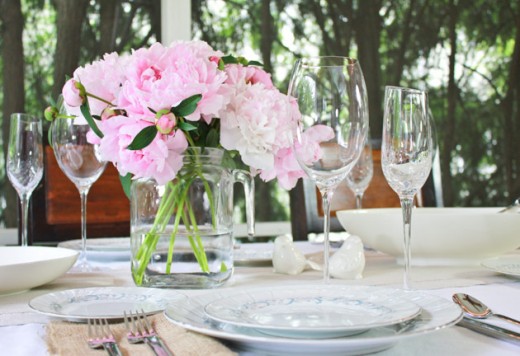 We are party people. We always have been and always will be.
We're comfortable throwing a full-scale bash at the drop of a hat, by making the most of our fridge and freezer items when friends call and say they're stopping by. Even so, there are definitely days I'm prepared and excited to host a party at our house, and moments when I just want to close the blinds and pretend no one is home.
Over the years, I've found the key to being a good host, is feeling like a good host. And for me, feeling like a good host, means having a game plan.
When possible, I like to have 7-10 days to plan for a party. That gives me time to think about: the menu, special beverages, decorations, and a schedule of events if needed. It also gives me time to shop well and prepare dishes ahead, so I'm not stressed on the day of the event.
Here are few tips to make the pre-party week smooth sailing…
Plan Your Menu First
People tend to want to go overboard on the menu when inviting friends over for dinner. Yet I believe simple food, prepared well, always has the biggest impact.
Decide on a dinner party menu, using fresh seasonal ingredients. Wow your guests by focusing on 1-2 special dishes, then keep everything else simple, with go-to dishes you've made before. That will keep your stress-levels low while cooking.
Con your appliances when planning the menu. How many items will need to go in the oven before guests arrive? How many dishes will need to be prepared on the stovetop? Make it easy on yourself. Don't plan for roasted goose, roasted vegetable, lamb cassoulet, and pots de creme unless you have double ovens.
Think about your beverages while menu planning. If offering cocktails, plan for one special seasonal cocktail that you can mix ahead, then provide ingredients for basic mixers like:  club soda, simple syrup, coke, cherries, luxardo, vermouth, bitters, lime wedges, olives, and a variety of 3-5 classic liquors.
Stick with Simple Decorations
It's always tempting to go crazy over decorations, but this is just another area that will cause you grief on the day of the event. I always stick with minimal decorations like fresh flower centerpieces and cloth napkins. After all, unless your guests are professional wedding planners, no one will be talking about the decor after the event. Parties are always about the people and food.
I buy (or pick) fresh flowers and cut them short to fit in low jugs. That way, the centerpieces aren't visually in the way of table conversation.
Shop Well
Once you've decided on a menu, make a thorough grocery list. Include quantities for each item, so you're not standing in the grocery aisle in disarray later in the week.
If possible, do all your shopping at once, including hitting the liquor store and flower market. It's better to cross every item off the list in one day.  That way, you're less likely to forget them later.
Make Aheads
One or two days before the event, prepare as many items ahead as possible. You'll be able to keep calm right before the dinner party if you don't have a long list of dishes to cook.
Appetizers and dessert are often good make-aheads.
Set Up
If it's in the budget, I suggest hiring a cleaning service to come before your party, taking one more thing off your to-do list. Another trick is to clean just the downstairs (or where ever everyone will be) then hire a cleaning service to come after the party. Once your event is over, the last thing you want to do is tackle a huge pile of dishes.
Decide how dinner will be served. Whether you chose to serve dinner at the table or set up a buffet, pull out your serving pieces ahead of time. Label your serving pieces for each recipe, so you know you've got a pretty dish and serving spoon for all your menu items. There's no need to scramble over dishes as the guests arrive.
Set the table in a simple and elegant way. Unless we're hosting a backyard barbecue or kid's party, I always go with cloth napkins. They're a little thing that offer a big impact. If you don't have enough cloth napkins for all your guests, considering using squares of rough fabric from the fabric store. That way, you can pick a pattern that is fun and inviting without breaking the bank.
Make the Most of Your Appliances
If you do have double ovens, put them to good use! With my KitchenAid® Steam-Assist Double Oven, I can have several dishes roasting in convection heat in one oven, while several other dishes are steaming away in the second oven.
For parties, I love to roast/bake as many dishes as possible, to keep the heat contained in the oven and off the stovetop. It's less stressful and keeps my kitchen looking clean.
I can even use my KitchenAid® Convection Built-In Microwave as a third oven for overflow dishes. This really comes in handy for big events!
Make the most of your refrigerator space by moving the shelves to accommodate bottles, and desserts.
My KitchenAid® Pro Line™ Series Side-by-Side Refrigerator is made to handle tall items. It also does a marvelous job of removing extra moisture and odor, so my dishes stay fresh for a long time.
Cake pedestals? No problem.
Use a KitchenAid® Pro Line® Series 16-Cup Food Processor to do all your slicing and dicing to save time and energy.
When prepping for a party, I always run as many things as possible though the food processor. It delivers on uniformity, saves time… and saves my fingers!
Finally, make sure your KitchenAid® 6-Cycle/7-Option Dishwasher is empty before the party. This allows you to load pots and utensils to get them out of the way, so the kitchen remains presentable.
These easy steps will make your party planning seem like a cakewalk! Your guests will be amazed and you will actually get to enjoy the party, as it should be.