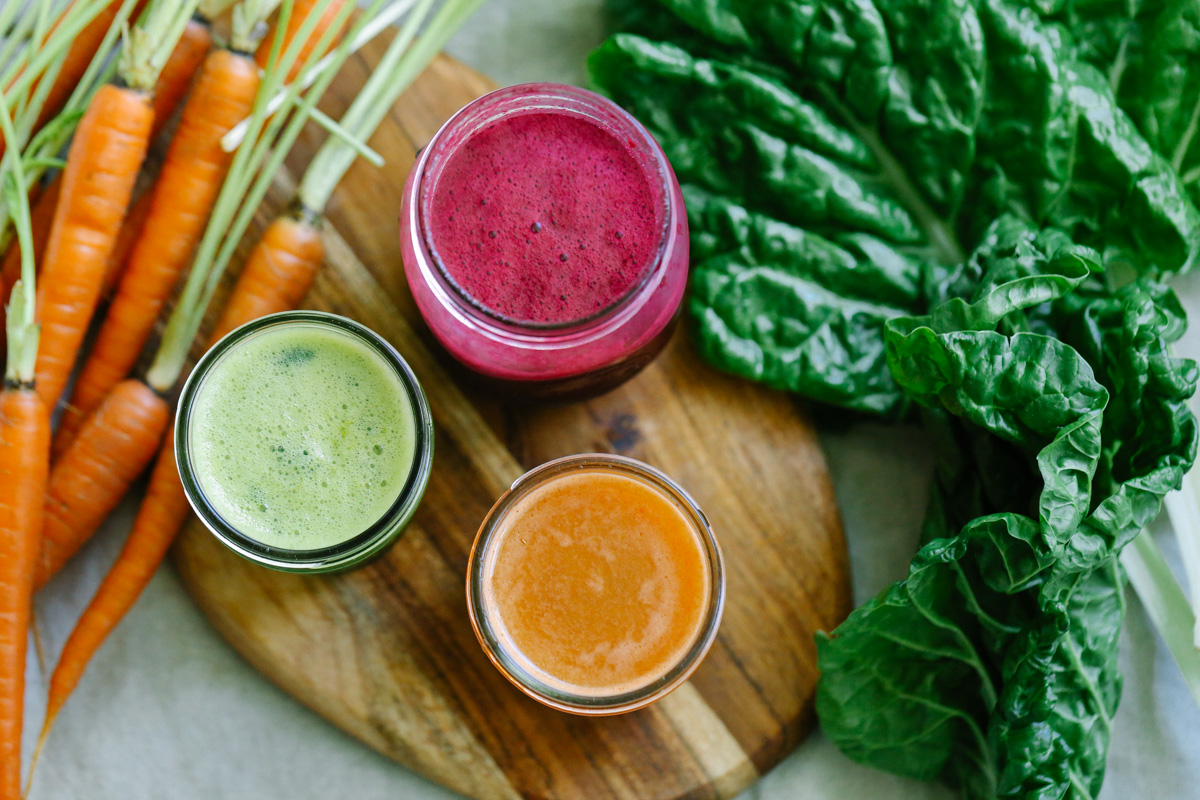 While there are many ways to define "healthy eating" and "real food" these days, I think we can all agree on one thing: consuming more fruits and vegetables should be a daily goal.
In our home, I'm always looking for ways to increase our fruit and vegetable intake: adding salads to our dinners, making smoothie packs and smoothies in advance, and even trying to "sneak" vegetables into homemade popsicles and macaroni and cheese. Even with my efforts, there are still many days that go by when we just don't consume enough fruits and vegetables, whether due to lack of preparation on my part or unexpected schedule (and meal) interruptions.
One of my goals for 2016 is to help my family consume more fruits and vegetables every single day. I know the key to keeping this goal is prepping in advance, so even when schedules are busy, or I'm just too tired to make a veggie side with dinner, fruits and vegetables are still being consumed.
Two of the easiest ways to enjoy a plethora of fruits and vegetables are by making fresh juices and smoothies. I have started to add more juices and smoothies to our meal plans, and I encourage you do the same. I think many of us are well-versed on making the perfect smoothie, so let's focus on making fresh juice.
The Juicer
Making fresh juice at home is a really easy way to consume peak produce thanks to the convenience of the KitchenAid® Juicer and Sauce Attachment. Since the Juicer and Sauce Attachment is a slow juicer, the juice retains its nutritional benefits for up to 72 hours. This means prepping juice in advance is 100% possible with this attachment, making it easier to consume fresh fruits and vegetables every single day!
Juicing Tips
Here are my best tips for making delicious and healthy juices:
First, always start with peak seasonal produce. Using produce that's about to expire will result in a juice that's, well, rotten tasting. Likewise, using fruits and vegetables that haven't reached their peak (under ripe) will result in bitter juice.
Second, fruits and vegetables sometimes offer bonuses, like bugs, dirt, and/or wax coatings. Washing fruits and vegetables thoroughly before juicing is important since fruits and vegetables are consumed in their entirety when juiced.
Third, to create a variety of juice combinations, use both soft and hard produce. Always juice leafy greens first (kale, spinach, etc.), then soft produce (cucumbers, pineapple, etc.), followed by hard produce (carrots, sweet potatoes, etc.). Here are my favorite fruits and vegetables for making juice: pineapple, cucumber, apples (the perfect sweetener), citrus, berries, papaya, tomatoes, melons, celery, bell peppers, sweet potatoes, parsley, kale and spinach.
Fourth, juicing can be a time-consuming lifestyle choice since the vegetables and fruits must be washed, chopped, and then juiced, so learning to prep in advance is important. To save time each week, I recommend planning which juices you'll make a week in advance. Then, wash and chop the fruits and vegetables in advance by placing the washed produce in baggies or storage containers. Another great way to prep is to make juice a day or two in advance. After making juices with the Juicer and Sauce Attachment, pour the juices into glass storage jars, then seal the jars with air-tight lids. Since the juices were made with a slow juicer, they will last for up to 72 hours in the fridge.
To get you started with juicing, here are three of my favorite juice recipes. Once you've tried these recipes, I encourage you to start adding or subtracting ingredients from each recipe to create your own custom juices. Be sure to share your take on these juicing recipes with us on Instagram using #MadeWithKitchenAid for a chance to be featured.
Three Juice Recipes to Get You Started
Each set of ingredients makes 2 cups of juice
INGREDIENTS
For Berry-Beet Juice
Beet greens, removed from the beet
1 lemon, peeled and chopped
1 1/4 cups strawberries
2 apples (any variety)
1 medium-size beet with greens (any variety), chopped
1/4 cup filtered water (optional)
For Tropical Green Juice
3 kale or Swiss Chard leaves, chopped
1 lemon, peeled and chopped
1 1/2 cups chopped pineapple
1 medium-size cucumber, chopped
3 celery stalks, chopped
1/4 cup filtered water (optional)
For Carrot-Apple Juice
4 celery sticks, chopped
2 apples (any variety), chopped
6 medium-size carrots, chopped
1/4 cup filtered water (optional)
DIRECTIONS
Attach the KitchenAid® Juicer and Sauce Attachment to your Stand Mixer. Select either the low pulp screen or high pulp screen (depending on how much pulp you prefer) and insert it into the attachment.
Turn the Stand Mixer on to speed 10 and add the greens, fruits, and vegetables to the attachment. Before turning off the Stand Mixer, add the water to the Juicer and Sauce Attachment to push through any extra juice in the juicer.
Store the juice for up to 72 hours in an air-tight container, or consume the juice fresh.

Print
*The Contributor of this post has been compensated by KitchenAid for this post, but this post represents the Contributor's own opinion.*