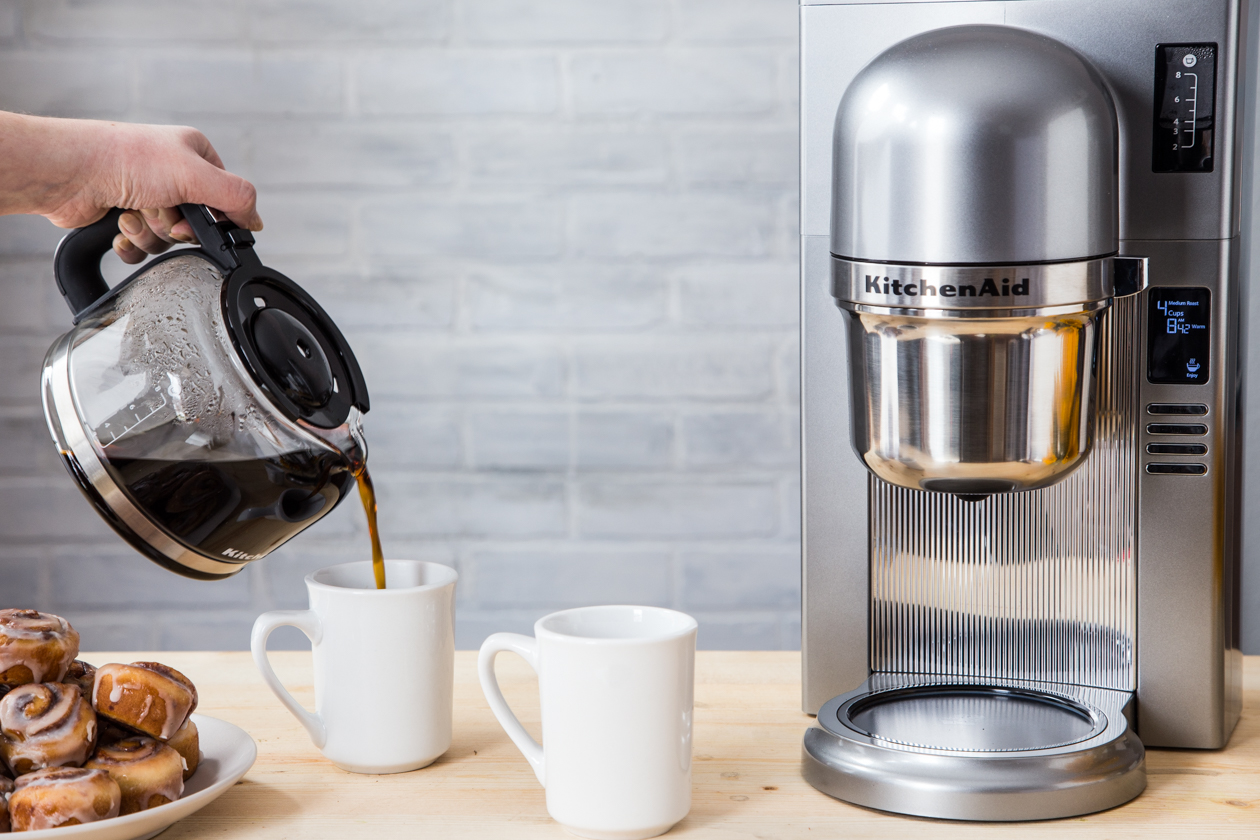 When it comes to my morning coffee, pour over style coffee has been my stand-out favorite for the better part of a year. The ritual of preparing the brewer with the proper filter, precisely measuring out coffee grounds, and heating the water to perfection is a lovely routine that brings a welcome moment of quiet to my Saturday mornings. This, however, has posed a bit of a problem on busy weekdays. Traditional pour over coffee is phenomenal on taste, but it is a time consuming process that requires you to watch over every step to ensure proper flavor extraction. That's not a process that is easy to fit in a weekday morning routine between packing school lunches and trying to track down my daughter's misplaced shoe.
This is why the KitchenAid® Custom Pour Over Coffee Brewer has been such a remarkable addition to our kitchen. This machine is easy on the eyes, but do not be fooled by its likeness to a traditional drip coffee brewer.
The Custom Pour Over Coffee Brewer heats all of the water up at once to a perfect 200 degrees, just as you would when brewing with a traditional pour over coffee brewer.
Then, it will pour a small amount of water over the grounds before pausing to allow the coffee to bloom and extract the maximum flavor before continuing the pour over process. This machine is a rockstar when it comes to clean, flavorful pour over style coffee.
In addition to the automatic pour over technique, the Custom Pour Over Coffee Brewer will also adjust the brew time to fit your favorite roast of coffee. While beans from different regions differ in characteristics and flavor profiles, the lightness or darkness of the bean in the final product comes from the roasting process. Light beans are roasted for a shorter amount of time, leaving the light, natural characteristics of the beans more prominent in the final cup of coffee. A dark roasted bean is roasted for a longer period of time, giving each individual roaster more time to impart their own style and flavor into the beans that will then ultimately end up in the final brewed coffee.
I typically reach for dark roasted beans because I love a rich, deep cup of coffee, so when brewing with my Custom Pour Over Coffee Brewer I choose the dark roast setting.
If you prefer a light roast or medium roast coffee you can choose the medium roast setting and the brewer will treat those more delicately roasted beans accordingly. That customization of flavor is one of my favorite features of this brewer!
I also prefer the taste of freshly ground coffee beans, so I like to use my KitchenAid® Burr Grinder to grind my coffee beans at home. For pour over coffee, I set the grind level to 6 on my Burr Grinder for a medium coarse ground bean.
The Custom Pour Over Coffee Brewer is now our go-to brewer on weekday mornings. The machine does all of the work and handles the delicate process of pour over brewing to perfection.
The water reservoir is filled from the top of the machine but does not require precise filling amounts. The brewer will heat up only the amount of water needed for that exact pot of coffee. My husband and I brew a 4-cup pot of coffee to yield 2 large mugs of delicious coffee.
On nights when I am feeling particularly ahead of the game, I fill the Custom Pour Over Coffee Brewer with the grounds I made from my Burr Grinder and program it to start brewing in the morning at any desired time. This way the coffee is brewed and ready to go when you are.
Just imagine if everything on weekday mornings was so cooperative. At least we have coffee on our side!
*The Contributor of this post has been compensated by KitchenAid for this post, but this post represents the Contributor's own opinion.*