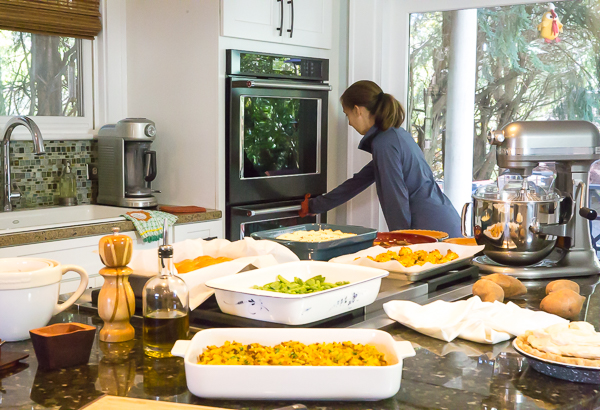 The holidays can be hectic, especially in the kitchen.
The very first holiday meal I ever hosted in my own home was cooked in a kitchen that had only two working stovetop burners and no dishwasher.
Needless to say, I had to make the most of my temperamental oven, rotating the pan every 20 minutes. Then spent the better part of the night washing dishes by hand after everyone left.
With Thanksgiving just around the corner, I'm so very glad we now have KitchenAid® Major Appliances in our home.
My KitchenAid® Dishwasher with Dynamic Wash Arms and Bottle Wash is so powerful it can clean off the toughest buildup. My KitchenAid® 4 Burner with Griddle, Gas Rangetop, Commercial-Style is spacious enough to set extra large pots on each and every burner. Plus, the burners are easy to control and offer ultra high heat.
Yet I still find I rely heavily on my wall ovens for holiday cooking. It's comforting to be able to prep recipes ahead, then pop baking dishes and cookie sheets in the oven an hour before an event.
That's why I can't rave enough about my KitchenAid® Double Wall Oven with Even-Heat™ True Convection in our current family home for holiday meal preparation. It replaced my former erratic single oven in my starter house and I couldn't be more thankful for that!
Both ovens have three wide racks with plenty of space for two full baking dishes on each rack. That's six casserole dishes per oven, twelve total, if I want to fill my ovens to the brim.
The KitchenAid® Even-Heat™ Preheat and True Convection Technology insures that this Wall Oven stays the same temperature from front to back and top to bottom. That way, all my dishes are evenly cooked.
No hot or cool spots in these ovens!
The Satin-Glide™ Roll-Out Extension Rack pulls out so smoothly; I never have to worry about pie filling splashing, or cakes collapsing.
I can relax when the kids are helping in the kitchen, knowing that a touchy oven rack isn't going to cause a burn.
Whether I'm roasting a turkey, of just checking the temperature of an egg-based dish, the temperature probe comes handy to get an accurate temperature reading in a hurry.
You can pop it in a food item for a quick reading, or set it and forget it, for slow roasting. The oven will beep when the desired temperature is reached.
The EasyConvect™ Conversion System takes all the guesswork out of converting conventional recipes to convection baking and roasting.
Even though this is simple math, it's nice to know I can't mess it up, when I've got a million things on my mind during holiday cooking. Convection baking and roasting means perfectly golden and fluffy baked goods, and brown crispy meats and veggies.
Yet best of all, I love the Self Cleaning Cycle on my KitchenAid® Double Wall Oven with Even-Heat™ True Convection!
No matter how big of a mess I make in the oven over the holidays, it will all come clean with the touch of a button. Every ounce of burnt-on sugar and beef fat splatter, burns to loose white ash in the Self Clean Cycle.
Once the ovens cool, you simply wipe out the ash with a wet paper towel, and the ovens look like brand new. It's amazing!
Our KitchenAid® Double Wall Oven is a life-saver around the holidays. It keeps my stress levels in check, so I can enjoy holiday cooking and make great memories with my family.
*The Contributor of this post has been compensated by KitchenAid for this post, but this post represents the Contributor's own opinion.*