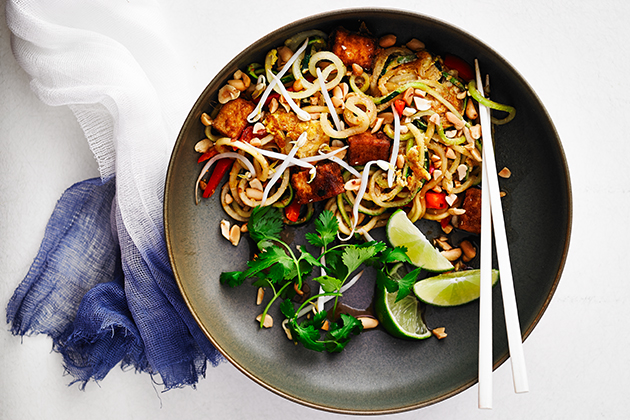 Thai Hot and Sour Zucchini Noodles
Makes 4-6 servings
INGREDIENTS
2 tablespoons unseasoned rice vinegar
4 tablespoons olive oil, divided
1 tablespoon packed brown sugar
1 teaspoon grated fresh ginger
1 teaspoon soy sauce
1/4 teaspoon red pepper flakes
Pinch ground red pepper
1/4 cup chopped green onion
1 jalapeño pepper, seeded and minced
1 package (14 ounces) extra firm tofu, drained and cut into 1-inch squares
1 clove garlic, minced
1 red bell pepper, julienned
2 carrots, julienned
2 large or 4 medium zucchini, cut into
3- to 4-inch pieces
1 egg, beaten
1/4 cup chopped fresh cilantro
1/4 cup chopped peanuts
1 lime, cut into wedges
DIRECTIONS
For marinade, whisk vinegar, 2 tablespoons olive oil, brown sugar, ginger, soy sauce, red pepper flakes and ground red pepper in small bowl. Stir in green onion and jalapeño. Place tofu in single layer in baking dish or shallow bowl; pour marinade over tofu and stir gently to coat. Marinate at room temperature 30 minutes.
Attach Spiralizer Attachment to KitchenAid® Stand Mixer. Center one zucchini section on fruit and vegetable skewer; attach to Spiralizer. Attach medium spiralizing blade and position at end of zucchini. Place medium bowl below blade to catch zucchini. Turn stand mixer to speed 6 and process until blade reaches end of zucchini. Repeat with remaining zucchini.
Heat 1 tablespoon olive oil in large skillet or wok over high heat. Remove tofu from marinade with slotted spoon; add to skillet in single layer (cook in batches, if necessary). Cook without stirring 1 to 2 minutes or until browned. Turn and cook 4 to 5 minutes or until tofu is browned, stirring occasionally. Remove tofu from skillet with slotted spoon; drain on paper towels.
Heat remaining 1 tablespoon olive oil in same skillet. Add garlic; cook 30 seconds, stirring constantly. Add bell pepper and carrots; sauté 2 minutes. Add zucchini; sauté 1 minute. Add egg; cook until egg is firm, stirring frequently. Return tofu to skillet along with marinade; cook 1 to 2 minutes or until heated through. Divide among serving dishes; sprinkle with cilantro and peanuts. Serve with lime wedges.

Print
*The Contributor of this post has been compensated by KitchenAid for this post, but this post represents the Contributor's own opinion.*