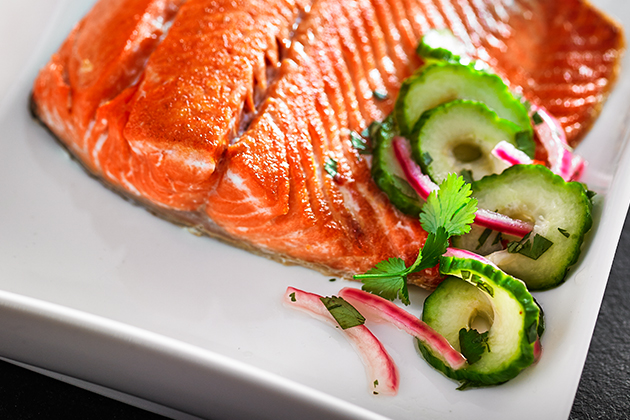 Thai Cucumber Relish
Makes 6 cups (1/2 cups per serving)
INGREDIENTS
1 cup unseasoned rice vinegar
3 tablespoons sugar
1 serrano pepper, seeded and minced
2 tablespoons chopped fresh cilantro
2 large seedless cucumbers, cut into 4 1/2 inch pieces
1 small red onion
DIRECTIONS
Combine vinegar and sugar in small bowl; stir to dissolve sugar. Add serrano pepper and cilantro.
Attach Spiralizer Attachment to KitchenAid® Stand Mixer. Center one cucumber section on fruit and vegetable skewer; attach to Spiralizer. Attach medium spiralizing blade and position at end of cucumber. Place medium bowl below blade to catch cucumber. Turn stand mixer to speed 4 and process until blade reaches end of cucumber. Repeat with remaining cucumber pieces and onion.
Pour vinegar mixture over vegetables; stir to coat. Let stand at room temperature 1 to 2 hours for flavors to blend. Store in jar with tight-fitting lid in refrigerator. Can be made 2 days ahead.
NOTE Serve with seared salmon or chicken satay.

Print
*The Contributor of this post has been compensated by KitchenAid for this post, but this post represents the Contributor's own opinion.*