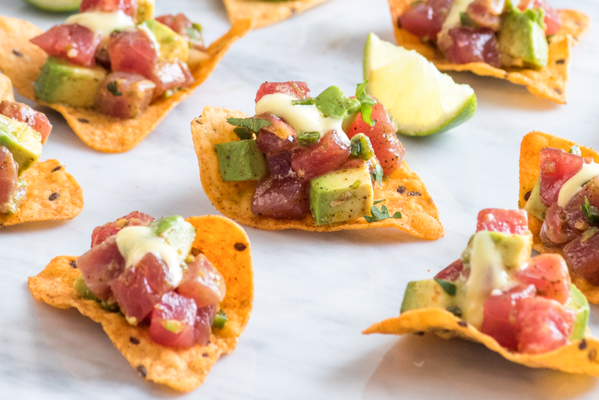 As much as I enjoy cooking, I also love going out to eat because it gives me the opportunity to experience techniques and dishes I'd typically consider too fussy or complicated to attempt at home. Until recently, tuna tartare and aioli are two items I would have grouped squarely in the "out food" category. I was wrong.
A few weeks ago, KitchenAid approached me with an invitation to participate in a kitchen challenge, "Round Up Some Texas Tartare," by creating a Tex-Mex spiced tuna tartare, topped with jalapeño aioli. While my initial reaction to the words "tartare" and "aioli" was "restaurant food only!" my competitive nature took hold, and I accepted. After all, even if I needed a few times to get it right, the mistakes were likely to be delicious. Texas Tartare: it's on. Let the challenge begin!
I first turned my attention to the tuna tartare. Since tartare by definition isn't cooked, using the best grade, freshest tuna is critical. I picked up a good portion of ahi tuna from our local grocery store, then paired it with an array of classic Tex-Mex ingredients: jalapeño, lime, chili spices, avocado, cilantro, and red onion.
To my surprise, the only difficult part of the tartare was making sure I cut the avocado and tuna in pieces of uniform size, which makes for both a neater presentation and equal distribution of flavors. Once that task was complete, all I needed to do was put everything together in a bowl and place it in the refrigerator to allow the flavors to meld. Seriously—that is it. If you can chop and stir, you can make tartare. I feel a bit like the restaurant industry has been deceiving me all along!
Tartare under control, I turned my attention to the jalapeño aioli. Although it sounds ultra fancy, "aioli" is really just a complicated way of saying "egg yolks slowly combined with olive oil until they become rich and delicious." When done properly, the egg yolks transform from a loose, golden blob into a luxurious sauce that can be customized to any flavor profile. For our tartare, I added lime, garlic, and jalapeño to make the Tex-Mex flavors pop.
There are two critical factors to making a successful aioli. One is to add the olive oil slowly, and the other is to beat it constantly. The best, easiest way to do this is with a hand mixer, so that you can beat the yolks with the mixer in one hand, then add the olive oil bit by bit with the other. I used my KitchenAid® 9-Speed Hand Mixer and watched in awe as the egg yolks transformed from rough yellow goop into a pale gold sauce, perfect for drizzling over the Texas Tartare.
Now for the best part: assembly! You can pile the tartare onto one large serving plate or get a little sassy with the presentation and spoon it into individual serving bowls. For extra texture and flavor, top the tartare with crunchy crushed tortilla chips, crisp jalapeno slices (if you are concerned with having too much spice, remove the seeds and membranes first), fresh cilantro, and a generous drizzle of that luscious aioli.
We devoured this Texas Tartare scooped with tortilla chips, and I can also envision it being a tasty filling for lettuce wraps or served alongside beans and rice.
Thanks KitchenAid for inspiring me to bring "out food" in with this fresh and fabulous dish. Now, I challenge each of you to round up some Texas Tartare of your own!
Tex-Mex Spiced Tuna Tartare with Jalapeño Aioli
Makes 4-6 servings
INGREDIENTS
For the tartare
3/4 pound fresh ahi tuna steak, cubed into a clean, 1/4-inch dice
1/4 cup olive oil
Zest of 2 limes
1/4 cup freshly squeezed lime juice
1 clove garlic, minced
2 teaspoons chili powder
2 teaspoons kosher salt
3/4 teaspoon cumin
1/4 teaspoon cayenne pepper
1/4 cup finely diced red onion
1 jalapeño pepper, seeds and membranes removed, finely chopped
1 medium avocado, pitted and cubed into 1/4-inch dice
2 tablespoons chopped fresh cilantro
For the jalapeño aioli
2 cloves garlic, minced
1 large egg yolk
1/2 teaspoon kosher salt
1/3 cup olive oil
Zest of 1 lime
1 tablespoon fresh lime juice
1 jalapeño pepper, seeds and membranes removed, finely diced
For garnish
Crushed tortilla chips
Jalapeño slices
Fresh cilantro
Lime wedges
DIRECTIONS
For the tartare: Place the tuna pieces in a large bowl. In a separate bowl, combine the olive oil, garlic, lime zest, lime juice, chili powder, salt, cumin, and cayenne. Pour over the tuna, then add the red onion and jalapeños and mix well. Gently fold in the avocado. Cover with plastic and place in the refrigerator for 1 hour to allow the flavors to meld.
Meanwhile, prepare the aioli: Place the garlic, egg yolk, and salt in the bottom of a medium mixing bowl. Start the KitchenAid Hand Mixer and combine the ingredients on medium low. With the KitchenAid® 9-Speed Hand Mixer running, very slowly drizzle a few drops of olive oil, then increase the Hand Mixer speed to medium high to combine. You should see the egg yolk begin to thicken. Drizzle in a bit more olive oil, blending it completely to combine. Continue to incorporate the oil, beating after each addition. Once half of the oil is incorporated, add it continuously in a thin stream, mixing on high speed all the while. Continue mixing until the aioli is well combined. It will be very thick. Beat in the lime zest and juice, then stir in the diced jalapeño.
To serve: Remove the tartare from the refrigerator and stir gently to combine any oils that might have sank to the bottom. Carefully spoon onto a serving plate. Drizzle with jalapeño aioli and top with crushed tortilla chips and fresh cilantro. Serve garnished with lime wedges.

Print
*The Contributor of this post has been compensated by KitchenAid for this post, but this post represents the Contributor's own opinion.*