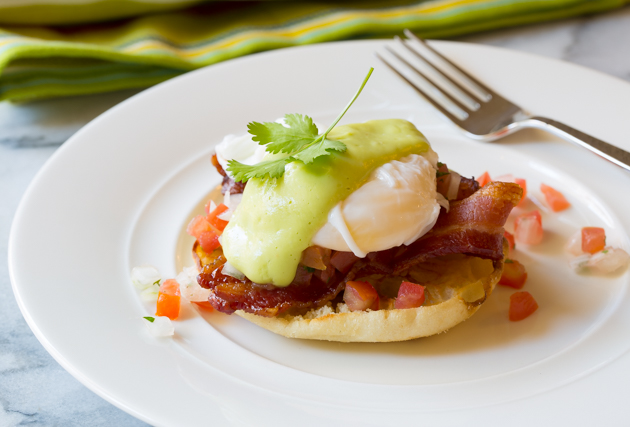 It's National Eggs Benedict Day! A time to celebrate this rich classic American breakfast food we all know and love.
Traditional Eggs Benedict consists of an English muffin topped with a slice of Canadian bacon or ham, a poached egg, and silky hollandaise sauce made with egg yolks and butter.
However, breakfast joints across the country offer endless variations of this beloved dish. Some substitute toast, hash browns, biscuits or polenta for the English muffins, and bacon, sausage, or even smoked fish for the ham.
However, when I make Eggs Benedict at home, I like to stick with a slightly more classic Eggs Benedict, with a few minor alterations to mix things up. That way, I get the full satisfaction of traditional Eggs Benedict with some added intrigue.
One of my favorite tweaks is to make Avocado Hollandaise. This uncooked version of hollandaise sauce, allows you to throw all the ingredients into your KitchenAid® Torrent™ Magnetic Drive Blender, then puree them into a smooth, silky sauce.
In the Avocado Hollandaise, fresh ripe avocados are substituted for the egg yolks and butter of a traditional hollandaise. This creates an ultra light and perky sauce that offers the same richness and silky texture as the original, with less fat.
Blend the ingredients for the Avocado Hollandaise in your Blender on the Juice Setting on the Adapti–Blend™ Recipe Program until smooth. This alternative to the traditional hollandaise sauce will provide a lovely contrast to the runny yolks of the poached eggs later on.
For this simple Tex Mex version of Eggs Benedict, I'm using a toasted English muffins as the base.
Layer your English muffins with bacon and a bit of pico de gillo for a cool fresh bite. Now you're ready for the main ingredient: your poached eggs.
To poach your eggs, grab your 8.0-Quart Stockpot from your KitchenAid® Stainless Steel 8-Piece Set. Fill approximately half way with water and place onto your stovetop. Add a tablespoon of vinegar to the water.
Lower the heat so the water gently simmers in your Stockpot, then carefully crack an egg over the water. The egg will immediately solidify into cloudy waves of egg white with the yolk in the middle.
Allow the egg to simmer at least 2 minutes, then lift out the poached egg with a slotted spoon and repeat.
Once your eggs are done, carefully place each egg onto either half of your English muffin.
To finish your dish, spoon on some of the Creamy Avocado Hollandaise and, if you'd like, a sprig of cilantro as garnish!
If you've never made Eggs Benedict at home, today is the day to give it a try. This simple Tex Mex Eggs Benedict with Creamy Avocado Hollandaise is the perfect place to start!
Be sure to share your take on this Tex Mex Eggs Benedict with Creamy Avocado Hollandaise recipe with us on Instagram using #MadeWithKitchenAid for a chance to be featured.
Tex Mex Eggs Benedict with Creamy Avocado Hollandaise
Makes 4 servings
INGREDIENTS
4 English muffins, halved
8 thick strips bacon
8 large eggs
3/4 cup fresh pico de gallo
1 ripe avocado
1 garlic clove
2 tablespoons lemon juice
1 teaspoon Dijon mustard
1/4 teaspoon salt
2-3 dashes hot sauce
1 cup water
1 tablespoon white vinegar (for boiling water)
Cilantro (for garnish)
DIRECTIONS
Preheat the oven to 400 degrees F. Line a rimmed baking sheet with parchment paper and lay the bacon strips in a single layer. Bake the bacon for 15-20 minutes. When it reaches a rich red color, remove the baking sheet from the oven and drain the bacon strips on a paper towel lined plate. Fold the bacon strips into Vs.
Meanwhile, bring water to boil in your 8.0-Quart Stockpot from your KitchenAid® Stainless Steel 8-Piece Set. Add a tablespoon of vinegar to the water.
Cut the English muffins in half and toast until golden.
Scoop the flesh of the avocado into the KitchenAid® Torrent™ Magnetic Drive Blender. Add the garlic clove, lemon juice, Dijon mustard, salt, hot sauce, and water in the Blender. Puree until very smooth and set aside.
Once the water is boiling and all the other ingredients are ready, lower the heat so the water is at a low simmer and gently crack an egg over the boiling water. Allow the egg to sink and dance around the pot for approximately 2 minutes, then scoop it out with a slotted spoon. Repeat with the remaining eggs.
To assemble: Place an English muffin half on each plate. Top with a bacon strip, followed by a heaping spoonful of pico de gallo. Then place the poached egg on top and spoon the Creamy Avocado Hollandaise over the top. Garnish with cilantro if desired.
Print
*The Contributor of this post has been compensated by KitchenAid for this post, but this post represents the Contributor's own opinion.*