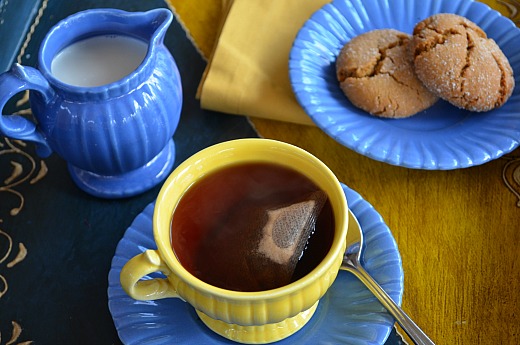 Some of my appliances get a monthly workout, others I trot out once a week, but one of my indispensable appliances—one I use twice a day—is my KitchenAid® Pro Line® Series Electric Kettle. I drink coffee too, but teatime is a ritual my husband and I look forward to morning and afternoon.
Each morning we pad downstairs and put on the teakettle. Our first cup is herbal. Depending on the tea we choose, we set the temperature gauge, and the kettle automatically heats it to the proper temperature. I like that feature a lot. While the water heats, we choose a tea from our big selection. One morning it might be chamomile or rooibos, the next day chai or mint. In the summer we might go for a kick-in-the-pants citric. Come fall we frequently go for cinnamon.
We put the teabag in a small saucepan set on the lowest possible setting, and then fill each cup with the heated water, which we then pour into the pan. Pouring the water into each cup first we know we've got the right amount of water, plus it heats up the cups.
While the tea steeps, we prepare a little seasonal fruit. This morning we enjoyed pineapple, but it could be anything—citrus and other tropical fruits during the winter, strawberries in spring, stone fruit and berries in the summer and apples and pears in the fall. We love bananas too, so there's often a little of that in the mix.
This little morning tea ritual starts our day off right, the tea gently waking us, the fruit energizing us for the exercise that follows.
The second cup of tea comes late afternoon. This time I usually choose a caffeinated tea, often the Earl Grey my English son-in-law brings me back from London. The bergamot orange, a flavor I adore, is more potent in the tea from there.
And it's with this cup I enjoy a little sweet treat—a tea biscuit or small cookie, maybe a handful of dried fruit or some trail mix. This moment both energizes and relaxes me for the hour or so of work ahead.
I've got sexier appliances in my kitchen, but it's my KitchenAid® Pro Line® Series Electric Kettle I adore and never take for granted.