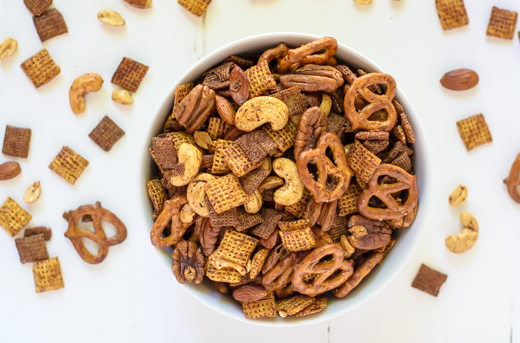 For Super Man, it was Kryptonite; Sampson, Delilah; and Achilles, that darn heel. No matter our strength, we each have our weakness, and my sure downfall is the flavor combination of salty, sweet, and spicy. No matter what super powers of resistance I put forth, I am rendered powerless in the presence of addictive treats like today's Sweet & Spicy Snack Mix.
I had the best of intentions when making this mix. It was to be a wholesome, filling snack mix, capable of tiding me over between meals and easy to pack and carry on the run. The ingredients began innocently enough: whole grain Wheat Chex cereal (fiber!), Honey Nut Chex (a little sweet for good luck), pretzels, and a treasure trove of nuts: pecans, almonds, peanuts, and cashews, all offering healthy fats and protein. In place of the sticks of butter normally used to coat party mix, I opted for a beaten egg white and pure maple syrup. Yes, this was going to be a very respectable snack indeed.
But then the spices came in, and all abilities of self control were lost. A sassy combination of warm cinnamon, smoky chipotle, spicy chili powder, cumin, and cayenne gives this snack mix a kick that, when combined with the sweetness of the maple syrup and honey cereal, is impossible to resist. I found myself hovering by the container, reaching in for "just one more almond…and pretzel…and really I might as well take a handful, because aren't these flavors all meant to be enjoyed together anyway?"
Making this snack mix is almost as easy as devouring the entire batch: stir the nuts, pretzels, and cereal together in one bowl, the maple syrup, spices, and egg whites together in another, then combine. We're nearly there!
While some snack mixes are made in the microwave, I greatly prefer the flavor of those that are made in the oven, which toasts and deepens the ingredients and gives them a nice crunch too. Rather than heat up my kitchen with my full-sized oven, I used my KitchenAid® Convection Bake Countertop Oven. It bakes as thoroughly and accurately as a standard oven but takes a fraction of the space, preheats in minutes, and is more energy efficient too. I used to dream of having two standard ovens, but ever since this handy appliance came into my life, I actually prefer it. We use ours at least once a day for everything from roasting or reheating vegetables, to cooking frozen pizzas, to making toasted sandwiches. Even my husband is attached.
This recipe yields a small, 4-cup batch of mix, which fits just perfectly on the countertop oven baking sheet. But it can easily be doubled (or even tripled) for a crowd.
Personally, I'm sticking to the smaller batch—it's impossible enough to resist already!
Sweet & Spicy Snack Mix
Makes 4 cups mix; can easily be doubled
INGREDIENTS
1 cup crisp honey squares cereal, such as Honey Nut Chex
1 cup crisp wheat cereal, such as Wheat Chex
1/2 cup mini pretzel twists
1/2 cup unsalted cashews
1/2 cup pecan halves
1/4 cup whole almonds
1/4 cup unsalted peanuts
1 egg white (or 3 tablespoons liquid egg whites)
2 tablespoons pure maple syrup
2 teaspoon ground cinnamon
1 teaspoons ground chipotle powder
1 teaspoon ground chili powder
1/2 teaspoon kosher salt
1/4 teaspoon ground cumin
1/8 teaspoon ground cayenne pepper
DIRECTIONS
Preheat the oven to 250 degrees F. Lightly coating a baking sheet with non-stick spray, line with parchment paper, then coat with baking spray once more. Set aside.
In a large bowl, combine the honey nut cereal, wheat cereal, pretzels, cashews, pecans, peanuts, and almonds.
In another bowl, beat the egg white until foamy, then stir in the maple syrup, cinnamon, chipotle powder, chili powder, salt, cumin, and cayenne. Drizzle over the cereal and nut mixture, then toss to coat.
Spread the mixture in a single layer on the prepared baking sheet. Bake for 1 hour, stirring once every 20 minutes. The mixture is done when dry to the touch. Remove from the oven, place the pan on a cooling rack, and let cool completely.
Print
*The Contributor of this post has been compensated by KitchenAid for this post, but this post represents the Contributor's own opinion.*