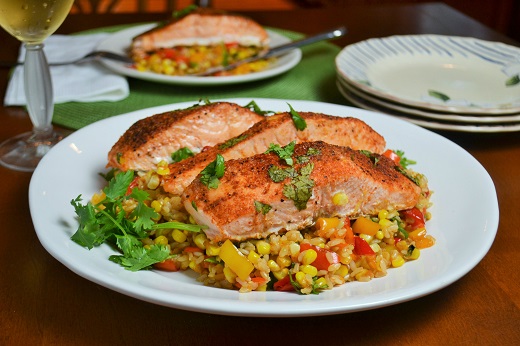 Fish is on my dinner menu once or twice a week. While my family eats fish all year-round, it is a favorite during the summer months. Fish is a nice, light dish and salmon is one of our favorites. Today I will give you some tips on properly storing fish in your refrigerator. This will ensure that your dinner will taste as fresh as possible.
Storing fish is easy in my KitchenAid® French Door Refrigerator. It comes with a Preserva® Food Care System featuring two independent cooling systems. The dedicated refrigeration unit keeps food fresh longer while there is a separate system for the freezer.  The FreshFlow™ Air Filter minimizes odors so I never have to worry about my refrigerator smelling like seafood.
To make sure you keep the freshest fish possible, follow these tips and suggestions:
Once fish is purchased, it should be taken home and refrigerated as soon as possible. Many fish markets will pack some ice around it to transport home.
Never store fish for more than two days. If you will not use it within 48 hours, freeze it after it has been properly wrapped.
Make sure your refrigerator is at 40 degrees or less. I keep mine at 38 degrees when I am storing fish.
If you will not use the fish within a few hours, remove from original packaging and wrap it tightly in plastic, foil or any moisture proof paper.
Keep it at the coldest part of the refrigerator which is in the back.
Fresh fish should smell like the sea but should not smell overly fishy.
I personally like to cook the fish I bought on the same day, but sometimes it's not always possible. If the fish is wrapped and stored properly, you will have no worries even if it is cooked two days later. Now let's get this recipe started.
I always line my pans with parchment paper so the fish doesn't stick to the pan. Plus, it helps the fish cook evenly and makes clean-up a breeze.
Next, I add the seasoned veggies to the pan and pour the sauce over the fish. Now it's ready for the oven. The best part? This whole meal will cook in less than 20 minutes!
I love my KitchenAid® Dual Fuel Double Oven Convection Range. When I roast salmon or other types of fish, I don't like to put baked goods in the same oven. No one likes their cookies or rolls smelling like fish. So while I am roasting the salmon, it is easy to heat up rolls or make a quick batch of cookies in my other oven. It is also convenient when making other side dishes and heating up dishes during parties.
After about 15 to 17 minutes of cooking, the salmon comes out perfect. The veggies are ready to mix with rice and dinner is almost on the table. I use brown rice to make this an exceptionally healthy meal. Make sure to mix in the sauce and juices from the pan. It will create delicious rice.
This sweet and spicy salmon is the perfect summer meal to serve when company is over since no one wants to spend a summer night in front of the oven. This fish seems fancy, but is extremely easy and quick to prepare.
While fresh corn and peppers are abundant in the summer, I also make this dish in the winter. I use bagged frozen corn and cook it with the salmon just like I cook it fresh. Try this delicious roasted salmon and I promise you will want to put it on your weekly dinner rotation.
Sweet and Spicy Salmon with Roasted Summer Veggie Rice
Makes 4 servings
INGREDIENTS
2 tablespoons Sriracha sauce
3 tablespoons honey
2 tablespoons plus one teaspoon soy sauce, divided use
1 teaspoon rice wine vinegar
2 ears corn (about 2 cups), shucked and cut from the cob
1 cup chopped sweet peppers (red, yellow or orange)
1 tablespoon olive oil
1 1/2 pounds salmon filets (4 pieces)
1/2 teaspoon Cajun seasoning
2 tablespoons chopped cilantro plus extra for garnish
2 cups cooked rice
DIRECTIONS
Preheat oven to 375 degrees.
In a small bowl, mix together Sriracha sauce, honey, one teaspoon soy sauce (reserve 2 tablespoons for later), and vinegar. Set aside.
In a medium size bowl, mix together corn, peppers, olive oil and the remaining 2 tablespoons of soy sauce.
Place salmon filets on a baking sheet lined with parchment paper. Place veggies around the fish and pour Sriracha sauce over the fish. Sprinkle the salmon with the Cajun seasoning. Sprinkle the two tablespoons of cilantro over the salmon and the veggies.
Bake for about 15 to 17 minutes or until fish is tender and cooked through.
Remove the fish to a plate. Mix the rice with the roasted veggies and any extra sauce on the pan.
Place the fish on top of the rice and garnish with extra cilantro if desired. Extra soy sauce can also be served with the salmon and rice if desired.

Print
*The Contributor of this post has been compensated by KitchenAid for this post, but this post represents the Contributor's own opinion.*