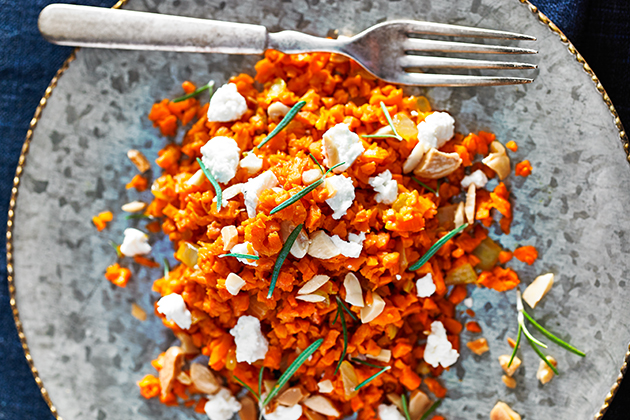 Sweet Potato Risotto
Makes 2 servings
INGREDIENTS
2 sweet potatoes, cut into 3- to 4-inch pieces
2 teaspoons olive oil
1/4 cup chopped sweet onion
1 clove garlic, minced
1/2 cup vegetable broth
1/2 teaspoon salt
1/4 cup crumbled goat cheese
2 tablespoons marcona or roasted almonds, chopped
1 teaspoon minced fresh rosemary
Freshly ground black pepper (optional)
DIRECTIONS
Attach Spiralizer Attachment to KitchenAid® Stand Mixer. Center one sweet potato section on fruit and vegetable skewer; attach to spiralizer. Attach peeling blade and fine spiralizng blade and position at end of sweet potato. Place medium bowl below blade to catch sweet potato and peel. Turn stand mixer to speed 4 and process until blade reaches end of sweet potato. Repeat with remaining sweet potato.
Place spiralized sweet potatoes in KitchenAid® Food Processor; pulse 6 to 8 times or until sweet potato forms rice-sized pieces. If you do not have a food processor, finely chop the spiralized sweet potatoes with a knife.
Heat 2 teaspoons olive oil in large skillet over medium-high heat. Add onion and garlic; sauté 1 minute. Add sweet potato and salt; stir to coat with oil. Stir in broth, 2 tablespoons at a time; cook 7 to 10 minutes or until sweet potatoes are tender.
Divide risotto between two serving plates. Top with goat cheese, almonds and rosemary. Season with freshly ground black pepper, if desired.
Print
*The Contributor of this post has been compensated by KitchenAid for this post, but this post represents the Contributor's own opinion.*