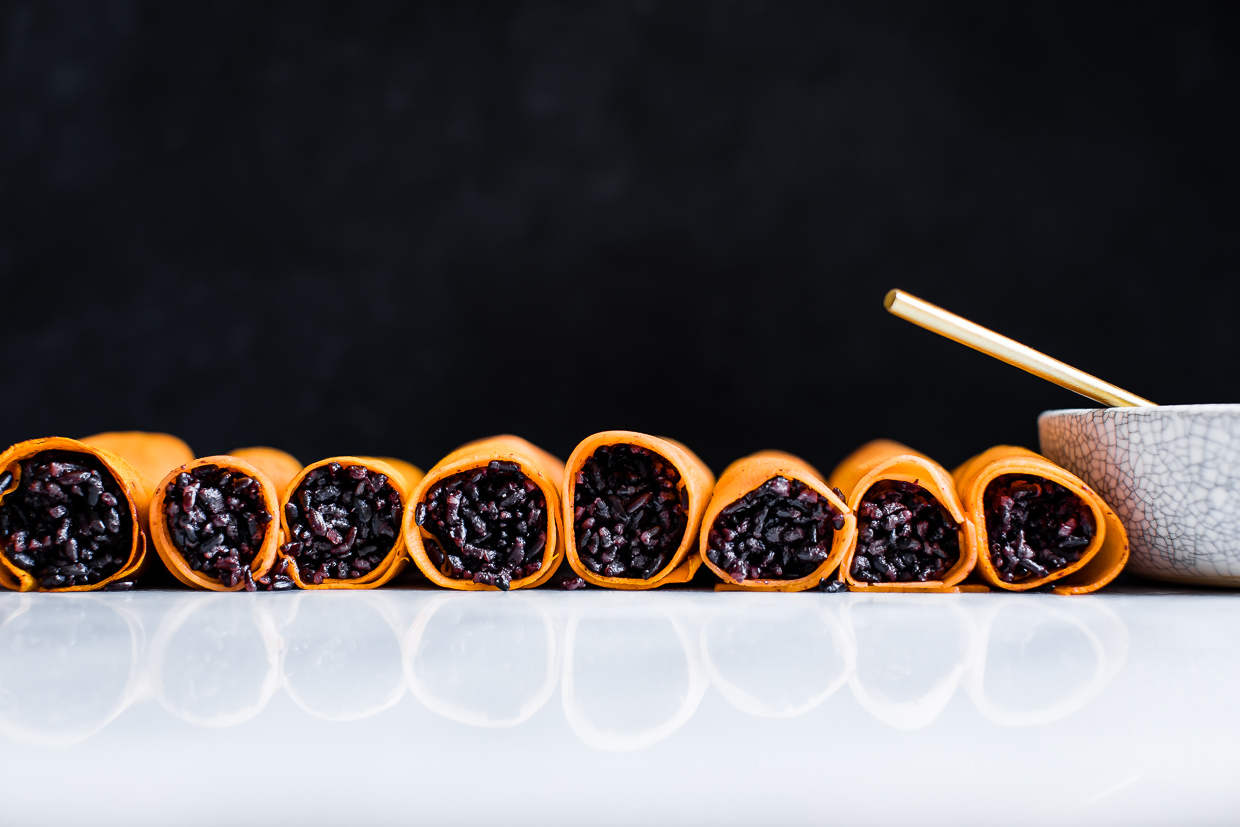 What is your favorite holiday? Mine is Halloween, hands down. It really allows my creative mom side to go wild. Even before I was a mom, I would go nuts for all the craftiness surrounding Halloween. Homemade Halloween costumes in my house were a must. The abundance of candy is a definite bonus too.
The first year I lived alone as an adult—after my post-college roommate days were over—I lived in a basement through a garage with no front door for trick-or-treaters. To make up for it, I threw an intimate Halloween party in my teeny tiny house.
We had a photobooth, a costume contest, creepy crawly and festive treats (evidence: Jack Skellington Tarts), and I even dressed my cats up for the occasion. The next year we tried to throw a Halloween party in our backyard with projector screen movies, but the rain thwarted our plans. Mark my words, that will happen one day!
These black-and-orange Sweet Potato Forbidden Rice Rolls are on the top of my Halloween menu and are perfect to serve up at your Halloween gathering! The new KitchenAid® Vegetable Sheet Cutter Attachment allows you to very easily create something new with vegetables.
In my family, finding creative ways to introduce more vegetables into our toddler's picky diet is such a lifesaver! These vegetable sheets work great as gluten-free alternatives for wraps in your favorite roll-ups or layered in lasagnas. Here's how to make these rolls yourself.
First, bring the rice and the coconut milk to simmer in a medium pot on the stovetop of the KitchenAid® Gas Convection Slide-In Range. Cover and reduce heat to a simmer for a half hour. Then chill it until it's cool enough to touch.
Next, preheat the oven on the Gas Convection Slide-In Range. You will just be baking this one baking sheet for a few minutes, so this is a great use for the Baking Drawer!
Attach the Vegetable Sheet Cutter Attachment to the power hub of the KitchenAid® Stand Mixer. Position the sweet potato and insert the Thin Blade. Cut the sweet potato into sheets and trim into 8-10″ pieces.
Bake the sweet potato sheets for a few minutes until they just begin to soften, but don't color.
While they're baking, whisk together all of the ingredients for the ginger miso sauce and chill until serving.
Tightly roll 1/4 cup cylinder of rice into each sweet potato sheet, adding more rice to the ends if needed. Serve alongside dipping sauce.
This will be my first year taking my daughter trick or treating. Last year she was a blobby dinosaur and we stopped by the neighbor's house just to show off her costume, but this year she'll be delighted to go door-to-door for attention. We'll be dressed up as Peter Rabbit (Zo), Mrs. Josephine Rabbit (Me), and Mr. McGregor (Dad) and we'll probably spend all day carving pumpkins and making spooky snacks and festive crafts.
We'll munch on these sweet potato and forbidden rice rolls during the day and when the night is over, I plan to eat all her candy—don't tell.
I'd love to hear about all the festive and themed Halloween snacks and treats you're planning too!
Share your take on these Sweet Potato Forbidden Rice Rolls on Instagram using #ForTheMaking for a chance to be featured.
Sweet Potato Forbidden Rice Rolls with Ginger Miso Sauce
Makes 10 rolls
INGREDIENTS
For the rice rolls
1 cup forbidden black rice, unrinsed
1 13.6 ounce can unsweetened light coconut milk
1/4 teaspoon salt, plus more to taste
1 large sweet potato, preferably long with an even circumference
For the ginger miso sauce
2 tablespoons unseasoned rice vinegar
1 large clove of garlic, minced
1 tablespoon white miso
1 tablespoon plain yogurt
1 teaspoon maple syrup
1 teaspoon freshly grated ginger
2 teaspoons toasted sesame oil
DIRECTIONS
Place the forbidden black rice and coconut milk in a medium saucepan and bring to a boil over medium heat. Reduce the heat to a simmer. Cover and simmer for 30 minutes. Remove the pan from the heat and let rest for 5 minutes before fluffing with a fork. Chill the rice for 20-30 minutes until cool enough to the touch.
Preheat the KitchenAid® Gas Convection Slide-In Range to 400° F.
Attach the KitchenAid® Vegetable Sheet Cutter Attachment to the power hub of the KitchenAid® Stand Mixer.
Trim the ends of the sweet potatoes to fit the Vegetable Sheet Cutter Attachment and place on the Food Holder. Insert the food skewer 2″ into the sweet potato to keep it in place.
Insert the Thin Blade into the Vegetable Sheet Cutter Attachment and release the lever. Switch the Stand Mixer to the Stir setting, release the blade from the lock, then cut all the sweet potato sheets, discarding the first sheet that is just skin. Cut the sheets into 8-10″ lengths.
Place the sweet potato sheets on a baking sheet, overlapping to fit, and bake for 4-6 minutes, until just tender. Tip: use parchment paper for easy clean up. Remove from the Gas Convection Slide-In Range and let cool for 10-15 minutes.
Meanwhile, combine the rice vinegar, garlic, white miso, yogurt, maple syrup, ginger, and sesame oil in a mixing bowl and whisk to combine. Chill until ready to serve.
Once cool, grab 1/4 cup of rice and form it into a cylinder with your hand. Place on one end of a sweet potato sheet and roll up tightly, being careful not to tear the sweet potato. If the rice falls out, don't worry, you can press more rice into the open ends to fill the roll.
Serve with the ginger miso dip.
Print
*The Contributor of this post has been compensated by KitchenAid for this post, but this post represents the Contributor's own opinion.*