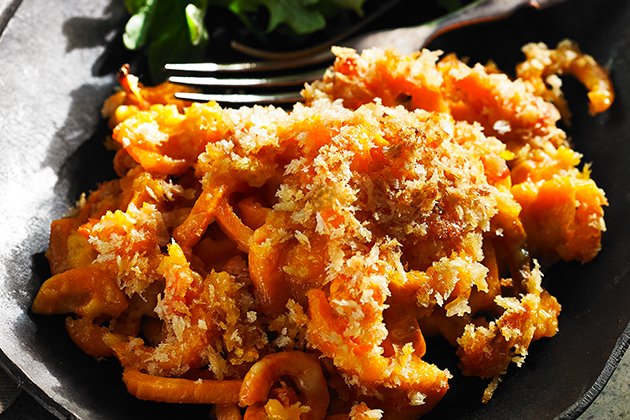 Sweet Potato Mac and Cheese
Makes 4 servings
INGREDIENTS
4 large sweet potatoes, cut into 4 inch sections
4 tablespoons butter, divided
4 tablespoons flour
2 cups milk
2 cups sharp cheddar cheese
1/2 teaspoon mustard
1/4 teaspoon cayenne
1/2 teaspoon salt
1/2 cup panko breadcrumbs
DIRECTIONS
Preheat oven to 375°F
Attach Spiralizer Attachment to your KitchenAid® Stand Mixer. Center one sweet potato on fruit and vegetable skewer; attach to Spiralizer. Attach peeling blade and medium spiralizing blade, and position at end of sweet potato. Turn stand mixer to speed 6 and process until blade reaches end of sweet potato. Repeat with remaining sweet potatoes. Arrange sweet potatoes in single layer on lightly oiled baking sheet. Bake 10 to 12 minutes, tossing often, until pierced easily with a fork.
Melt 3 tablespoons butter in saucepan over low heat. Add flour, stirring constantly, 2 to 3 minutes. Gradually add milk, whisking constantly. Cook, stirring constantly until thickened 2 to 3 minutes. Add 11⁄2 cups cheese, mustard and cayenne and stir until cheese is melted. Remove cheese sauce
from heat and set aside.
Heat remaining butter in medium skillet. Add panko breadcrumbs and toast until golden, 2 to 3 minutes. Set aside.
Coat 8 x 8 baking dish with butter. Toss spiralized sweet potatoes and cheese sauce together in a mixing bowl. Transfer mixture to prepared baking dish and top with remaining 1⁄2 cup cheese and toasted breadcrumbs. Bake until bubbly and crispy, about 40 minutes.
Print
*The Contributor of this post has been compensated by KitchenAid for this post, but this post represents the Contributor's own opinion.*