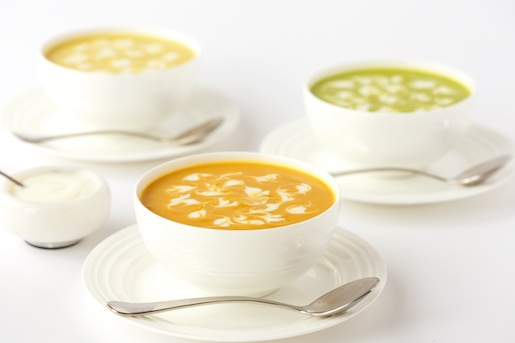 What is it about soup that's so nourishing, comforting and satisfying? It seems on a chilly, winter day that a bowl of fragrant, steaming soup can cure just about any ailment. Add a loaf of warm, crusty bread, a simple salad and you have the perfect lunch or casual dinner.
I love that most soups can not only be made in advance, but they often get even better with time, as the ingredients have the opportunity to meld and marry. Add the bonus that leftover soup makes wonderful weekday lunches for school or work, and you now have a great reason to make a big batch at the beginning of the week!
Recently, I created a fun new soup recipe that I'd love to share with you. It's silky smooth, healthy and super versatile, as it can feature lots of different veggies with the same simple base recipe. I started out with sweet potatoes as the main ingredient, but they can be swapped out for sweet corn, tiny green peas, asparagus, cauliflower, butternut squash or edamame beans. How cool is that? In other words, you have lots of recipes all in one! Here at the Café, we call this a "template recipe". Using this template recipe for the Sweet Potato Ginger Soup, I was able to swap out sweet potato, first for green peas, and then for sweet corn to create the three soups you see below.
One of the secrets to this delicious, silky smooth, healthy soup is my KitchenAid® Torrent™ Magnetic Drive Blender, a powerful little kitchen work horse. The Torrent™ Blender takes all the ingredients, and with a simple push of the "Soup" button, transforms them into the creamiest, silkiest-smooth soup you'll ever have the pleasure of meeting! Without any cream? Yes, this velvety soup is dairy-free, since it's comprised simply of vegetables, broth and spices!
Let's take a peek at how this delicious soup comes together:
Peel and roughly chop the veggies. Sweet potatoes are the star ingredient in this version of our soup, but can be swapped out for lots of other vegetables (see our idea list below).
Sauté onion, celery and garlic in a splash of olive oil. This should take less than 5 minutes. Add delicious aromatics; fresh ginger, coriander and cumin – a quick stint in the hot pan produces an amazing fragrance. (Be sure to use a fine zester for the ginger, it will help the vibrant flavor to infuse the broth as it simmers.)
Sweet and russet potatoes come next. Then a slow simmer in a bath of chicken (or vegetable) broth makes everything tender and ready for the final step.
Now comes the fun! Transfer the veggie mixture to the Torrent™ Blender, aka "the magic machine" at my house. It uses magnetic technology and a blending system that pulls ingredients down toward the blades to blend ingredients together before you can say, "KitchenAid® Torrent™ Magnetic Drive Blender"!
It's fun to watch it pull ingredients down to the bottom on its own (no tamper needed). With four distinct preset Adapti–Blend™ recipe programs (Juice, Soups/Sauces, Milkshakes and Icy Drinks/Smoothies), you can push the button, go check on something else and this amazing machine does its thing (and turns itself off, with a sweet little "I'm done!" bell, to boot)!
I love to add a pretty garnish to my soups. For this soup, I used a simple combination of Greek yogurt (thinned with a bit of milk) and finely grated fresh ginger. I spoon little drops of the mixture all over the surface, then swirl them with a toothpick. You can stop there or add a few poppy seeds for a fun, different look. Both versions are super simple, but very elegant!
If you want to keep the soup dairy-free, omit the topping and just garnish with poppy seeds or finely chopped cilantro.
Dinner is served!
Don't like sweet potatoes? How about cauliflower, butternut squash or carrots instead? You can decide which veggies you want to use. Check out the variations I've come up with below**, but feel free to be creative and come up with your own as well. Have fun!
Be sure to share your take on this Sweet Potato Ginger Soup recipe with us on Instagram using #MadeWithKitchenAid for a chance to be featured.
Sweet Potato Ginger Soup…and More
Makes 8-10 servings
INGREDIENTS
For the soup
1 tablespoon extra virgin olive oil
1 medium sweet yellow onion, peeled and roughly chopped
2 stalks celery, roughly chopped
1 medium jalapeno pepper, roughly chopped
3 medium cloves garlic, smashed and peeled*
2 tablespoons finely grated fresh ginger, use a fine zester to grate
1 1/2 teaspoons ground coriander
1/2 teaspoon ground cumin
2 tablespoons brown sugar
6 cups low sodium chicken broth, or vegetable broth
2-3 medium russet potatoes (about 12 ounces), peeled and cut into 2-inch pieces
3 medium sweet potatoes (about 1 1/4 pounds) peeled and cut into 2-inch pieces
1 1/2 teaspoons kosher salt, more as needed
1/4 teaspoon freshly ground black pepper
For the topping
3 tablespoons Greek Yogurt
1 tablespoon milk
1 teaspoon finely grated fresh ginger
DIRECTIONS
For the soup, heat olive oil in a large pot oven over medium heat. Add onions, celery and garlic. Reduce heat to medium low and sauté onion mixture until softened, about 4-5 minutes. Add ginger, ground coriander and brown sugar. Sauté for another minute until fragrant.
Add broth, potatoes, sweet potatoes, salt and pepper. Bring mixture to a boil, then reduce to a constant simmer and cover with lid slightly ajar. Cook until all veggies are very tender, about 20-25 minutes.
Transfer soup to KitchenAid® Torrent™ Magnetic Drive Blender. Process on the "Soup" setting. If soup is too thick add a bit more chicken broth to thin. Taste and add more salt and pepper, if needed.
For the topping, combine Greek yogurt, milk and grated ginger in a small bowl. Stir to combine.
Ladle soup into bowls. For garnish, spoon drops of yogurt mixture (Greek yogurt thinned out with a little milk) over the surface of the soup. Swirl with a toothpick. Add a sprinkle of poppy seeds, if desired. If you want to keep the soup totally dairy-free, omit the topping and just garnish with poppy seeds or finely chopped cilantro.
NOTES
* To smash garlic, place cloves on a work surface and smash with the flat side of a chef's knife. The peel will slide right off.
** There are lots of variations for this soup. Here are a few ideas of vegetables you could swap for the sweet potatoes in this recipe:
1 pound carrots, peeled and roughly chopped
1 small head cauliflower, cored and coarsely broken
10 ounce bag tiny frozen peas, add at the end when blending
16 ounces butternut squash, peeled and roughly chopped
16 ounce bag frozen edamame, add at the end when blending
16 ounce bag super sweet frozen corn, add at the end when blending
Print
*The Contributor of this post has been compensated by KitchenAid for this post, but this post represents the Contributor's own opinion.*