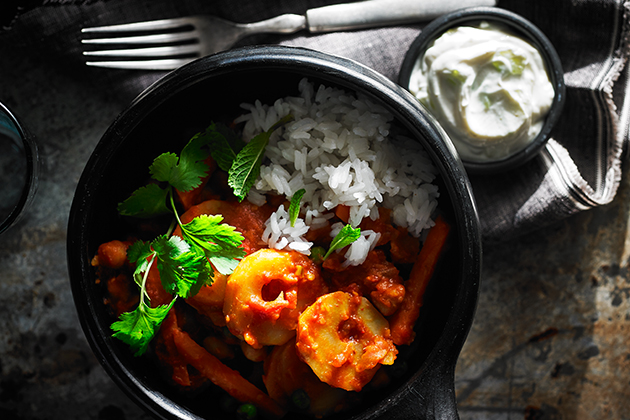 Sweet Potato Curry
Makes 8 servings
INGREDIENTS
3 medium sweet potatoes, cut in half
1 piece (3 inches) lemongrass, coarsely chopped
1 teaspoon grated fresh ginger
3 cloves garlic
3 teaspoons vegetable oil, divided
2 cups water
1 can (15 ounces) chickpeas, drained
1 can (about 14 ounces) crushed tomatoes
1 can (about 13 ounces) coconut milk
1/2 cup chopped onion
1/2 cup chopped carrots
3 tablespoons red curry paste
1 tablespoon tomato paste
1 teaspoon salt
1 teaspoon ground coriander
4 cups cooked jasmine rice
1/4 cup chopped fresh basil
1/4 cup chopped fresh cilantro
2 limes, cut into wedges
DIRECTIONS
Attach Spiralizer Attachment to KitchenAid® Stand Mixer. Center one sweet potato half on fruit and vegetable skewer; attach to Spiralizer. Attach peeling blade and spiral slice small core blade and position at end of sweet potato. Turn stand mixer to speed 4 and process until blade reaches end of sweet potato. Repeat with remaining sweet potatoes. Set aside.
Combine lemongrass, ginger, garlic and 2 teaspoons vegetable oil in food processor. Process until finely chopped.
Heat remaining 1 teaspoon vegetable oil in large saucepan. Add lemongrass mixture; sauté 2 to 3 minutes. Stir in water, chickpeas, tomatoes, coconut milk, onion, carrots, curry paste, tomato paste, salt and coriander Add sweet potatoes; bring to a boil. Reduce heat to medium; simmer 25 to 30 minutes or until potatoes are tender and sauce is thickened.
Divide rice among 8 serving bowls; top with curry, basil and cilantro. Serve with lime wedges.
Print
*The Contributor of this post has been compensated by KitchenAid for this post, but this post represents the Contributor's own opinion.*